There are a lot of health coaching programs out there; including the one we offer at Bauman College. I could tell you why I believe that our program is the best, and the next few schools could do the same. It is up to you to figure out which program fits you and which school you want to support.
Comparing Health Coaching Programs
The best way to compare health coaching programs is to identify what information you consider valuable. Just seeing a bunch of statistics that you don't care about will not be very helpful. Once you know which specifics you want to look into, you will need to research them for each program.  
School and Program Questions
Here is a list of questions that you might want to use to compare health coaching programs: 
How old is the school/organization providing the program?

Is the school/organization a for profit or a nonprofit?

When was the program first launched?

Is the program accredited?

How many students have graduated from the program?

How long does it take to complete the program?

How much is the tuition? 

How much is the total cost with other fees?

Do you offer financial aid?

Do you offer job placement or support?
Program Graduate Questions
There are also questions that program graduates would need to answer: 
How long ago did you graduate?

Did you find a job as a health coach after graduation?

If you found a job:

What city/state is it in?

What is your salary?

Are you running your own health coaching practice?

If you are running your own practice:

What city/state are you in?

How many clients do you have?

How much money do you make per month on average?

How many hours per week do you work?
Use the questions above to narrow down your options. To make an informed decision, you need to look into 5 – 10 schools. After all the calls and research, you will hopefully narrow it down to your top 3 options. Once you have your top choices, you should have a conversation with their admissions people to hear what sets their program apart from all others. You will need to spend up to 20 hours to get this done. 
Let me save you some time
If we work together, we can cut those 20 hours down to maybe 5. I've put together a couple of surveys for you to use. This should save you a lot of time and give you a lot more information. Schools should complete the program survey and program graduates should complete the graduate survey.

The end result will be a Google spreadsheet that is automatically updated with data collected by multiple people. If the collected information seems out of date, send the surveys out again. 
Health Coaching Program Survey

This is a simple Google form that asks the school and program questions similar to what is listed above. The best way to use this is to send this survey link to a school's admissions staff to fill out in preparation for your admissions advising appointment. 
https://docs.google.com/forms/d/e/1FAIpQLSfEQXz-jrHoRT_7mUZrHPlqv6WXojezt-L7ahH4JcJd12tHCw/viewform
Should the school not complete this short survey, you can either ask them to do it again or call them and get the answers that way. 
Health Coaching Graduate Survey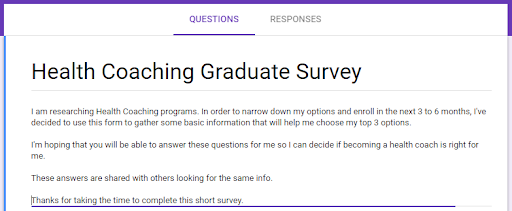 This is another simple Google form that collects graduate information. In a way, this is even more important than the program information. This data will help you find out what to expect once you graduate.
https://docs.google.com/forms/d/e/1FAIpQLScz9EnYHYM7IAmznBv0wM6KVnDwCRB6eyk2I6jFK51uvokdmg/viewform
Graduate data can be used for two things.
It can help you choose a health coaching program. 

It can help you decide if health coaching is the right career for you.
You might have to get creative to find graduates to answer these questions for you. Search for them on Google, Facebook, Instagram, LinkedIn, etc. Try and find a group of them and contact them all at once. Tell them that you're researching health coaching program options and that you need their help. 
Check Out the Results
You came here to figure out how to compare health coaching programs. It might take us some time to collect enough information for this data to be useful. My hope is that you, as a prospective student, see the value in using these surveys. If the timestamp next to the program data that you're interested in is more than a month old, send out the survey links again. 
You will save time on program research.

The data is shared with other prospective students looking for the same information.

You can see program and graduate data changes over time.
Here are the links to the raw data. If there are only a few rows of data in the spreadsheet, send out those surveys out again. Once we have enough data I will create a cleaned up version that is easier to use and crunches some numbers automatically.

Link to Health Coaching program data
Link to Health Coaching graduate data