Start on your path to becoming a holistic chef!
Join Bauman College on Tuesday, October 4th from 5:30 p.m. to 6:30 p.m. PDT / 8:30 p.m. to 9:30 p.m. EDT for an interactive and fun online cooking class with one of our instructors, Chef Porsche Combash, as she makes Cacao Spice Truffles with Raspberry and Matcha Tea Dust!
Just in time for fall, Chef Porsche will demonstrate making these chocolate treats full of warming spices and healthy fats. Serve these delicious and blood sugar balancing truffles at your Halloween party to keep your guests festive and fit! Made with raw cacao powder, cinnamon, ginger, and cardamom they contain flavonoids which improve insulin sensitivity and reduce the risk of diabetes. Plus, the coconut oil and coconut cream base counts toward your daily intake of healthy fats which reduce inflammation and keep you feeling fuller longer. These treats are appropriate for many specialty diets including keto, gluten-free, dairy-free, and vegan. And as if that's not enough, they are rolled in matcha powder, cacao nibs, and raspberry powder to boost your intake of cancer preventing antioxidants.
Enjoy all these best-tasting superfoods in one bite. Also, keep a batch in your fridge for a quick and healthy way to tame your sweet tooth. Join Chef Porsche to get the recipe and learn more about the fantastic benefits of Cacao Spice Truffles with Raspberry and Matcha Tea Dust.
You'll also have the opportunity to meet with our Admissions and Financial Aid team to get more information about our Holistic Chef Program's:
Curriculum
Upcoming classes
Tuition and financial aid
Career opportunities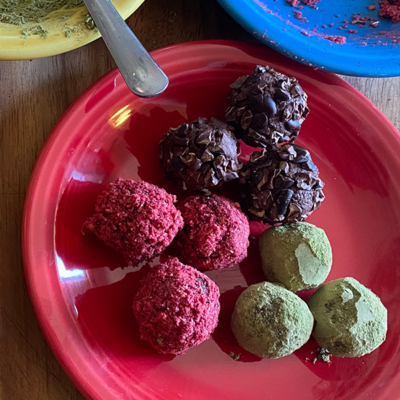 To secure your spot for this complimentary event and get the Zoom details, complete the form below, or text "Truffles" to (844) 295-4258.
The demand for holistic chefs continues to grow. Discover what you can do now to have a job you truly enjoy.
Complete the form below to RSVP for this complimentary Holistic Chef Program Event. We look forward to seeing you there!