A Veggie Burger for Everyone
So often veggie burgers are disappointing, bland, crumbly copy cats. These burger patties mimic the flavor, texture, and even the color of beef patties! The toasted nuts, the sautéed shiitakes, and the tamari lend a complex, umami flavor that both herbivores and carnivores will enjoy.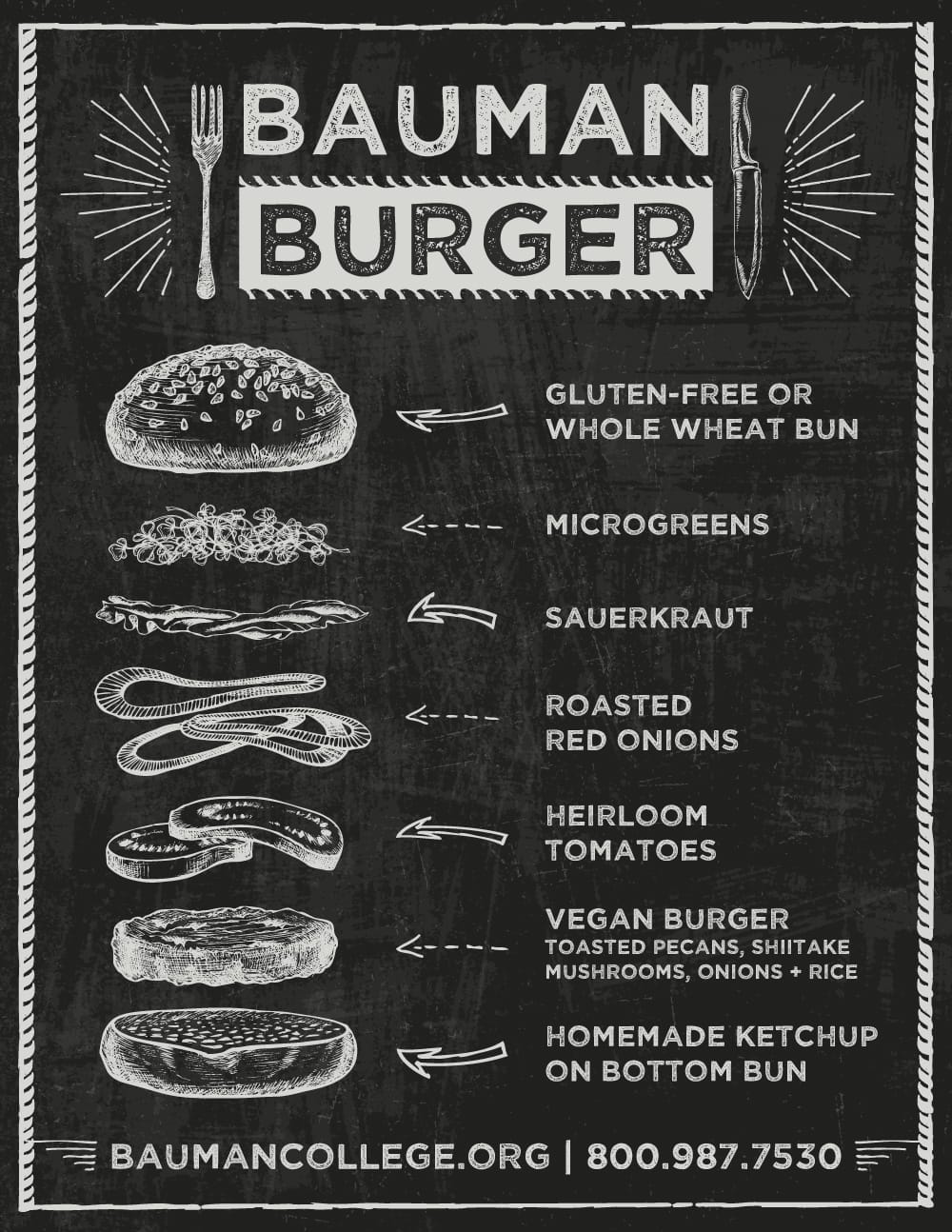 [b]Vegan Umami Burger Patties[/b]
Author:
Ingredients
3 Tbs olive oil + extra for greasing, divided
1 medium onion, small dice
1 tsp salt + extra to taste
2 cloves garlic, minced
12 oz shiitake mushrooms, de-stemmed and sliced
2 cups pecans, toasted
1 Tbs tamari
1 tsp freshly ground pepper
2 cups cooked sticky rice
Instructions
Pour 2 Tbs of olive oil into a medium skillet over low heat. When heated, add onion and stir to coat. Add a ½ tsp of salt and stir again. Proceed to cook onions for 30–40 minutes until caramelized. Stir occasionally to avoid burning. [i](Note: If you will be baking the patties, preheat your oven to 350°F now.)[/i]
Add 1 tsp oil and garlic. Stir and let cook until fragrant, about 1 minute. Add in shiitakes, remaining 2 tsp of oil, and remaining ½ tsp salt, stir and cover. Let cook for about 7–10 minutes until mushrooms have wilted and lost their moisture. Uncover and cook for 1–2 minutes more until remaining moisture has evaporated. Turn off heat and set aside to cool.
In a food processor, add pecans and pulse until a coarse, wet, sand-like texture is achieved. Add cooled mushroom and onion mixture, tamari, and pepper. Process until a mostly smooth consistency is achieved. Some texture is okay but the pieces should be very small.
Transfer mixture into a medium-large mixing bowl and, with your hands, incorporate rice. Make sure that there are no clumps and that the mushroom mixture is evenly incorporated.
Oil your hands and proceed to make patties. Approximately ½ cup of mixture will yield a generous patty but feel free to alter the size to your preference. Set patties on a plate, cover, and let rest in refrigerator for at least 30 minutes.
[b]To cook patties, there are a variety of options:[/b] [br]
Bake them at 350°F for about 25–30 minutes until they start to crisp and brown slightly. Be sure to flip them about 15 minutes into cooking.
Pan fry them in olive oil in a skillet over medium-high heat.
Grill! Unlike other veggies patties, these won't crumble and can be set directly on the grill.
[b]To Serve: [/b][br]
Top with your favorite burger fixin's. One of our favorite flavor combinations is a dollop of homemade ketchup, heirloom tomatoes, roasted red onions, sauerkraut, and microgreens.
Notes
[b]Bun Recommendations:[/b][br]Sprouted Whole Wheat buns from [url href="https://www.alvaradostreetbakery.com/breads/Sprouted%20Burger%20Buns" target="_blank"]Alvarado Street[/url] or [br]Gluten-Free buns from [url href="https://canyonglutenfree.com/buy-gluten-free-bread-products/Gluten-Free-Hamburger-Buns.html" target="_blank"]Canyon Bakehouse[/url] [br][br][b]Allergens:[/b][br]tree nuts[br]soy