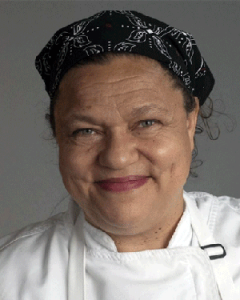 Kale, a member of the cabbage family, is a nutrient dense vegetable that can be found in several varieties such as lacinato, curly leaf, or Russian red.
Not a fan of kale? Former Holistic Chef Online Culinary Program Instructor Porsche Combash is convinced it's because you've never had it like this!
Check out Chef Porsche's Kale for Picky Eaters recipe below.
Kale for Picky Eaters
Serves 4
INGREDIENTS
2 large bunches 

kale

, lacinato, curly leaf, or Russian red
2 Tbs 

extra virgin olive oil

1/4 c 

water

1 clove 

garlic

, minced
1 Tbs 

lemon juice

1 Tbs 

maple syrup

1/2 tsp 

Celtic sea salt

, more to taste
COOKING INSTRUCTIONS
1. Wash and slice kale into fine chiffonade, 1/8″ ribbons.
2. Heat a saute pan on medium with olive oil, water, and garlic. Add kale.
3. Cover with lid, and cook until kale is wilted. Stir.
4. Remove lid and allow kale to simmer until liquid has evaporated.
5. Add lemon juice, maple syrup, and salt to taste.
6. Saute until cooked down and flavors have incorporated.
7. Taste and adjust.
8. Serve to "kale-resistant" people and see how they like it!
Have Work You Love
Get the details on how to pursue a career as a Holistic Chef through Bauman College's 12-month ONLINE culinary school! Contact us to connect with an Admissions Representative today.