This hearty vegan recipe features an array of nutrient-dense vegetables, booster foods, legumes for protein, and good-quality fat.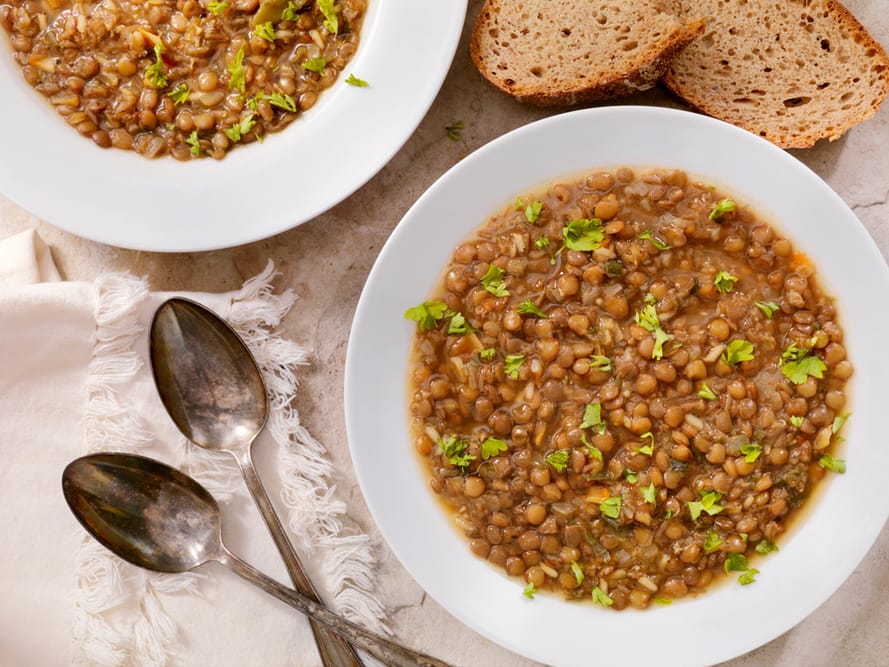 Caramelized Onion, Wild Mushroom + Lentil Soup
Author:
Ingredients
3 cups French green lentils, rinsed
2 pieces kombu
2 Tbs coconut oil
4 large onions, thinly sliced
4 medium shallots, thinly sliced
3 qts vegetable stock
3 cups wild mushrooms, dried
4 cups shiitake mushrooms, thinly sliced
8 cloves garlic, minced
3 Tbs ginger, minced
1 1/2 Tbs thyme, minced
3/4 cup red wine
1/2 cup tamari
sea salt, to taste
black pepper, freshly ground, to taste
lemon juice, if needed
parsley, chopped
Instructions
Add lentils and kombu to a pot with enough water to cover lentils by at least 2 inches. Bring lentils to a boil, then lower heat to a simmer. Allow to cook at a simmer until lentils are tender but still a little undercooked, 20-25 minutes. Strain and set aside.
In a large pot on medium heat, add oil, onions, and shallots. Let onions caramelize slowly, stirring periodically to avoid sticking to the bottom of the pan. Lower heat if necessary. Cook for 30-40 minutes, until onions are slightly brown and sweet, and fond has developed on the bottom of the pan.
In another pot, bring vegetable stock or water to a boil. Add dried mushrooms to a large bowl, then pour in boiling liquid. Cover and soak until you are ready to add the liquid to the soup.
Once onions are caramelized, add fresh shiitakes, garlic, ginger, and thyme to pot and allow to cook for a few minutes, until mushrooms begin to brown. In the meantime, strain soaking mushrooms and reserve the liquid. Roughly chop soaked mushrooms.
Deglaze pan with wine and tamari, scraping up the bits of fond on the bottom. Cook for a few minutes, then add mushroom liquid and chopped mushrooms.
Bring to a boil, reduce to a simmer, and add lentils, salt, and pepper. Simmer for about 10 more minutes.
Test for seasoning. Add additional salt to taste and lemon juice if desired.
Garnish with fresh parsley and serve.