This delicious little hors d'oeuvre is the perfect mix of sweet, spicy, and cool with the combination of honey, sriracha, and cucumber. Garnish with a simple cilantro leaf and fancy wedge of rainbow radish to add flair to this unique take on Thai cuisine.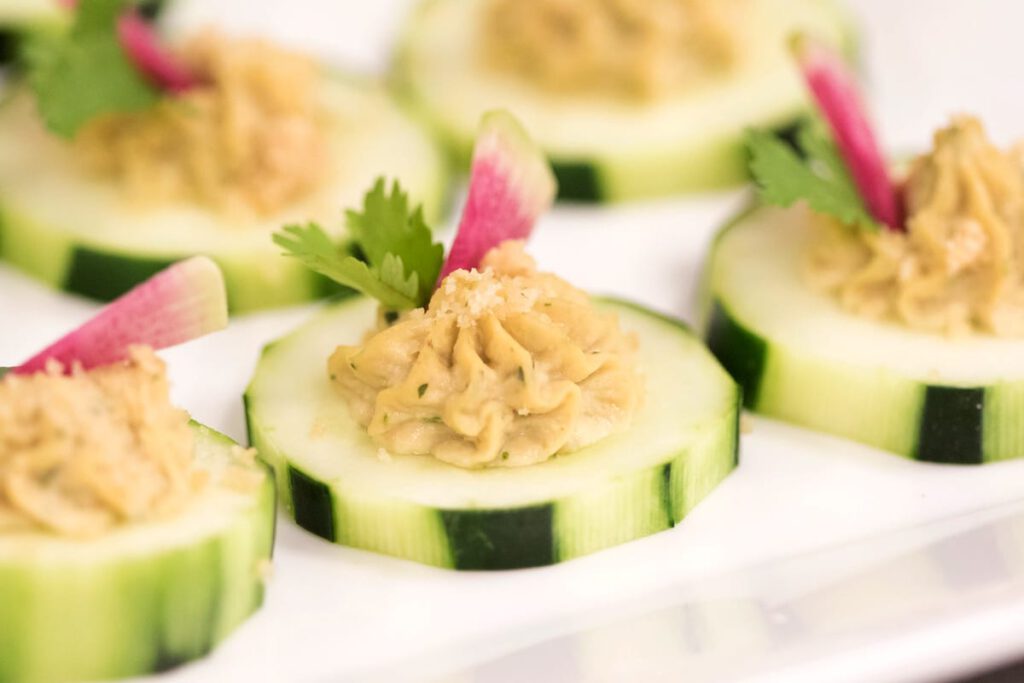 [b]Thai Peanut Hummus Cucumber Bites with Cultured Sriracha[/b]
Author:
Prep time:
Cook time:
Total time:
Ingredients
1 cup chickpeas, soaked overnight
¾ cup roasted peanuts, divided
⅛ tsp cultured sriracha (try [url href="https://sosusauces.com/products/barrel-aged-sriracha" target="_blank"]Sosu Barrel-Aged Sriracha[/url])
¾ tsp honey
1 Tbs sesame oil
1 Tbs olive oil
1 Tbs chopped cilantro
1 tsp rice vinegar
1 tsp scallions
¼ tsp ginger
¼ lime, juiced
salt, to taste
1 cucumber
15 leaves cilantro, for garnish
¼ watermelon radish, for garnish
Instructions
Drain and rinse chickpeas, add to a pot, and cover with water. Bring to a boil and reduce to a simmer. Cook until completely soft. Drain and set aside.
Reserve 2 Tbs of peanuts for garnish. Blend remaining peanuts in a blender or food processor until smooth like peanut butter.
Add chickpeas, sriracha, honey, sesame oil, olive oil, chopped cilantro, rice vinegar, scallions, ginger, and lime juice to the peanut mixture and blend. Add salt to taste. Place in refrigerator until ready to pipe onto cucumber slices.
For visual appeal, create stripes of light and dark green on cucumbers by peeling lengthwise every ¼ to ½-inch along the skin. Cut cucumbers into ¼-inch thick slices.
Place hummus in a piping bag and squeeze desired amount onto cucumber rounds.
Using a food processor or spice grinder, grind 2 Tbs of peanuts into small crumbles and sprinkle on top of hummus.
Garnish each piece with one full cilantro leaf.
Cut watermelon radish into thin slices and then triangles and place next to the cilantro leaves on the hummus.