This dairy-free soup is made creamy by the addition of oats. The chicken stock is what lends the richness and mouth feel that is missing without having dairy.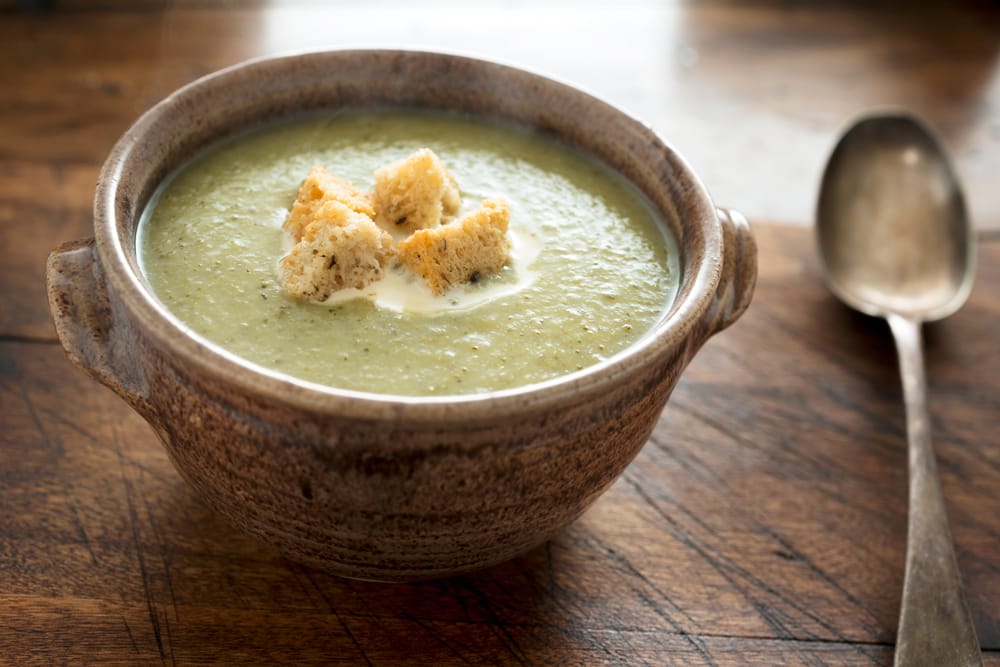 Dairy-Free Creamy Broccoli Soup With Gluten-Free Croutons
Author:
Ingredients
1 1/2 Tbs olive oil
2 leeks, (white and pale green parts only), washed and thinly sliced
1 1/2 tsp dried oregano
1/2 tsp sea salt
3 cloves garlic, minced
4 bunches broccoli with stems, (about 1 1/2 lbs), cut into bite-sized pieces
5 cups chicken stock
1/2 cup gluten-free rolled oats
1/2 tsp black pepper, plus more to taste
1/2 tsp lemon juice
sea salt, to taste
3 cups gluten-free bread, (about 5 slices), medium diced
2 Tbs medium to high heat fat (such as lard or safflower oil)
1 tsp fresh thyme, minced
1 tsp fresh oregano, minced
Instructions
Heat a pot over medium-low heat. Add olive oil, leeks, oregano, and a pinch of salt. Sauté until tender and slightly translucent, about 3 minutes. Add garlic and sauté another minute until fragrant.
Add broccoli, enough stock to cover broccoli, and oats. Season with more salt to taste and bring to a boil. Reduce heat and simmer until broccoli is tender and the oats are cooked through, about 15 to 20 minutes. Cool slightly.
Transfer to a blender and purée until smooth, starting on low speed, and working in batches.
Return to pot and add black pepper and lemon juice. Taste and adjust.
Preheat oven to 350°F.
In a large mixing bowl, toss together cubed bread, fat, herbs, salt, and pepper. Mix well to combine.
Distribute bread evenly in a single layer on a parchment-lined baking sheet. Bake for 20-25 minutes or until golden brown and crunchy.
Use croutons to garnish soup.