Lacinato kale is a hardy green, rich in vitamins A and C, that loves cold weather. It can continue to grow in temperatures as low as 20° F and even tastes sweeter after a frost (Almanac, n.d.). In this recipe, the kale leaves are massaged with olive oil to break down the cell walls and make them more digestible, while still retaining the enzymes. A sweeter vinegar, like balsamic, is used to balance the bitterness of the kale. Any seasonal fruit can be added to this salad, but we're using persimmons and pomegranates, which are currently in season. Persimmons are a great source of vitamin C; just one fruit contains 27% of the daily requirement. Choose persimmons that are deep red in color, round, plump, and have a glossy and smooth skin (WebMD, n.d.).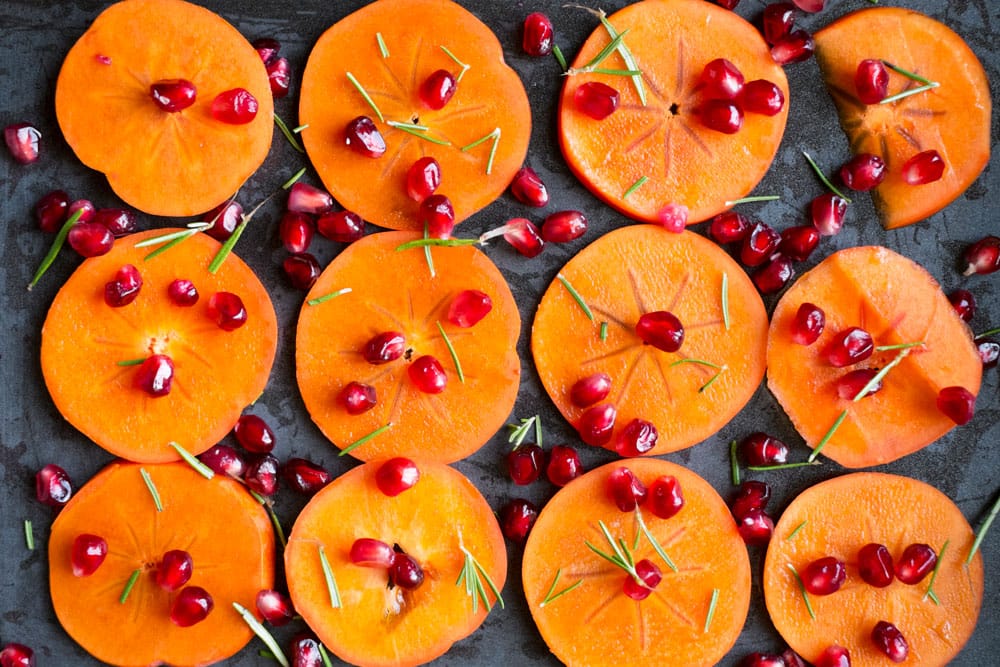 Emerald Kale Salad with Balsamic Vinaigrette
Author:
Ingredients
1/2 cup red onion, very thinly sliced
1 Tbs apple cider vinegar
2 bunches, lacinato kale, stems removed, thin chiffonade
1/4 cup olive oil, divided
1/2 tsp sea salt, + more to taste
1/4 cup balsamic vinegar
black pepper, freshly ground
1/4 cup pumpkin seeds, lightly toasted
2 medium Fuyu persimmons, diced
1/4 pomegranate seeds
Instructions
Place onion in a small bowl with apple cider vinegar and cover with water. Let soak for 20 minutes. Rinse and squeeze out extra moisture.
Prepare kale as directed and place in a large bowl. Drizzle with 1-2 tsp olive oil and sprinkle with salt. Massage greens with your hands, kneading and squeezing until they begin to wilt and become soft. Set aside.
Add onions to kale and toss to combine.
Whisk vinegar and remaining olive oil, adding slowly in a drizzle until emulsified. Season with salt and pepper. Add dressing to salad, just enough to coat the ingredients. Toss in pumpkin seeds, persimmon, and pomegranate seeds. Serve.
Notes
Substitute seasonal fruit in place of persimmons and pomegranates.
Farmer's Almanac. "Kale: planting, growing, and harvesting kale". (n.d.). Retrieved on 12/12/16 from http://www.almanac.com/plant/kale
WebMD. "5 a day: fruit of the month: persimmons". (n.d.). Retrieved on 12/12/16 from http://www.webmd.com/food-recipes/fruit-month-persimmons#1