Natural Chef Culinary Externship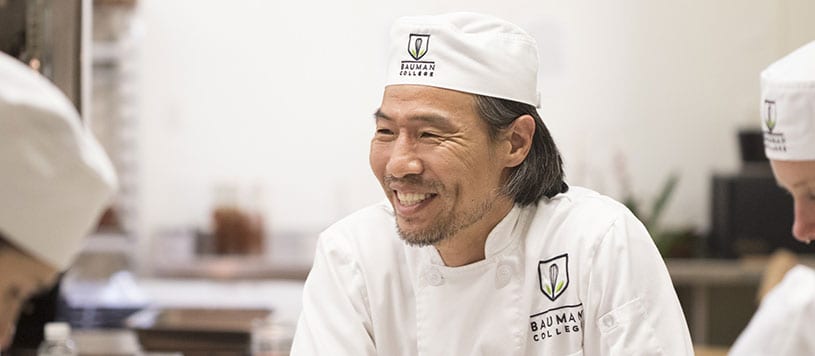 Real-World Culinary Experience
As part of the training in the Natural Chef Program at Bauman College, our students gain hands-on experience in a professional setting through our required culinary externship. Students have the opportunity to work with personal or private chefs or in venues such as restaurants, food production companies, resorts, corporate and residential dining facilities, nonprofit organizations, catering companies, and other food service programs.
This experience provides a learning opportunity outside of the classroom that builds core competencies and instills confidence in students while also benefiting individual professionals and organizations. It also facilitates community relationships and is an opportunity for students to make connections in the field.
This opportunity allows students to gain a variety of experiences to determine which areas they would like to specialize in. Externships can sometimes transition into job opportunities, providing skilled and trained natural chefs for employers.
Culinary Externship Guidelines
A minimum of 50 hours must be completed
Not all 50 hours have to be completed with the same business
Externships must be completed within six weeks of the final class date
Externships must be unpaid
Students must be working directly with food
Students must have an on-site supervisor to provide adequate feedback by filling out the student's Culinary Externship Completion Form and Culinary Externship Evaluation Form
Students will be evaluated based on:

Quality and quantity of work
Use of time
Communication
Basic knowledge of culinary skills and nutrition information
Interpersonal relations and teamwork
Dependability (punctuality and attendance)
Request a Chef Extern
To request a chef extern, please fill out this form.
To inquire about the culinary externship, please send an email to the culinary support manager, Cheyenne Wright, at cheyenne.wright@baumancollege.org.
Is a Rewarding Career as a Natural Chef Right for You? Get More Information…
If you are interested in learning more about a career as a natural chef and exploring whether this is the right path for you, fill out this form to receive more information.
A helpful Bauman College admissions representative will answer all of your questions, from program details to career opportunities, and will help you discover the best option for you.
For immediate questions, please call 1-800-987-7530.