To get you in a fall dessert mood, here is a recipe straight from the Natural Chef Training Program. These gluten-free tart shells are simple and versatile. They can be filled with fresh fruit, custards, coconut creams, etc. For fall, roasted squash makes a nutrient-packed creamy filling that is a dairy- and egg-free alternative to custard. The agar and cashews thicken the filling, which does not require baking.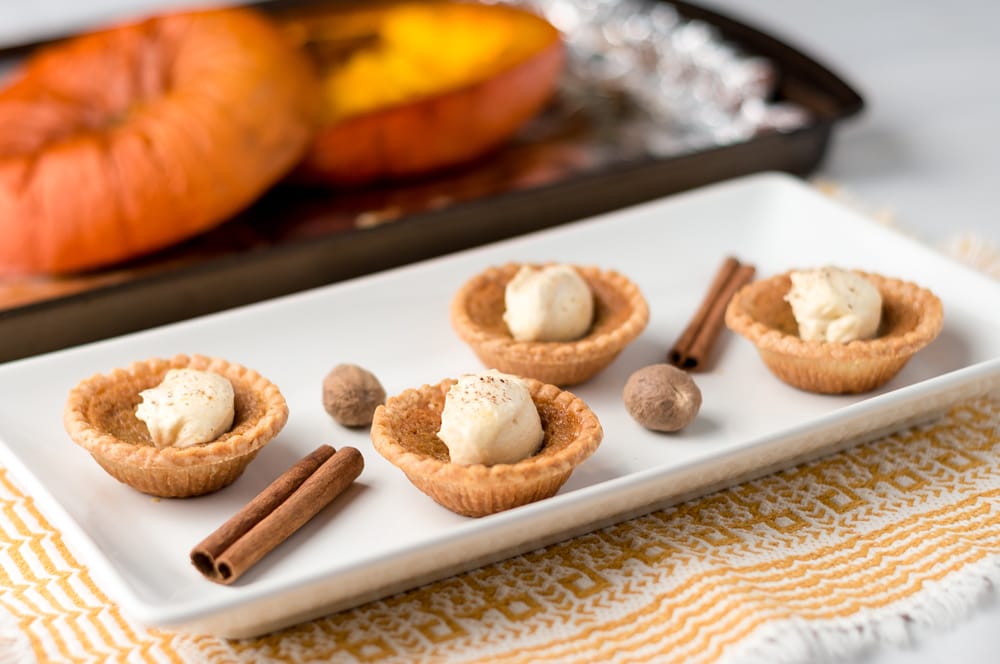 Fall Pumpkin Tarts
Author:
Serves:
yield: two 4″ tarts
Ingredients
[b]CRUST[/b]
1/2 cup very finely ground almonds
1/4 cup sorghum flour
1 Tbs maple sugar
1 pinch salt
2 Tbs coconut oil, slightly softened at room temperature
1 Tbs maple syrup
3/4 tsp vanilla extract
[b]FILLING[/b]
1/2 small pumpkin
1/4 cup cashews
1/2 tsp agar powder
1 pinch salt
1/3 cup water, boiling
1 Tbs maple syrup
1 1/2 tsp vanilla extract
1 tsp ground cinnamon
1 pinch ground nutmeg
1 pinch ground cloves
1/8 tsp lemon zest
Instructions
[b]CRUST[/b]
Preheat oven to 350° F. Combine ground almonds, sorghum flour, sugar, and salt, and mix together. Add coconut oil, maple syrup, and vanilla extract, and mix with a fork until well incorporated. The mixture should stick together when pressed.
Transfer into two 4″ tart pans, pressing thinly along the bottom and thicker on the sides. Poke a few holes with a fork on the bottom part of the crust.
Bake for 17-20 minutes, until golden brown. Remove from oven and place on a rack to cool completely.
[b]FILLING[/b]
Preheat oven to 400° F.
Roast pumpkin cut-side down until the skin is pierced easily with a fork
Place cashews, agar, and salt in a blender and process to a fine powder.
Pour boiling water into blender and process on high speed.
Add roasted pumpkin (about 3/4 cup), maple syrup, and vanilla, and process again until smooth.
Blend in cinnamon, nutmeg, cloves, and lemon zest.
Pour 1/2 cup of the filling into each cooled tart shell and refrigerate until set, about 30 minutes. For a thicker, pumpkin pie like texture, refrigerate the tarts overnight. Extra filling can be put in ramekins and baked.
Remove the tarts from the pans and serve.