Grant + Scholarship Opportunities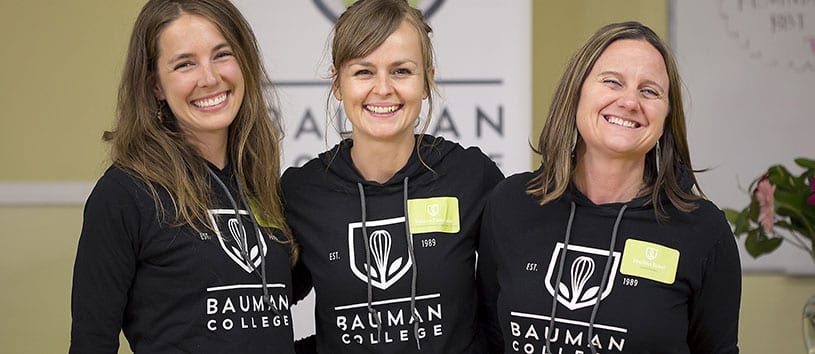 Find Out What You May Qualify For
Securing funding for your education is an important part of the process, and there are many grant and scholarship opportunities available to support Bauman College students. We encourage our students to take the time to research the many possibilities for grants and scholarships. Grants are typically need-based, while scholarships are merit-based.
Scholarship Publications
Each year, agencies and authors publish guides detailing grants and scholarships available to individuals based on a myriad of qualification criteria. The reference librarian at any local library is a good resource when students need help finding relevant books.
Focus on grants for vocational schools that do not have to be "Title IV" for eligibility. Some available books on the subject are:
Grants And Scholarships
Crowdfunding—Is the practice of funding a project or venture by raising small amounts of money from a large number of people, typically via the Internet. Plum Fund has no platform fees and was featured on Shark Tank. You can also look into GoFundMe and Indiegogo.
Department of Rehabilitation—The Department of Rehabilitation (DOR) assists Californians with disabilities with obtaining and retaining employment and getting career education and training.
Do Something Awards—Take action with DoSomething.org to make social change! By signing up for one of their featured campaigns, you'll not only be doing good, but you could even win a scholarship—which means money to pay for school.
Individual Development Account—Individual Development Accounts (IDAs) are special savings accounts that match the deposits of people with low and moderate incomes. Savings can be used for an asset-building purpose, such as postsecondary education or job training.
James Beard Scholarship—Established in 1991, the scholarship program assists aspiring and established culinary professionals who plan to further their education at a licensed culinary school or hospitality institution, college, or university.
Kitchen Professor Scholarship—Awarded to students currently enrolled in a college, university, high school, or trade school who are passionate about nutrition and/or cooking.
Return to College Scholarship Program—Applicants must be US citizens or legal residents who are starting a higher education program (college or graduate school) within the next 12 months or are currently full- or part-time students. Applicants must be age 17 or older. There is no maximum age limit.
Sallie Mae® $1,000 Plan for CollegeSM Sweepstakes—Sallie Mae's $5,000 Plan for CollegeSM Sweepstakes is open only to legal residents of the 50 United States and the District of Columbia who are of the age of majority in the jurisdiction in which they reside and who are students, parents, guidance counselors, or financial aid officers at the time of entry.
SonomaWORKS—SonomaWORKS supports training and education as part of an individual's welfare to work plan. This may include but is not limited to, classes offered by colleges, community colleges, adult schools, regional occupational programs, and private schools.
Silicon Valley Community Foundation—This program administers a variety of grant programs with the majority of the awards designated for residents of San Mateo County and Santa Clara County.
Trade Adjustment Assistance—Students who have lost employment or had their work hours reduced as a result of international trade (their job being outsourced) may be eligible for funding through Trade Adjustment Assistance (TAA). Bauman College is an eligible training program in California.
Women's Opportunity Awards program—Since 1972, Soroptimist has been helping women to reclaim their dreams. This program provides cash grants to women who are working to better their lives through additional skills training and education.
Workers' Compensation—The benefit comes in the form of a non-transferable voucher that can be used to pay for education-related retraining, skill enhancement, or both, at state-approved or state-accredited schools. The voucher covers school tuition, fees, books, and other expenses required by the school for training.
Is a Rewarding Career as a Nutrition Consultant or Natural Chef Right for You? Get More Information…
If you are interested in learning more about a career as a nutrition consultant or natural chef and want to explore whether one of these fields is right for you, to receive more information.
A helpful Bauman College admissions representative will answer all of your questions, from program details to career opportunities, and will help you discover the best option for you.
For immediate questions, please call 1-800-987-7530.