In collaboration with Slow Food USA, Bauman College developed a recipe for their Meatless Monday Campaign. As part of this campaign, Anson Mills donated Sea Island White Flint Corn Grits for chefs from around the country to create plant-based dishes as a way to positively impact climate change. These corn grits are from Slow Food's Ark of Taste—a global inventory of endangered foods being revived to support biodiversity. By participating in the Meatless Monday movement, we are contributing to the significant environmental benefits of this conscious consumption. These values are directly aligned with the Bauman College mission, and we are proud to be a part of this evolution!
Our Grits + Wild Mushroom Crostini with Balsamic Reduction are a tantalizing, creative, and gluten-free alternative to a traditional bread crostini. Whether avoiding gluten or simply looking for a fresh take on a classic Italian appetizer, this flavorful and nutrient-dense recipe will surely intrigue your taste buds!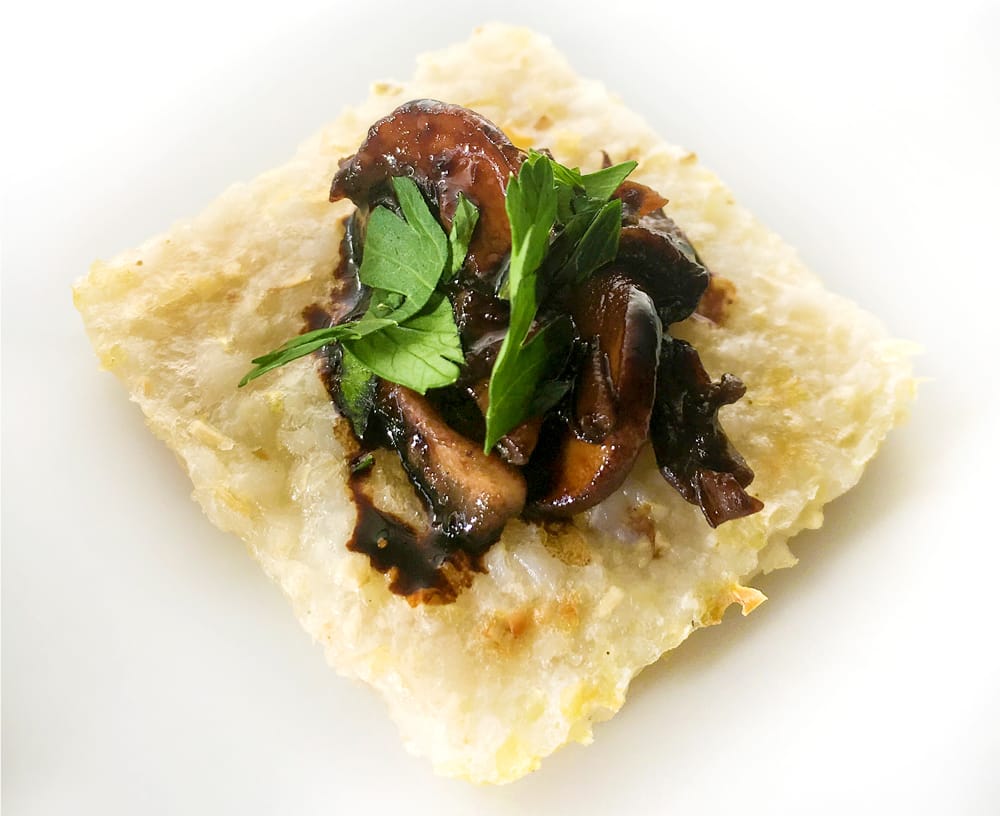 Grits + Wild Mushroom Crostini with Balsamic Reduction
Author:
Ingredients
4 cups water or vegetable stock
3 cloves garlic, minced
3/4 cup Anson Mills Sea Island White Flint Corn Grits
3 Tbs olive oil, divided
1 tsp sea salt
1 cup balsamic vinegar
1/2 cup water, heated
1 oz dried porcini mushrooms
8 oz fresh crimini mushrooms, cleaned, trimmed, sliced
2 cloves garlic, minced
3 sprigs thyme, leaves removed
2 Tbs sherry
1 Tbs tamari
1 Tbs parsley, finely chopped, plus extra sprigs for garnish
black pepper, finely ground, to taste
Instructions
[b]For the Grits Crostini[/b][br]
In a medium saucepan, bring water or stock to a boil. Turn heat down and add garlic, grits, and 2 Tbs oil. Cook, stirring often until grits are soft, about 1 hour.
Season with salt to taste. Turn off heat, and pour immediately onto a parchment-lined sheet pan, pressing down with an offset spatula to make sure it has a smooth surface.
Let cool slightly, then transfer to refrigerator to set for at least 1 hour. In the meantime, prepare balsamic reduction and wild mushroom spread.
When grits have set, preheat broiler. Cut grits into desired shapes and place on a baking sheet. Broil 4–6 inches from heat source until lightly browned, about 10 minutes.
[b]For the Balsamic Reduction[/b][br]
Add balsamic vinegar to a stainless steel saucepan. Bring to a high simmer and let liquid reduce to about 1/4 cup, until it looks like a glaze but isn't too thick. It will thicken as it cools. Remove from heat and set aside.
[b]For the Wild Mushroom Spread[/b][br]
Soak porcini mushrooms in 1/2 cup hot water for 15 minutes. Strain through cheesecloth and reserve cooking liquid. Rinse porcini and chop. Set aside.
Heat a large skillet over medium heat. Add remaining 1 Tbs oil, porcini and crimini mushrooms, garlic, and thyme leaves. Cook, stirring often, until mushrooms start to release liquid, 3–5 minutes.
Add sherry, reserved mushroom soaking liquid, and tamari. Bring to a boil over high heat and cook, stirring constantly, until liquid is reduced and becomes syrupy. Remove from heat and add parsley. Season with salt and pepper, to taste. Set aside.
[b]To Serve[/b][br]
Spoon some of the wild mushroom spread on the crostini and drizzle with balsamic reduction. Garnish with parsley, if desired.
Notes
[b]Allergens[/b][br]soy[br]corn