According to Google Trends, health coaching started growing as a search term around 2007. Since then, it grew into a $6 billion industry and isn't slowing down. Over 100,000 practicing health coaches are out there taking their portion of that $6 billion. You can read more about this growing field here.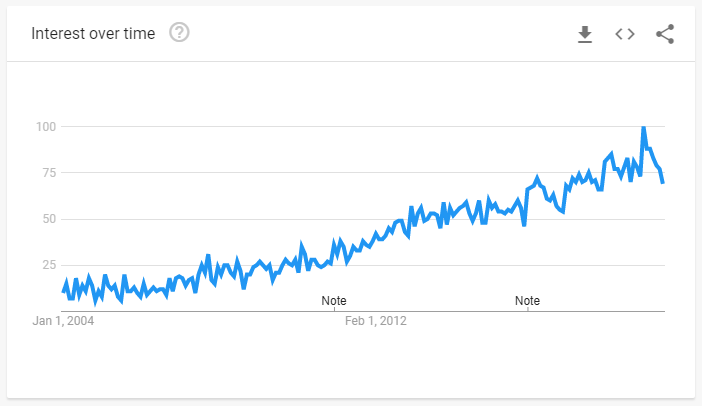 If you're willing to build and run your own business, you can find success as a self-employed health coach. There are plenty of jobs out there, but you might not find that perfect fit. For that reason, you should be willing to consider building your own practice as well.
If you are thinking about a career as a health coach, the following statements should resonate with you:
I want to help others. 

I understand that small changes can lead to huge results.

I believe in addressing the causes rather than symptoms.

I want to do something meaningful.

I am determined and hard working.
Nutritionist vs Health Coach
Health coaching is all about helping people make the necessary changes to their behavior that lead to health improvements.  There is a difference between telling people what they need to do and helping them realize what changes they want (and need) to make. A nutritionist will focus on what changes need to be made and will give recommendations for the end result. A health coach will focus on supporting people in the steps to making those changes in order to reach the end result. 
The programs I've come across seem to deliver just the minimum health/wellness/nutrition education necessary for a health coaching program. You learn some basic health education and partner up with other health professionals to translate their directives to clients in an effective way. That partnership can and does work, but isn't for everyone.
Health Coach Programs
There are many health coach programs out there. Depending on your goals, one of these certificates will be more than enough to start a business or get a job. Many graduates, however, don't end up staying in the health coaching field because some find it hard to build a business while others don't feel confident in their skills. Many go on to other schools to bolster their health education.
Having said that, the coaching aspect of health coaching is a valuable skill on its own and can translate into many other industries, including your personal life.
Check out our How to Compare Health Coaching Programs post.
How Much Money Can You Make?
If health coaching is the path you choose, follow it with realistic expectations. To be successful on your own, you should expect to put time and effort into it. A confident health coach should charge no less than $100/hr to start. From there, adjust your fee based on location, audience, package offers, etc. Research your local competition and make sure you're not the cheapest option.
The average salary for a health coach in the U.S. is $56,370. Depending on your overall goals, a job that provides you with a steady income and schedule might be exactly what you want. $56,370 divided by 2080 (total work hours in a year) comes out to $27.10 per hour if you're working 40 hours per week—you might even get health insurance and paid vacation time.
Assuming you can earn $300 per month from each of your clients, you will need to work with 16 clients every month to make $56,370. In this scenario, you should be meeting with clients weekly with an hourly rate of $75 per hour (package discount) and working a total of 16 hours each week. Running your own business comes with certain expenses, so you should add 4–5 more clients each month, and 4–5 hours each week, to cover that. 
Additional Work When Building a Health Coaching Business
On top of the 20 hours you put in working with clients directly, you will have to work additional hours to grow your business. You need to do marketing and work on partnerships, sales, etc. Once your "growth" time starts cutting into your coaching time, you will either have to raise prices, contract out "growth" work, or start thinking about hiring coaches to work for you.
Here is a spreadsheet that will help you estimate your monthly revenue based on your base hourly rate; number of clients; and 6, 3, or 2 month packages. If you have a Gmail account, you can access the spreadsheet and make a copy so you can edit it. If you prefer this file in Excel format, get it here:  Health-Coaching-Revenue-Estimates-and-Tracking.xlsx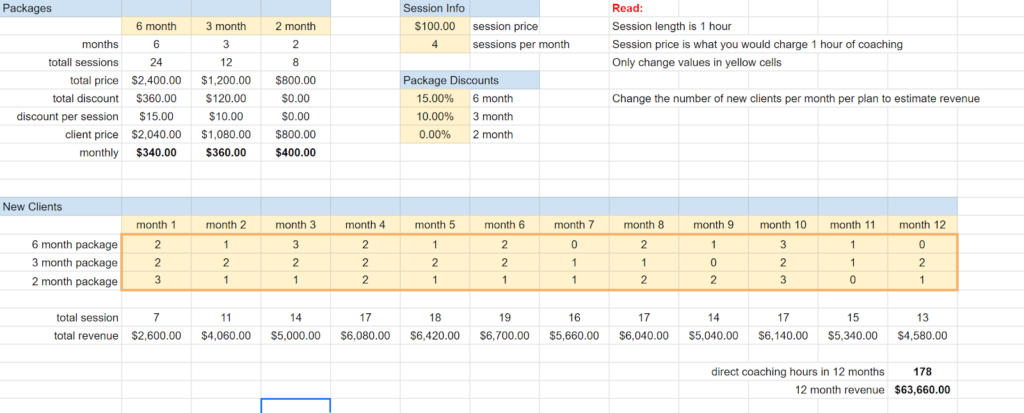 If you're excited about the possibilities that becoming a health coach brings, then start your journey today. If you have too many doubts, then this career path might not be right for you. Either way, make sure you're passionate about whatever path you choose because it will be a large part of your life. 
Good luck out there.