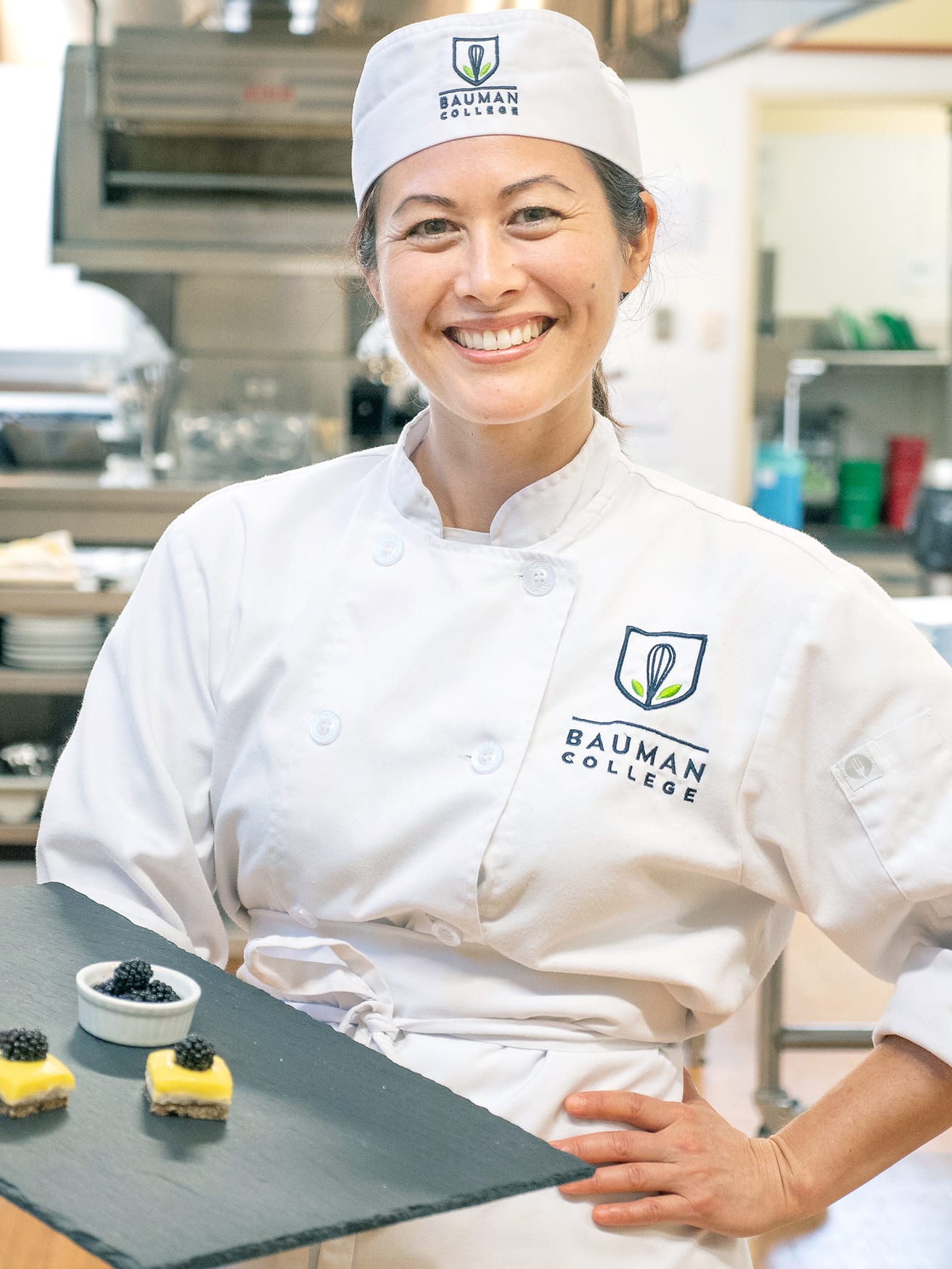 My name is Keiko Ichinose, and I am a Natural Chef.
Living in different cities throughout the U.S., traveling abroad, and exploring different cultures, I have always orbited around food. It was the point with which I centered my day. It was what I looked forward to the most. So, when I decided to leave my career in fashion design and enroll in the Natural Chef Training Program at Bauman College, it came as no surprise.
I had lived in California before, and with my love of fresh produce and farmers' markets, it made sense for me to move back. When I learned about Bauman College, everything fell into place. Bauman offered an environment and philosophy that aligned with my values of working with ingredients of the highest standard—fresh, seasonal, local, and organic. And the knowledge of how these ingredients tie back to health and wellness was invaluable.
My class recently put on our final Culinary Showcase event where we demonstrated our mastery of ingredient selection, preparation, and presentation as well as our ability to plan and execute a large-scale, catered event. The experience as a team, creating a theme and full menu centering around the food we believe in, was incredible. It was a night I hope to recreate in the future.
My goal is to start a small business that builds community through local, seasonal, organic, well-intentioned food, one recipe at a time. You can follow me on Instagram.
Recipe Process + Inspiration

Summer, the season of picnics and BBQs, was my inspiration for this recipe. I wanted to create a dessert with a healthy twist for those of us with a sweet tooth who are trying to cut down on our sugar intake. The tartness of the lemon curd combined with the richness of the coconut cheese and slightly savory crust create a lovely balance of flavors. It is a wonderful treat for everyone, including those who are gluten and dairy free.
Gluten-Free, Coconut, Lemon Tart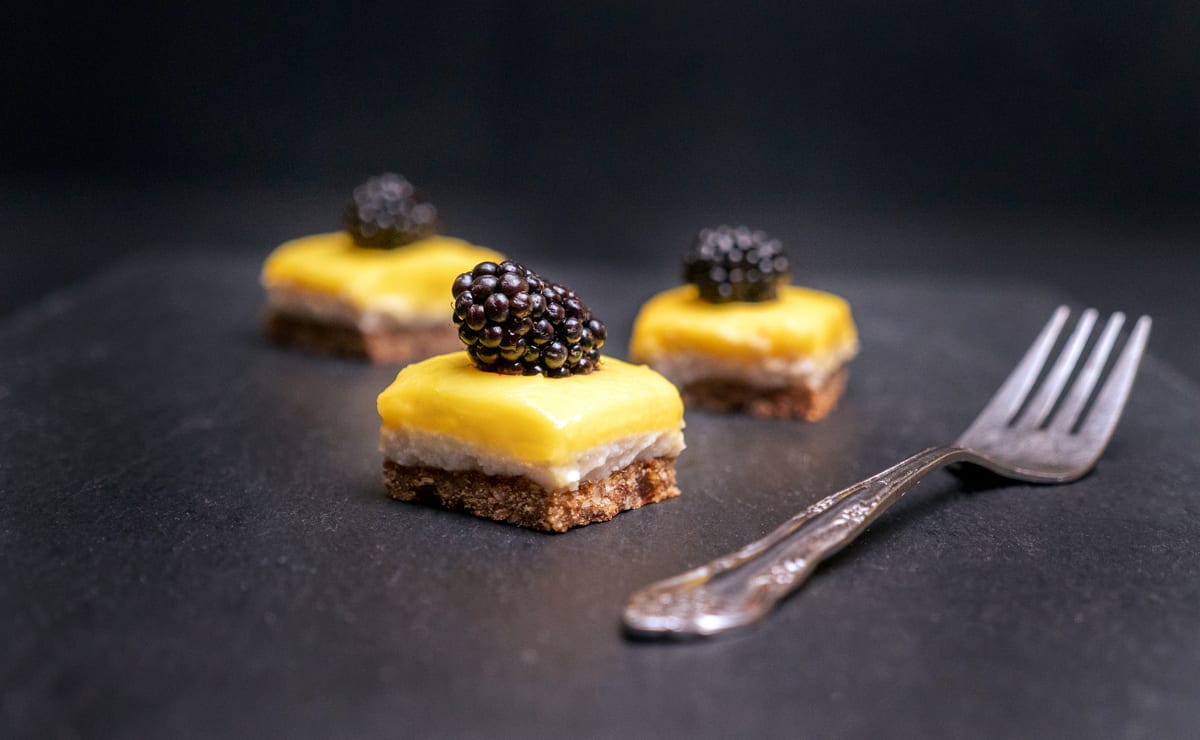 Alumni Spotlight + Recipe: Keiko Ichinose
Author:
Keiko Ichinose, Natural Chef
Ingredients
Nut Crust
1 tsp coconut oil
1 cup pecans
½ cup almond flour
½ cup flaxseed meal
¼ cup brown rice flour
3 Tbsp filtered water
3 medjool dates
2 Tbs sesame seeds
1 Tbs dried lavender buds
1 tsp sea salt
½ tsp ground cinnamon
Coconut Cheese
1 cup coconut butter
¾ cup coconut milk
1 medjool date
1 Tbs coconut oil
½ tsp vanilla extract
½ tsp sea salt
Lemon Curd
4 eggs
⅓ cup raw honey
1 Tbs lemon zest
½ cup lemon juice
¼ tsp sea salt
½ cup unsalted butter, chilled and cubed
1 cup blackberries, for garnish
Instructions
Nut Crust
Preheat oven to 350°F.
Grease a 9x9-inch glass pan with coconut oil.
Add all ingredients to a food processor and mix until well combined.
Empty the mixture into the pan and press down with parchment paper, making an even, consistent crust, about ¼-inch thick.
Place in the oven, and bake for 15 minutes or until crust is fragrant and cooked through. Set aside to cool.
Coconut Cheese
Set aside ¼ cup of coconut butter. Add all ingredients to a high speed blender. Mix until well combined and smooth, then add remaining coconut butter to blender. Blend until no chunks of coconut butter or dates remain.
Spoon mixture from blender into a medium sized mixing bowl. Place in refrigerator for 15 minutes to help coconut thicken into cheese form.
After 15 minutes, mix with a fork. It should have a thick, goat-cheese-like consistency. Set aside. Note, if the cheese is too hard to mix at this point, let sit at room temperature until it loosens up.
Lemon Curd
Separate egg yolks from 2 of the eggs. Add 2 whole eggs and the 2 separated yolks to a bowl. Save egg whites for another recipe.
Add raw honey, lemon zest, lemon juice, and sea salt to the eggs. Whisk together.
Pour egg mixture into a medium sized saucepan. Place pan over low to medium heat. Mix consistently with a wooden spoon. As the egg mixture starts to thicken, add butter a couple of cubes at a time, while continuing to mix. Once all the butter has been added, keep mixing over low heat for 3 more minutes.
Remove from heat and set aside to cool for 15 minutes.
After cooling, pour lemon curd into a strainer sitting over a large bowl. With a wooden spoon, stir the curd through, leaving the small cooked egg white pieces behind. Now the curd should be nice and smooth.
To Assemble
Spread coconut cheese over nut crust. Cheese should be about ¼ to ½-inch thick. Press down with parchment paper for a smooth, consistent surface.
Pour lemon curd over coconut cheese and use an offset spatula to spread evenly.
Cover and place in refrigerator for an hour.
Remove from refrigerator, garnish with fresh blackberries, serve, and enjoy!
Notes
Allergens: nuts, sesame, eggs, dairy