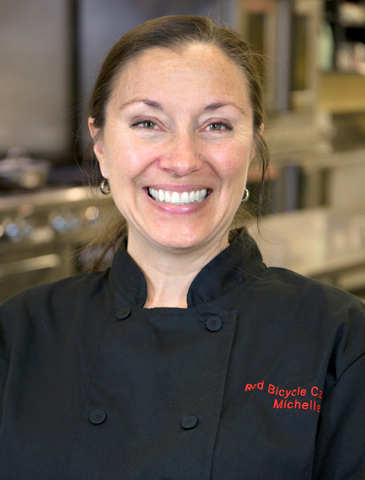 My name is Michelle Cave and I am a Bauman College graduate. While exploring career paths, I did a lot of soul searching. When I discovered the field of nutrition, I immediately knew that I had found my niche. Then, when I came across Bauman College, I knew I had found the right school to help me pursue this path because their curriculum offered a holistic approach to healing. Studying nutrition is the best decision I have ever made—it was the beginning of a journey with many stepping stones, ultimately leading me to where I am today.
Along the way, my children have been my inspiration—I always wanted to make sure that they ate nutrient-dense foods, so when they were young I started developing whole-food recipes. Little did I know that this would kickstart my career as a nutrition educator and natural chef. I started out by planting an organic garden at my kids' school and providing nutrition education and cooking classes to the school's students and parents. This ultimately led me to become a natural chef and start my own business.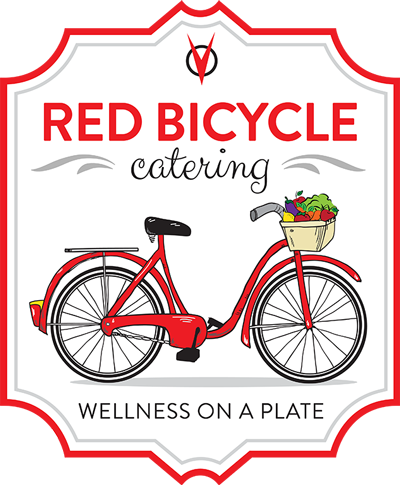 In 2017, I opened Red Bicycle Catering in downtown Redding, CA. We prepare nutrient-dense meals for families, cater events, and recently launched a line of organic grab-and-go wellness bowls that we sell at a few local grocery stores. We are fortunate to have a wealth of organic farms available to us in Northern California, so we use locally-sourced ingredients whenever possible. I like to think that there's a little bit of our community in every wellness bowl we prepare. Red Bicycle Catering also provides nutrition education and cooking classes to the community. We regularly work with the local Redding Rancheria tribal community and the McConnell Foundation.
I have also had the privilege of being a guest chef for Tehama Together's third annual field-to-fork dinner hosted at Lucero Olive Oil in Corning, CA. We served a five course dinner using almost entirely local ingredients from Shasta and Tehama counties to 80 guests, and incorporated Lucero's olive oils and vinegars into each course. The event was a tremendous success and a very memorable evening.
Bauman College changed my life and set the stage for my career as a nutrition educator and whole-foods chef. My advice to anyone considering a career in nutrition or the culinary arts is to follow your heart and go for it! You will not be sorry—the opportunities are endless and our communities are yearning for nutrition education and guidance.
Follow Red Bicycle Catering on Facebook and Instagram and enjoy the recipe below: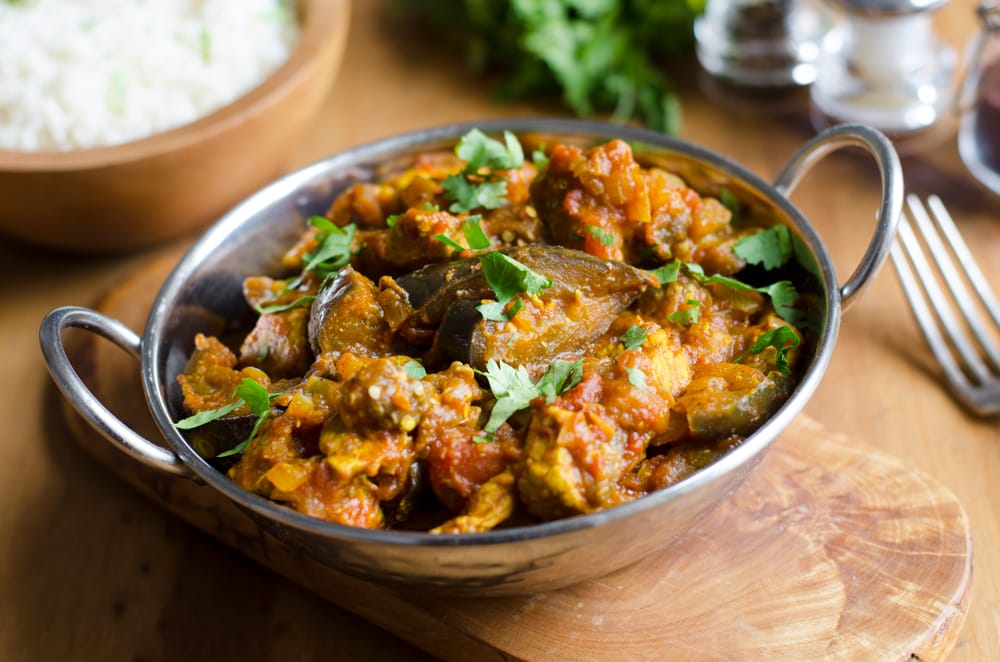 Summer Tomato Eggplant Curry with Raita
Author:
Ingredients
Curry (Vegan/Vegetarian)
2 Tbs coconut oil
2 large onions, thinly sliced
1 tsp cumin seeds
1 tsp mustard seeds
1 tsp fennel seeds
1 cinnamon stick
1 Tbs turmeric
1 Tbs coriander
1/4 tsp cayenne
1 Tbs dried oregano
1 tsp garam masala
1 Tbs sea salt
1/4 tsp white pepper
3 medium eggplants, stems removed and chopped into 1"–2″ pieces
1 1/2 lbs fresh tomatoes, diced or 2 28 oz cans diced tomatoes
4–5 cloves garlic, minced
2″ piece ginger, minced or 2 tsp dried ground ginger
1 cup cilantro, chopped
Steamed Rice
4 cups water
2 cups brown or white basmati rice, rinsed well and drained
Raita (Garnish)
2 cups whole-milk yogurt
1 Tbs mint, minced
Sea salt and pepper, to taste
Instructions
Curry (Vegan/Vegetarian)
In a large stockpot, heat coconut oil over medium heat.
Add onions and sauté until translucent.
Add cumin, mustard, and fennel seeds and cook until they begin to pop (about 5 minutes).
Add cinnamon stick, remaining spices, and eggplant and stir thoroughly. Reserve garlic and ginger for later.
Add tomatoes and cover the pot with a lid. Reduce heat and simmer for 10–15 minutes. Stir in garlic and ginger, continue simmering until eggplant is very soft and falling apart, 10–15 minutes longer. When the eggplant is tender, stir in the cilantro.
Serve immediately with steamed basmati rice and a dollop of raita.
Steamed Rice
Bring water to a boil in a large pot. Add the rice and return to a boil.
Cover the pot with a lid and reduce heat to very low. Cook for 20 minutes for white rice or 45 minutes for brown rice.
Raita (Garnish)
Combine all ingredients in a small bowl and stir until combined.
Notes
Allergens: nightshades, dairy