Nopales (Cactus Pads)
Cactus pads, or nopales in Spanish, are the flat, green leaves of the cactus plant which are shaped like a beaver tail. They must be harvested with thick gloves to avoid being pricked by the spines, but are easily peeled with a vegetable peeler or paring knife. High in fiber, nopales can be grilled, roasted, used in salsas, soups, and as a taco filling. Find locally grown nopales from Yerena Farms at the Ferry Plaza Farmers Market in San Francisco on Tuesdays and Saturdays or order them in bulk from Rancho Charanda Citrus Ranch in Redlands, CA.

Nopales "De Colores" Salad
In the United Farm Workers' movement, the folk song "De Colores" uses the image of multiple colors to signal appreciation for biodiversity in the fields, in the people, and in the beauty of creation. This dish from Decolonize Your Diet incorporates colorful vegetables and fruits to reflect this sentiment.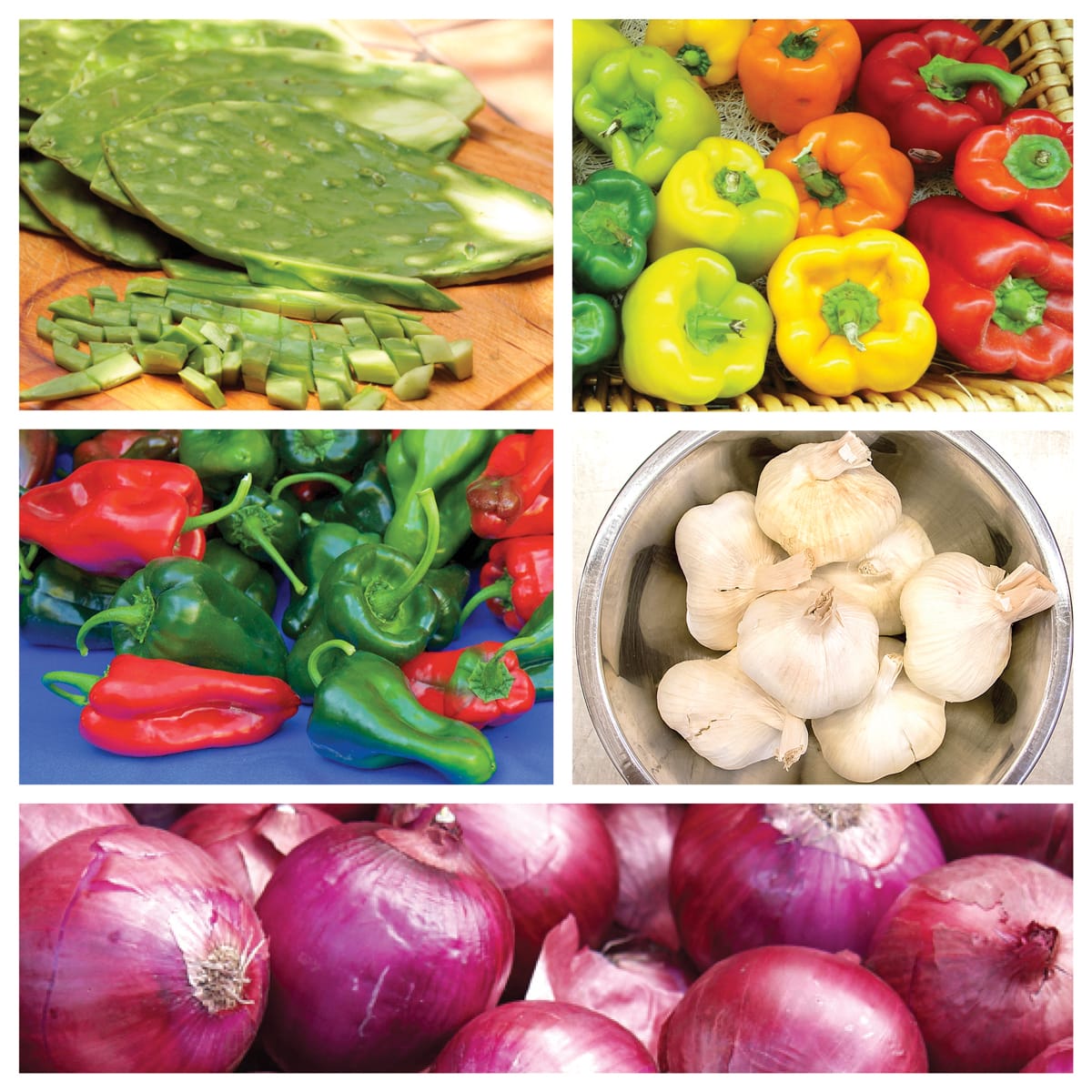 Nopales "De Colores" Salad
Author:
Ingredients
6 nopal paddles, cleaned, spines removed
2 poblano chiles
1 Tbs coconut oil
1 bell pepper (red, orange, or yellow)
1 clove garlic
1/2 tsp sea salt
2 Tbs red wine vinegar
1/8 tsp white pepper
1/4 cup olive oil
1/2 medium red onion, finely diced
1 pomegranate, seeds removed (optional, if in season)
4 oz queso cotija, crumbled
Instructions
[b]For the Salad[/b][br]
Heat grill or grill pan to medium-high. Lightly coat nopales and poblano chiles in coconut oil. Place nopales, poblanos, and whole bell pepper on the grill, cook for about 5 minutes, then flip. Poblano and bell pepper need to be thoroughly charred. When vegetables are sufficiently cooked or charred, remove from grill and set aside.
Place poblano and bell pepper in bowl, cover, and allow to steam for 20 minutes. When cool, slip them out of their skins, and remove seeds and stems. Cut nopales, poblanos, and peppers into strips that are 1/4-inch wide and about 2–3 inches long.
[b]For the Vinaigrette[/b][br]
Place garlic and salt in a mortar and use pestle to grind to a smooth paste. Add vinegar and pepper and let rest for about 10 minutes while preparing salad. To finish vinaigrette, whisk in olive oil.
[b]To Assemble[/b][br]
In a salad bowl, gently combine nopales, bell peppers, poblanos, corn kernels, onions, and pomegranate seeds. Pour vinaigrette over salad and toss to combine. Taste and adjust seasonings. Serve salad at room temperature, garnished, if desired, with crumbled queso cotija.
Notes
[b]Allergens:[/b][br]dairy[br]nightshades