This high-protein treat uses a natural sweetener, a variety of nutritious nuts and seeds, and mesquite, which comes from the bean pods of the mesquite plant. The beans are ground into a powder and are a great source of soluble fiber, which helps to maintain blood sugar.
For tasty variations, substitute different nuts and seeds. Other spices like nutmeg and cardamom can be added, as well as any type of dried fruit or dried coconut. For a decadent dessert, break the brittle apart, and either dip in melted dark chocolate and allow to set, or drizzle the chocolate on top.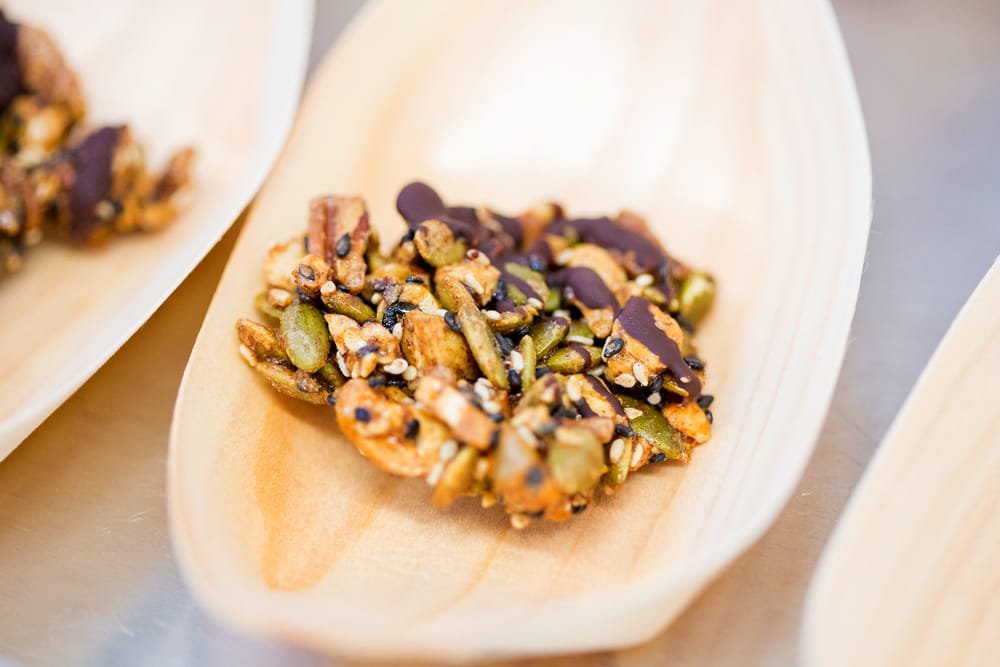 Nut + Seed Brittle with Mesquite
Author:
Adapted from the Blue Sun Cafe recipes
Ingredients
½ cup maple syrup, divided
2 cups pumpkin seeds
1 cup cashews, coarsely chopped
1 cup pecans, coarsely chopped
½ cup sesame seeds
2 tsp cinnamon, or more to taste
2 Tbs mesquite powder
¼ tsp sea salt
1 orange, zested
Instructions
Oil a baking sheet and line with parchment paper. Preheat oven to 350°F.
Measure ¼ cup of maple syrup into a bowl. Add pumpkin seeds. Mix until well coated.
Add remaining nuts and seeds, cinnamon, mesquite, salt, and orange zest. Fold and mix well. Add remaining ¼ cup of maple syrup and coat thoroughly.
Evenly spread mixture on baking sheet, pressing down with damp hands to smooth into ¼-inch thickness. Bake for 30 minutes, checking at 15 minutes. If nuts are toasted and hardened in the middle of the pan (not soft and sticky), remove from oven.
Cool completely before breaking into pieces.
Notes
Allergens:
nuts
sesame