Personal Chef Shannon Valle is a graduate of Bauman College's Natural Chef Program (now Holistic Chef Online Culinary Program) who clearly knows her purpose. According to Shannon, "My purpose, whether through food, movement, or intention is to share recipes, stories, and resources that bring healing, nourishment, and connection." Read more about Shannon below.
Family, Cooking and Holistic Living
My name is Shannon Valle, a California native–born and raised in San Francisco–and currently living in one of the most diverse towns in the Bay Area. I am married to my college sweetheart and mother to five amazing kids who motivated me to take a path of holistic nutrition, health, and living in addition to following our Native American (Comanche, Yoeme, and Isleta Pueblo) traditions.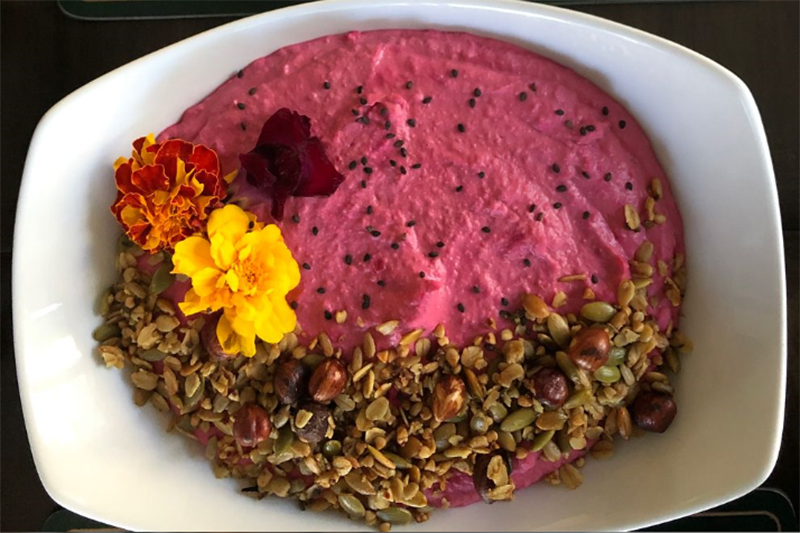 I graduated from U.C. Davis with a B.A. and Sonoma State University with a Single Subject Teaching Credential which led me to a career as a public school teacher. At twenty-five years old I became a mother and began my journey into holistic health and nutrition.
As a young mother who was dealing with digestive issues; I began researching holistic health, wellness, diets, and nutrition which directed my next career step as a Yoga and Meditation Teacher. Yoga encouraged me to make lifestyle changes that included being conscious of all the products from food to cleaning supplies that I brought into our home.
Eventually, I began teaching seasonal eating and yoga workshops that ended by sharing a meal that I cooked with workshop participants. The heart of who I am is family, cooking, and holistic living. Several years ago I decided to fulfill one of my big dreams of attending culinary school. I chose Bauman College's Holistic Nutrition and Natural Chef Program (now Holistic Chef Online Culinary Program) which was in perfect alignment with my desire to cook nourishing and healing meals.
Food Offers Unlimited Ways to Earn a Creative Living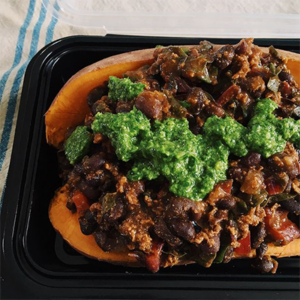 Bauman College gave me the confidence through their culinary training like recipe reading and development, culinary math, time management, practical commercial kitchen experience, weekly case studies, and in depth understanding of their Eating For Health model that I successfully applied to every culinary position.
I love Bauman College's mission to support people in achieving optimal health and the fact that this comprehensive program offered the tools, knowledge, experience, atmosphere and teachers that truly spoke to my desire to shift the way I thought about food as well as how I was living my life. I wanted to walk my talk and really deepen my understanding of not just food and wellness but my inherent right to great living that respects all beings.
Bauman College gives graduates the necessary information and experience to be successful in the culinary world. It is up to each of us to hone our skills, through daily cooking, self-study and research that enlivens our passion to share the Eating for Health model. Food and cooking is not only healing, it is an art and offers unlimited ways to earn a creative living. Also, in the beginning I said yes to almost every cooking opportunity that came my way whether I got paid or not. This type of networking led to paid cooking opportunities and long term clients.
Sharing S.O.U.L. Food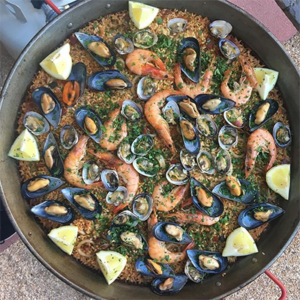 Today I am a personal chef supporting individuals and families on their healthy eating journeys. As a personal chef, I have had the opportunity to cook for professional athletes (pro boxer, Golden State Warriors basketball player, and two Oakland Raiders football players). I have two clients that I cook for weekly. One client has GERD (gastroesophageal reflux disease) and requires therapeutic cooking while my second client is a family of five with a child who also has GERD.
In addition, I cater events and teach cooking classes. For a time I taught cooking classes in Berkeley after school programs. Chef Camila Loew who was one of my Bauman College instructors took me under her wing and shared many job opportunities with me too. I have cooked at various weekend retreats. I organized my first community dinner in October 2018 that was a great success. I served 20 people a 4 course plant based meal.
I love supporting people on their healing food journeys whether that be through cooking, teaching, meal planning, or sharing recipes. I also really love hosting community dinners where I have the opportunity of sharing meals based on S.O.U.L. (Seasonal, Organic, Unprocessed and Locally grown) food.
On this path I have enjoyed being a yoga and meditation teacher, natural chef, and educator. My purpose, whether through food, movement, or intention is to share recipes, stories, and resources that bring healing, nourishment, and connection.
Connect with Shannon Valle by visiting shannonsnaturalkitchen.com or IG @shannonsnaturalkitchen
Have Work You Love
Get the details on how to pursue a career as a Holistic Chef through Bauman College's 12-month ONLINE culinary school! Contact us to connect with an Admissions Representative today.