In many countries in the world, animal protein is a luxury. To provide their families with calories, nutrients, and dietary fiber, mothers in these places have relied on three primary foods: beans, corn, and squash. In most cases, vegetables and herbs, such as chile, parsley, cilantro, onion, garlic, oregano, and cumin are added to these rather bland food staples to make them taste great and to enhance digestibility.
A traditional Latin American diet is often local, seasonal, and natural. In some areas, quinoa, amaranth, or spelt is grown as a staple grain. When a whole grain is combined with a legume, such as pinto or kidney beans, the meal delivers protein, as well as ample B vitamins and minerals, such as magnesium and potassium.
Casamiento—which means "marriage ceremony" or "wedding" in Spanish—is literally of a marriage of two staple foods: rice and beans. This Salvadoran dish can be served "soft" or "crisp," which indicates the texture of the rice coated in luscious black bean broth and lightly fried. White rice is traditional, but long-grain brown rice or wild rice can be used for a more nutrient-dense substitution.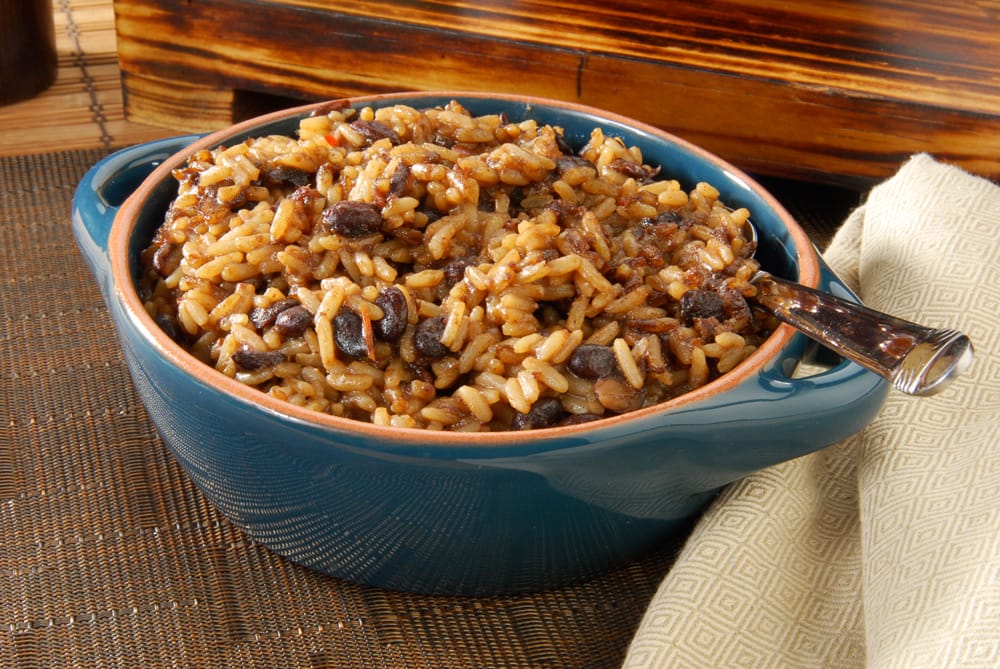 Casamiento
Author:
Ingredients
2 Tbs avocado oil
1 Tbs coconut oil
1 small white onion, small dice
1 poblano pepper, small dice
3 garlic cloves, minced
2 cups black beans, cooked
1/2 cup black bean pot liquor (the liquid in which the beans were cooked)
1/2 tsp ground cumin
1/2 tsp Mexican oregano
sea salt
freshly ground black pepper
3 cups cooked long grain rice
1/4 lb purslane (a.k.a. verdolaga), chopped
Instructions
Heat oils together in a large cast iron skillet or on a griddle over medium-high flame. Add onions, poblano pepper, and garlic, and sauté for 2 or 3 minutes, until onion turns slightly translucent.
Stir in the drained black beans, reserved pot liquor, cumin, Mexican oregano, salt, and pepper. Bring to a hard simmer for 45 seconds, then reduce heat to medium-low and continue to gently simmer until all ingredients are heated through.
Add rice and purslane to skillet, and stir into beans thoroughly. Adjust seasoning and add a little more bean liquid if necessary.
Cook for an initial 10 minutes, stirring often. For a crispy texture, keep cooking an additional 10-20 minutes, letting each side fry —recommended! Serve hot.
Notes
Allergens: nightshades
Source: Flavors of Health Cookbook by Dr. Ed Bauman and Chef Lizette Marx