This is a guilt-free pasta dish that celebrates the versatility, beauty, and delicate flavors of vegetables. Thinly sliced beets, kohlrabi, and butternut squash stand in for regular wheat pasta to make ravioli that is better than the original and superior to gluten-free versions. This recipe is so delicious that you might toss out the pasta entirely and look at vegetables in a new way.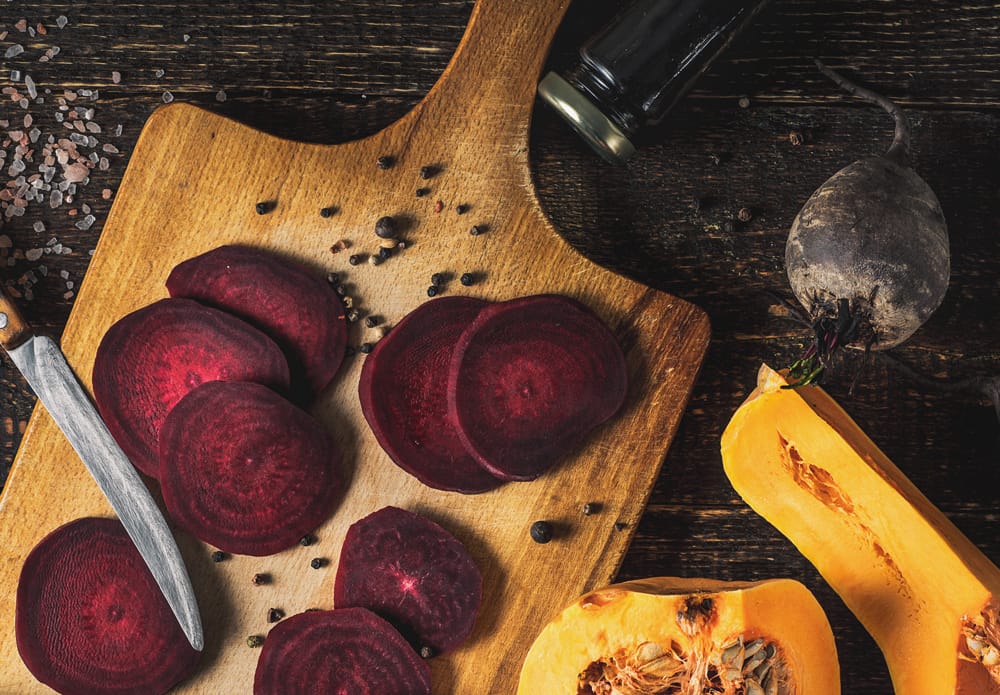 [b]Root Vegetable Ravioli with Pesto Cashew Cheese[/b]
Serves:
30 ravioli and 1 cup cheese
Ingredients
[b]Ravioli:[/b][br]
1 red beet, peeled
2 kohlrabi, peeled
1 small butternut squash, peeled
1/4 cup extra-virgin olive oil
1/8 tsp pink sea salt or other high-quality sea salt
[b]Pesto Cashew Cheese:[/b][br]
1 1/4 cups cashews, soaked in 2 cups pure, filtered water
1/2 cup walnuts, toasted
1 cup basil leaves, tightly packed
1 green onion, green and white parts minced
2 cloves garlic, peeled and minced
1 Tbs nutritional yeast
2 tsp white miso
1/2 lemon, juiced
1/4 tsp mustard
1/4 cup extra virgin olive oil
1/4 tsp sea salt
Instructions
[b]Ravioli:[/b][br]
Using a mandoline or V-slicer, slice beet, kohlrabi, and butternut squash into thin rounds.
Steam in a single layer for 3 minutes until vegetables are tender but not so soft they break apart. You will probably need to do this in batches.
[b]Pesto Cashew Cheese:[/b][br]
Drain cashews and place in a blender with walnuts, basil leaves, green onion, garlic cloves, nutritional yeast, white miso, lemon juice, mustard, and olive oil.
Blend thoroughly until mixture is smooth and thick. Add salt to taste if necessary. Blend again.
[b]Assembly:[/b][br]
Measure 1 to 1 1/2 teaspoons of Pesto Cashew Cheese into center of one root vegetable round and place another on top, like a sandwich. Continue until all ravioli are filled.
Whisk pink sea salt into olive oil. Before serving ravioli, give each one a light brushing of salted olive oil.
Notes
Pesto cheese will keep in the refrigerator for up to 4 days. Store in a glass container with a tight fitting lid until ready to use.[br][br][b]Allergens:[/b][br]nuts[br]soy
Source: Flavors of Health Cookbook by Dr. Ed Bauman and Chef Lizette Marx