The perfect puréed soup for spring, when peas are at their peak of freshness. The cashew cream is a non-dairy replacement for milk or cream, which is classically used in pea soup.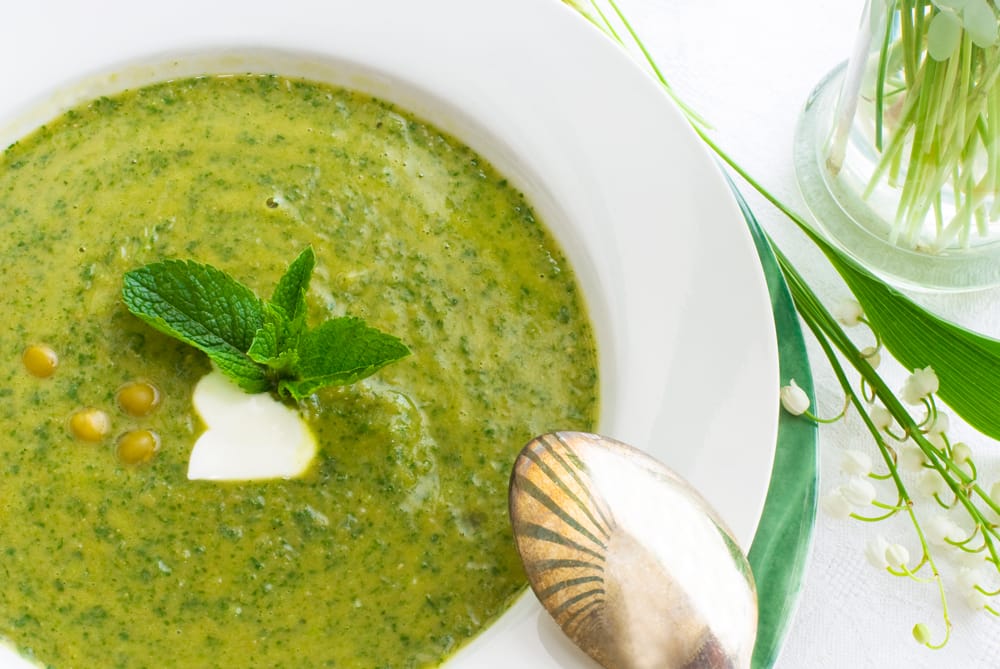 [b]Spring Pea + Mint Soup[/b]
Author:
Ingredients
5 lbs English peas in pods
1 cup water
3/4 cup cashews
2 Tbs olive oil
1 large leek, sliced
1 medium celery stalk, sliced
1 1/2 tsp salt
2 medium garlic cloves, chopped
6 cups roasted vegetable stock
1 tsp lemon juice, more to taste
3/4 cup mint leaves, chopped
whole mint leaves, for garnish
Instructions
Shell 5 lbs of peas. This should give you about 4 1/4 cups peas.
Bring a medium pot of water to a boil. Blanch peas briefly and shock in an ice water bath. Set aside.
Add water and cashews to a blender and blend until smooth and creamy. Set aside.
Heat a medium pot over low heat and add olive oil. Add leek, celery, and a pinch of salt. Lightly cook until just tender, about 5 minutes. Add garlic and stir for another minute. Don't let the vegetables color.
Add stock to the pot and bring to a simmer. Simmer for 10 minutes.
Add peas and simmer gently until just tender, another few minutes. Turn off heat and stir in the lemon juice, salt, mint, and 1 cup of cashew cream.
Transfer in batches to a blender and purée until smooth and creamy with some flecks of green from the mint. Add back to the pot and taste. Adjust seasonings as necessary. Gently reheat if needed. Don't overheat or the cashew milk will curdle.
Garnish with reserved cashew cream and fresh mint.
Notes
[b]Allergens:[/b][br]nuts