Easier than pie but just as satisfying, crisps are quickly assembled desserts. It's best to make this crisp with strawberries that are at the peak of ripeness. Not only will this make the dish more flavorful, but you won't have to add as much sugar. If you are using strawberries that are a little on the sour side, add a tablespoon or two of sugar to the fruit filling.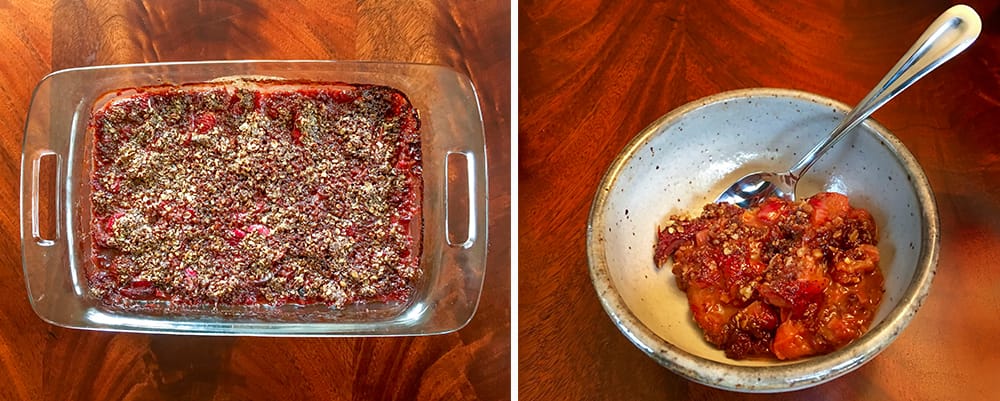 Strawberry Rhubarb Crisp
Author:
Ingredients
[b]Fruit Filling:[/b][br]
3 large stalks of rhubarb, sliced (approximately 3–4 cups or 1 lb)
1 lb strawberries, stems removed and quartered
1/4 cup coconut sugar
1 Tbs Meyer lemon juice
[b]Topping:[/b][br]
1 cup Gluten-free rolled oats
1 cup pecans
8 Tbs unsalted butter, cubed
½ tsp salt
½ cup coconut sugar
Instructions
Preheat oven to 375°F.
Lightly grease 9 x 13 pan with butter.
In a large bowl, mix all fruit filling ingredients together and pour into greased pan.
In a food processor, add oats, pecans, and butter. Pulse until the mixture is just starting to clump together.
Add salt and sugar and pulse a few times more.
Sprinkle topping over filling evenly and place into the oven. Bake for about 45 minutes. The topping should be lightly browned and fragrant while the fruit filling will be bubbly.
Let sit for at least 15 minutes and then serve with a dollop of yogurt or coconut cream.
Notes
To make a dairy-free version of this crisp, substitute coconut oil for the butter. To ensure the coconut oil stays solid in the food processing step, put everything in the food processor and place it in the refrigerator for 10-15 minutes. [br][br]This will keep in the refrigerator for 5-7 days.[br][br][b]Allergens:[/b][br]dairy[br]tree nuts