What is your name and in which program are you enrolled?
Nina Auerbach, Nutrition Consultant Training Program via Distance Learning
Where are you from originally and what led you to Bauman College?
I was born in New York, but have lived in Seattle for more than 30 years. After earning degrees in social work and business, I began what became a longstanding career in non-profit leadership.
At some point along the way, I became interested in coaching. I got my first coaching certification from the College of Executive Coaching and started a small private practice as a side business. As time went on, I married my love for coaching with my passion for nutrition and health and earned additional certifications in health coaching.
Two years ago, I made a complete switch in careers and became a full-time health coach with Vera Whole Health, an employee wellness company that provides large employers with on- or near-site medical clinics that include health coaches as part of the clinical team.
My decision to enroll at Bauman College was based on my desire to bring additional knowledge of nutrition and consulting skills to my workplace and to my private practice.
What is the most interesting thing you've learned so far in the program?
It is hard to pick just one! Gaining a greater understanding of the role of micronutrients and how they work synergistically in the body has been fascinating to me.
We have just started the Therapeutic Nutrition portion of the program, and I am already seeing how what we learned in the Foundations of Nutrition portion integrates with what we are learning about approaching specific health conditions.
What is your favorite health-supportive recipe?
I make a vegetarian chili that I really enjoy. It is full of health-promoting veggies and legumes.
Vegetarian Chili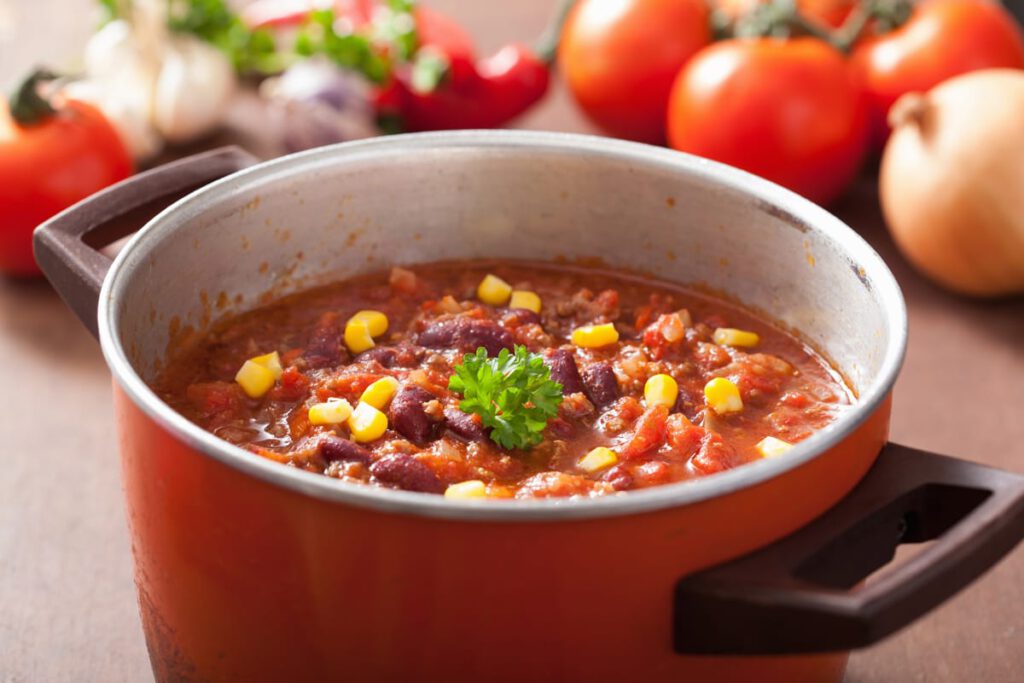 [b]Vegetarian Chili[/b]
Author:
Ingredients
1 Tbs olive oil
1/2 yellow onion, chopped
2 cloves garlic, crushed
1/2 tsp chipotle powder (or to taste)
1 tsp ground cumin
1/2 tsp chili powder
1–2 tsp sea salt
2–3 carrots, diced
2 cups tomatoes, diced
1 cup black beans, pre-cooked or canned
1 cup kidney beans, pre-cooked or canned
1 cup pinto beans, pre-cooked or canned
1/4 lb corn, fresh or frozen
12 cups water or vegetable stock
1/2 bunch kale, chopped
1/2 cup cilantro, chopped
Instructions
Heat oil in a large stock pot, add onions, and cook for about 10 minutes, until almost translucent. Add garlic, spices, and salt and cook for a minute.
Add carrots, tomatoes, beans, corn, and water. Cover and simmer for about an hour.
Add kale and simmer for 5–10 minutes. Add cilantro as a garnish and serve.
What are your plans for the future, after you graduate?
I hope to integrate nutrition consulting into my current work and my private practice, continuing with my current full-time employment for another couple of years, but then I hope to cut back to part-time and build my small private practice.
Do you have any advice for those thinking about enrolling at Bauman College?
Bauman College offers a fantastic, quality program with excellent instructors and materials. It is well-constructed in terms of moving students through the program in groups with ample opportunities to interact. This really helps for distance learners.
I do think that it is important to realistically assess whether you have the time to put into the program, because, like many things, you get out of it what you put into it. The workload is heavy, especially in the Therapeutic Nutrition portion, so be prepared for that.