As the days grow shorter and there's a nip of frost in the air, our thoughts naturally turn to…pumpkin spice and Halloween treats. Starting the holiday season with excess sugar consumption is a sure-fire way to derail any intentions for healthy eating and create a cascade of sugar cravings that can last until the New Year.
There is a better way to indulge! By making your own rich beverages and tasty desserts you can use health-supportive ingredients that help you manage your blood sugar, boost the nutrient density of your sweet selections, and satisfy your craving for all those delicious fall flavors.
Let's start by talking about the wonderfulness of pumpkin spice! While there are lots of internet memes joking about pumpkin spice everything – we're serious advocates of all of the potent health benefits that this combination of cinnamon, ginger, nutmeg, and cloves paired with pureed pumpkin has to offer.
At Bauman College, we emphasize what we call Booster Foods which include spices, herbs, teas, and other foods you don't need to eat a lot of, but that pack an outsize nutrient punch. Adding these to your daily diet will give your recipes extra flavor and will provide additional vitamins and minerals and phytonutrients (plant-based nutrients with special properties).
So let us tempt you with a Pumpkin Spiced Matcha Latte! It's packed with all those tasty fall spices and swaps the coffee for health-supportive (and slimming) green tea. Take a look at the highlights from the ingredient list and the outsized benefits they offer:
Cinnamon: Cinnamon is a sweet and warming spice that is made from the inner bark of several types of trees. It has powerful antioxidant and anti-inflammatory properties, and is also thought to increase insulin sensitivity, which helps to regulate blood sugar. Avoid large quantities of the cassia variety of cinnamon and look for Ceylon cinnamon.
Ginger: The root, or more accurately, the rhizome, of a flowering perennial plant, that has been used in folk medicine as a remedy for nausea and indigestion and has been shown to have anti-inflammatory and antioxidant properties. The active ingredient is gingerol, which gives ginger its recognizable flavor and aroma. In the same family as turmeric and cardamom.
Pumpkin puree: Pumpkin is a colorful winter squash that contains plenty of fiber, beta carotene (a precursor to Vitamin A), magnesium, potassium, and other healthy nutrients. Heart-healthy and immune supportive.
Matcha powder (green tea): Matcha is finely ground, green tea that has been whisked in hot water to create a frothy drink. It's very high in special compounds such as ECGC (epigallocatechin gallate), a powerful antioxidant. Note that green tea can affect the absorption of certain medications.
Now, nothing says Halloween like gooey delicious chocolate. So how about a brownie recipe? By swapping out refined sugars with mineral-rich pure maple syrup and adding fiber-rich black beans you can create a blood sugar balancing and trick-or-treat-worthy brownie. Check out some of the nutrient benefits of our Black Bean Brownie recipe:
Black beans: Nutrient powerhouses, high in fiber, protein, good carbs, and antioxidants along with anti-inflammatory properties. Supports heart health, eye health, and blood sugar regulation. A great alternative to animal protein, and a surprisingly delicious addition to this recipe.
Eggs: Can be classified as a superfood. High in protein, Omega-3 fats, lutein and zeaxanthin, which are antioxidants especially important for eye health, Vitamin B12 and other important B vitamins. Also contain Vitamin D. Look for pasture-raised eggs.
Dark chocolate chips, 83% cacao: You might be surprised to learn that dark chocolate is a health food! In fact, the higher the percentage of cacao, the greater the benefits. It also contains fiber, magnesium, iron, and other minerals, plus it is high in antioxidants and may also improve cognitive function in older adults. Enjoy in moderation.
Almonds: A delicious tree nut and a source of fiber, protein, healthy fats, vitamin E, magnesium, phosphorus and potassium. High in antioxidants and low in carbs. Almonds are a good source of heart-healthy fats and, surprisingly, calcium, which supports bone health.
Join Chef Carrie Bonfitto and Nutrition Consultant Diane Fischler for a live webinar on October 4, 2023, as they demonstrate making these yummy treats and offer additional insight into some of the powerful and supportive ingredients. You will want to add these special spices and foods to your diet and serve these recipes at your Halloween gatherings and beyond this holiday season.
Spiced Matcha Latte with Pumpkin Cream
Servings: 2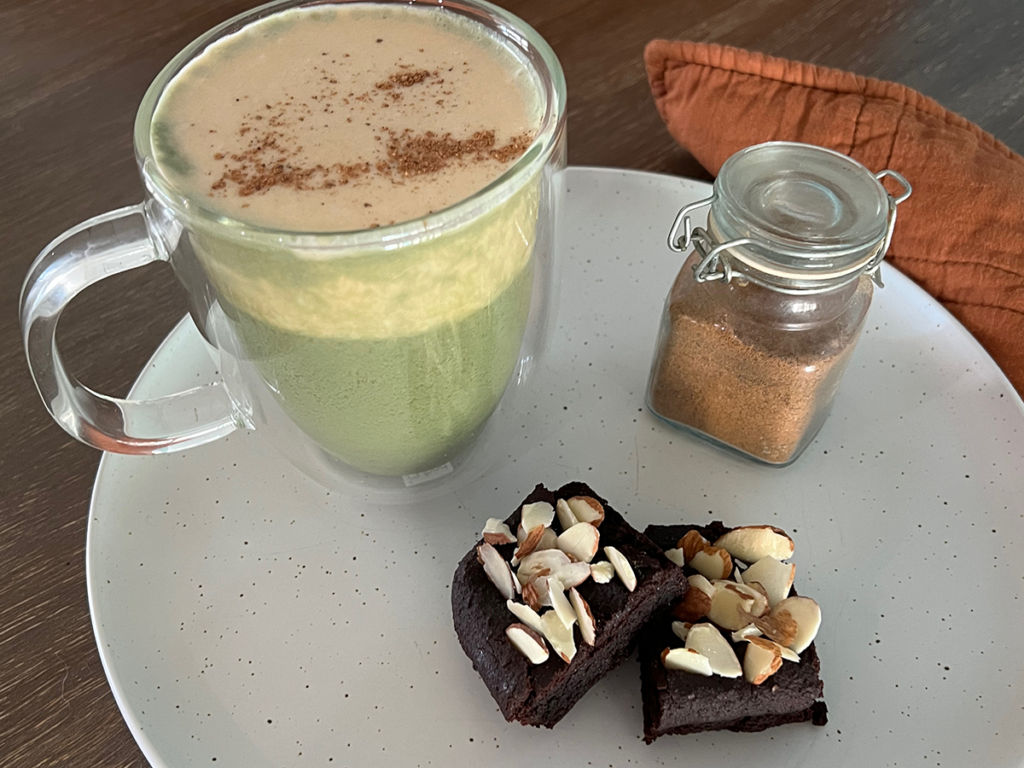 INGREDIENTS
For the Pumpkin Cream:
¼ cup unsweetened canned coconut cream, chilled overnight
1 tablespoon unsweetened pumpkin purée
½ teaspoon vanilla extract
For the Matcha:
¼ cup cashews soaked overnight and drained
16 oz boiling water
1/2 tsp ground cinnamon
1/8 tsp ground ginger
1 pinch ground nutmeg
1 pinch ground cloves
1 pinch ground allspice
1 tsp maple syrup (optional)
2 tsp matcha powder
INSTRUCTIONS
Whip the ingredients for the coconut cream* in a chilled bowl with a hand mixer or a whisk until light peaks form.
Add all the ingredients for the matcha except the matcha powder to a blender. (The matcha powder will get bitter if added to water that is too hot) Blend until smooth and creamy being careful to release the steam or open the steam vent to let the steam escape slowly.)
Add the matcha powder to a bowl and add a ¼ cup or so of the warm cashew mixture. Whisk until smooth.
Add the matcha mixture to the blender mixture and blend to combine.
Divide the matcha into two mugs. Top with a dollop of the pumpkin cream and a sprinkle of nutmeg.
*Note: If you can't find canned coconut cream, you can use the top layer from a can of coconut milk instead. You will still need to chill and whip it.
Black Bean Brownies
Servings: 9
Time: 40 minutes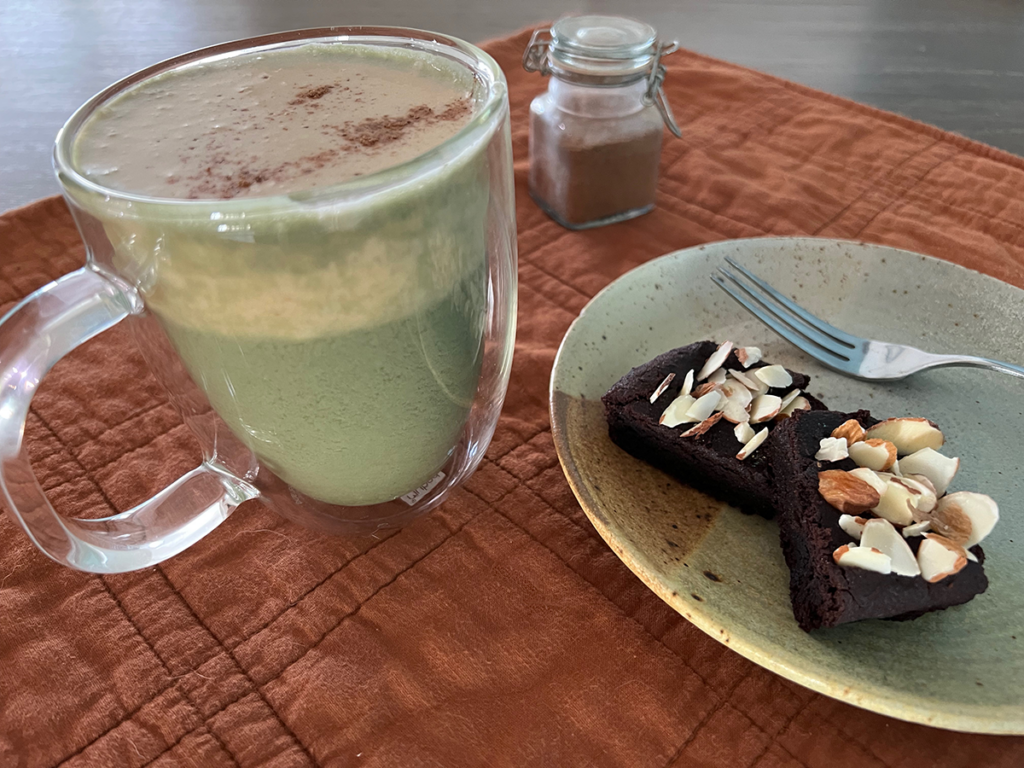 INGREDIENTS
2 cups Black Beans (cooked)
3 Eggs
¼ cup Avocado Oil
1 tsp Vanilla Extract
¼ tsp Sea Salt
¾ cup Cocoa Powder
1/3 cup Maple Syrup
½ tsp Baking Powder
3 ½ oz Dark Chocolate Chips, 83% cacao (divided)
¼ cup Sliced Almonds
INSTRUCTIONS
Preheat oven to 350 degrees F. Line an 8" square baking dish with parchment paper.
In a food processor, combine black beans and eggs. Process for about 60 seconds until mixture is very smooth.
Add vanilla, salt, cocoa powder, maple syrup, and baking powder to the black bean batter. Blend. Scrape down the sides of the bowl and blend again.
Add half of the chocolate chips and pulse 5 or 6 times until it is mixed in.
Transfer the batter to the prepared baking dish. Sprinkle with the remaining chocolate and the sliced almonds.
Bake for 30 to 35 minutes, or until a toothpick inserted into the center comes out with just a few moist crumbs.
Let the brownies cool completely. Then transfer to the fridge and chill before cutting.
Have Work You Love
Get the details on how to become a Holistic Chef or Nutrition Consultant through Bauman College's ONLINE programs! Contact us to connect with an Admissions Representative today.