Vietnamese Phở
Phở is a popular Vietnamese street food that consists of stock, noodles, herbs, vegetables, and beef or chicken. This veganized variation from Rouxbe Cooking School draws deep flavor from the combination of spices, herbs, alliums, citrus, and shiitake mushrooms; and features seasonal bok choy, snap peas, and bean sprouts. Kombu could also be added, contributing mild flavor and abundant minerals.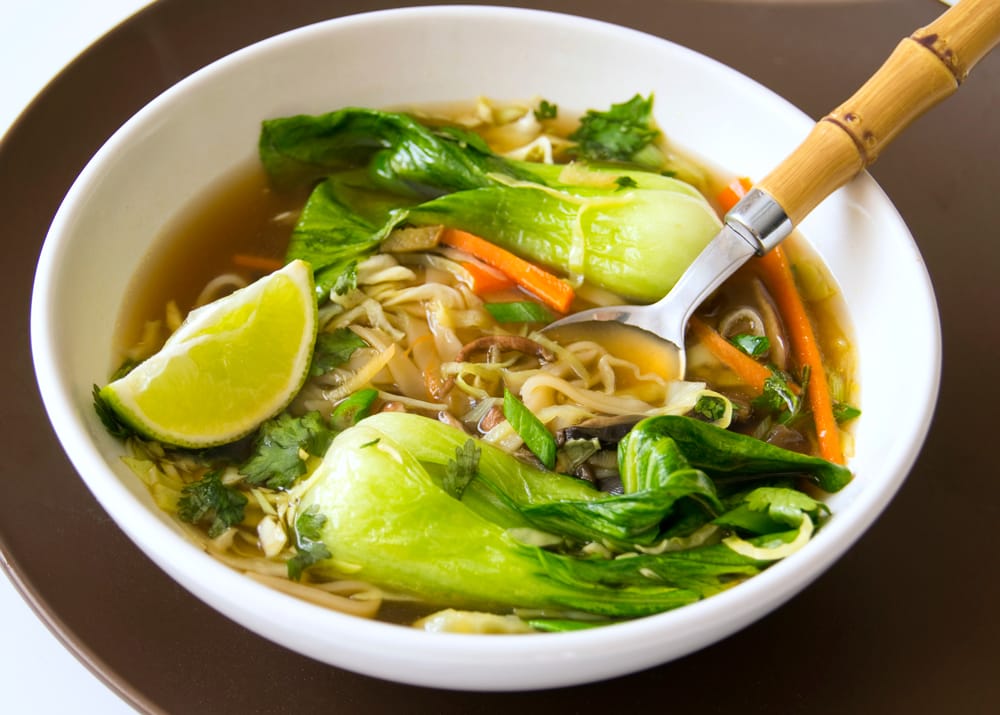 [b]Vegetarian Phở with Bok Choy + Rice Noodles[/b]
Author:
Ingredients
[b]For the Stock:[/b][br]
2 large onions, chopped
1 cup dried shiitake mushrooms
1/4 cup tamari
fresh mint, a few sprigs
fresh basil, a few sprigs
fresh cilantro, a few sprigs
2 orange segments
3 slices ginger, 2″ each
4 cloves garlic
1 hot red chile, halved
1 Tbs black peppercorns
1 tsp whole cloves
1 stick cinnamon
4 star anise
3 qt cold water
[b]For the Phở:[/b][br]
1 pack rice noodles, (12 oz)
1 cup snap peas
4 stalks bok choy, whole or sliced
1 cup mushrooms, small, sliced, or broken into pieces
1 bunch Thai basil
1 cup bean sprouts
1 medium jalapeño, sliced
1 lime, cut into wedges
Instructions
[b]For the Stock:[/b][br]
Place all ingredients into a large stockpot and cover with cold water. Bring to a boil then lower heat to a simmer. Allow to simmer uncovered for 1 to 1 1/2 hours.
To avoid added bitterness to the stock, be sure to remove the citrus halfway through the cooking process.
Turn off heat and allow it to cool for 15 to 20 minutes. Place a fine mesh strainer over a medium bowl (or use a strainer lined with cheesecloth). Pour the stock into the strainer, allowing the liquid to pour through. Set aside.
[b]For the Phở:[/b][br]
To prepare noodles, in a medium bowl, soak in warm water until soft (approx. 30 minutes). When soft, drain noodles and separate evenly into serving bowls.
Separately blanch snap peas, bok choy, and mushrooms. Mushrooms may also be left raw according to preference. Evenly place vegetables on top of the noodles in each bowl.
Prepare the garniture (basil, sprouts, jalapeño, lime wedges) for serving and divide onto individual side plates.
To serve soup, heat Pho Stock to a simmer and pour a generous amount over the top of vegetables and noodles. Serve with garnitures.
Notes
The stock ingredients yield 3 quarts or 12 cups. You will need at least 8 cups for the soup, but can store excess stock for 4–5 days in the fridge, 4–6 months in the freezer. [br][br]The stock should be dark and golden in color. If it is not, you may need to reduce for longer to concentrate the flavors. Taste and add a salty element if you wish to the stock—this is a personal preference.