In the late fall and winter months, seasonal vegetables can seem sparse and uninteresting after riding the coattails of summer's avocado and tomato bounty. However, many varieties of satiating root vegetables and antioxidant-rich leafy greens are available, which are perfect for the cold winter months. Here is a handy list* of produce that is in season during the wintertime:
| | | | |
| --- | --- | --- | --- |
| Arugula | Cauliflower | Garlic | Onions |
| Beets | Chard | Herbs | Parsnips |
| Bok choy | Chicory | Kale | Radish |
| Broccoli | Collard greens | Leeks | Romanesco |
| Broccoli rabe | Cress | Lettuce | Rutabaga |
| Brussels sprouts | Dandelion greens | Mushrooms | Spinach |
| Cabbage | Endive | Mustard greens | Sprouts |
| Carrots | Fennel | Nettles | Turnips |
*For a complete list of seasonal vegetables, fruits, nuts, seafood, and flowers in Northern California, visit cuesa.org.
Some of these vegetables may feel unfamiliar, and you might wonder how to prepare them. What better way to experiment in the kitchen and broaden your palate than to select a new ingredient from the list above and try a new recipe! To get started, try our Roasted Garlic + Herb Root Mash recipe below that calls for cauliflower, rutabagas, and turnips. Pair this with a side of braised leafy greens for the beginnings of a delicious, grounding, and nutrient-dense winter meal.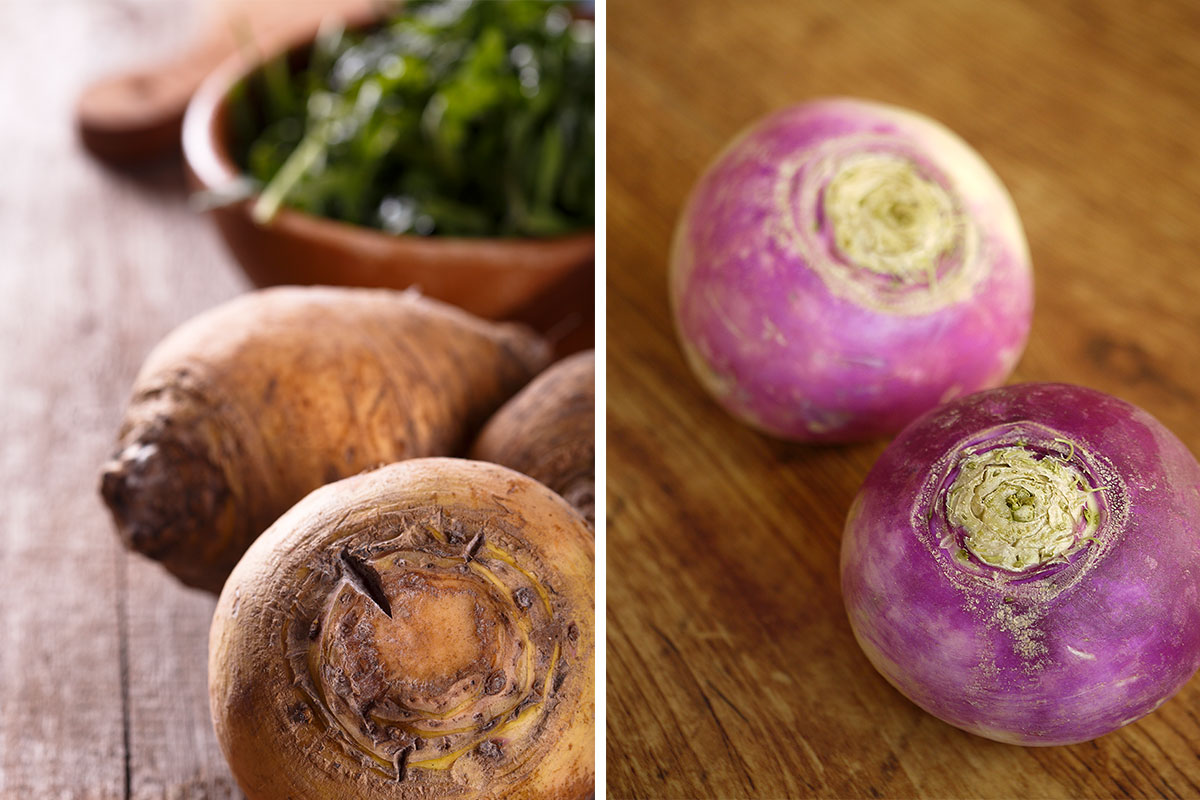 Roasted Garlic + Herb Root Mash
This delicious, low-glycemic alternative to mashed potatoes showcases garlic, oregano, and thyme, which add powerful antibacterial and antimicrobial properties.
Roasted Garlic + Herb Root Mash
Author:
Ingredients
2 small garlic bulbs, tops sliced off slightly exposing the cloves
2 heads cauliflower, chopped into small florets
2 medium rutabagas, peeled and cut into 1-inch cubes
2 medium turnips, cut into 1-inch cubes
1 tsp fresh oregano, roughly chopped
1 tsp fresh thyme, roughly chopped
salt and pepper, to taste
ghee or coconut oil, optional
Instructions
Preheat oven to 400°F. Wrap garlic bulbs in parchment-lined foil. Place on a baking sheet or dish, and roast for 30–40 minutes, or until the cloves are soft and the edges are browned.
Place cauliflower, rutabagas, and turnips in a steamer pot. Steam until tender when pierced with a fork, 15–20 minutes. The cauliflower may be softer than the other vegetables, this is okay.
Place turnips, rutabagas, and cauliflower into a medium pot. Once garlic is roasted, squeeze out of the bulb into the pot.
Add oregano, thyme, salt, and pepper. Using an immersion blender, blend until smooth (mashed potato consistency). For a chunkier mash, use a potato masher. Taste, and add more herbs, salt, and/or pepper as desired.
For added creaminess and flavor, add a few tablespoons of ghee or coconut oil.