An unusual, delicious, and exotic spread that will delight the senses with its savory and sweet notes. Try it on flatbread, crackers, or whole-grain bread, or simply enjoy by the spoonful.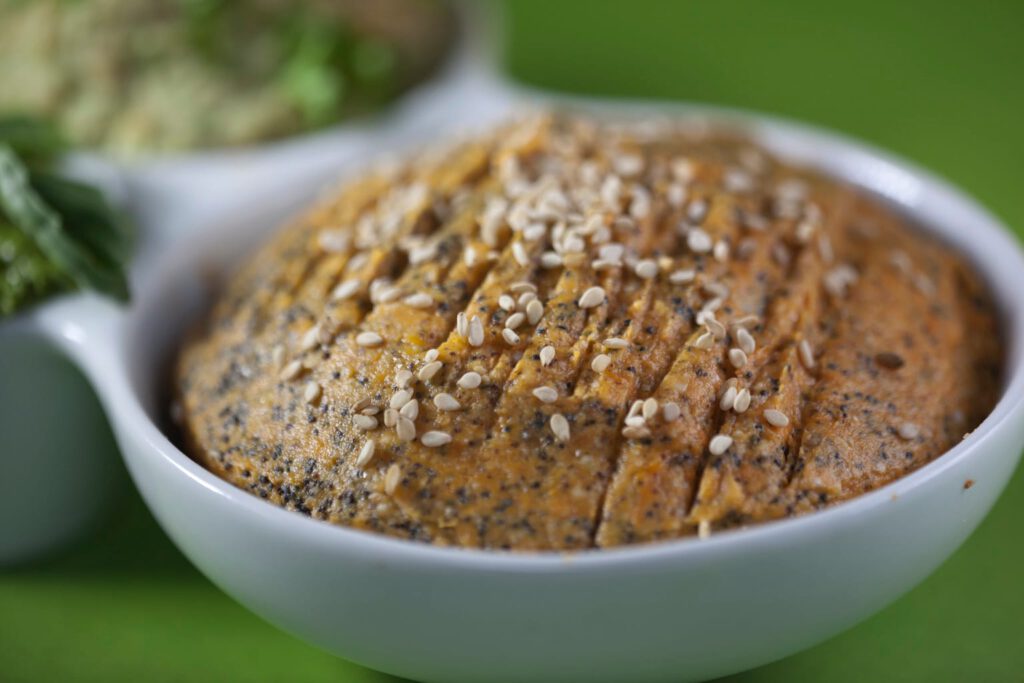 Yam + Seed Spread
Author:
Dr. Ed Bauman + Chef Lizette Marx, Flavors of Health Cookbook
Ingredients
2 lbs yams
¼ cup sunflower seeds
¼ cup sesame seeds
¼ cup poppy seeds
¼ cup flax seeds
¼ cup plain whole milk yogurt
½ tsp ground cinnamon
½ tsp ground coriander
½ tsp freshly grated ginger
½ tsp sea salt
Instructions
Preheat oven to 450°F.
Bake the yams until very soft, about 45 to 60 minutes.
Separately grind sunflower, sesame, poppy, and flax seeds to a fine meal. NOTE: A coffee grinder designated as a nut and seed grinder works great for this process.
When the yams are finished baking, remove them from the oven and allow to cool slightly for about 10 minutes. Peel and compost the skins and mash the yams in a medium bowl.
Add the ground seeds, yogurt, cinnamon, coriander, ginger, and salt and stir well to combine.
Notes
Enjoy as a sandwich filling, dip, or spread. Store spread in a tightly sealed container in the refrigerator for up to 3 days.
Recipe from Flavors of Health Cookbook: Your Guide to Eating for Health™ by Dr. Ed Bauman and Chef Lizette Marx