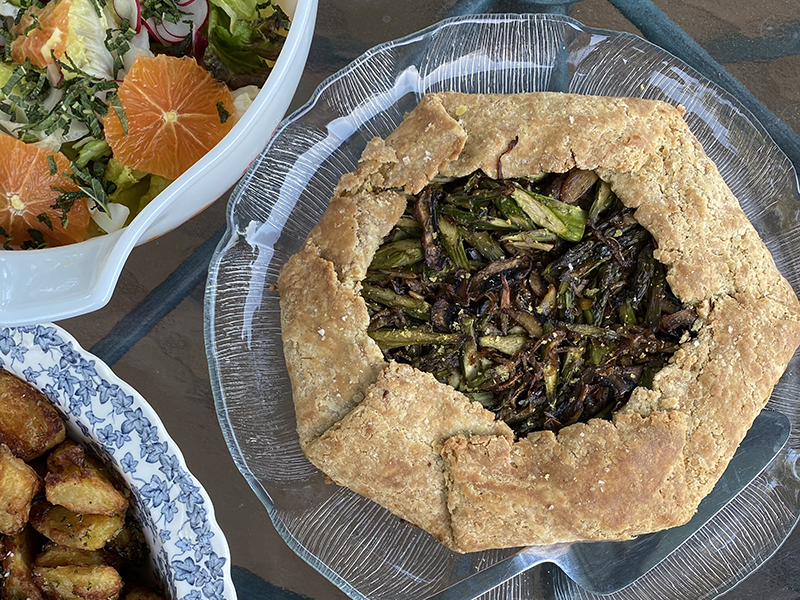 Hi, my name is Melissa Shaffer and I am a graduate of the Natural Chef program (now Holistic Chef Online Culinary Program), a Teaching Assistant at Bauman College, and a Personal Chef focused on nourishing plant-based foods.
I prepared a gluten-free, dairy-free brunch using seasonal ingredients. I love Bauman College's recipe for gluten-free pie crust because I can make a few batches and keep them in the freezer. Then, whenever I want to make an easy meal that seems extra fancy and festive, I can defrost some and make a sweet or savory galette with seasonal fruits or vegetables. The crust is so flaky and can be made easily with a high quality dairy free butter if desired.
This time I opted to make a base of cashew ricotta by blending soaked cashews, lemon juice, nutritional yeast and salt. Then I sautéed shallots, mushrooms and asparagus with fresh garden thyme and oregano to put on top. I served it with crispy roasted potatoes, garlicky spring fava beans and a fresh salad with fennel, mint, orange and radish. All in all it made for a delightful and nourishing spring brunch!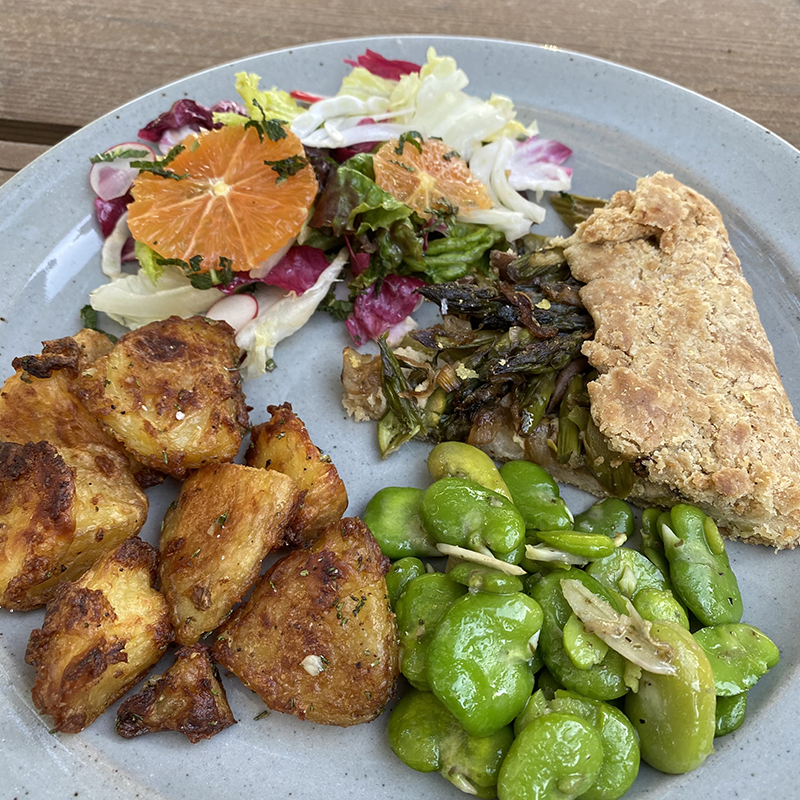 Ready to make your own sweet or savory galette? Below is the Gluten-Free Pie Crust recipe created by Kasey Caletti, Natural Chef. As Chef Melissa shared, you can make several batches at once and keep them in the freezer so they're ready to roll as needed.
Connect with Chef Melissa by visiting mysingingvegetables.com or following @mysingingvegetables on Instagram!
Have Work You Love
Get the details on how to pursue a career as a Holistic Chef through Bauman College's 12-month ONLINE culinary school! Contact us to connect with an Admissions Representative today.