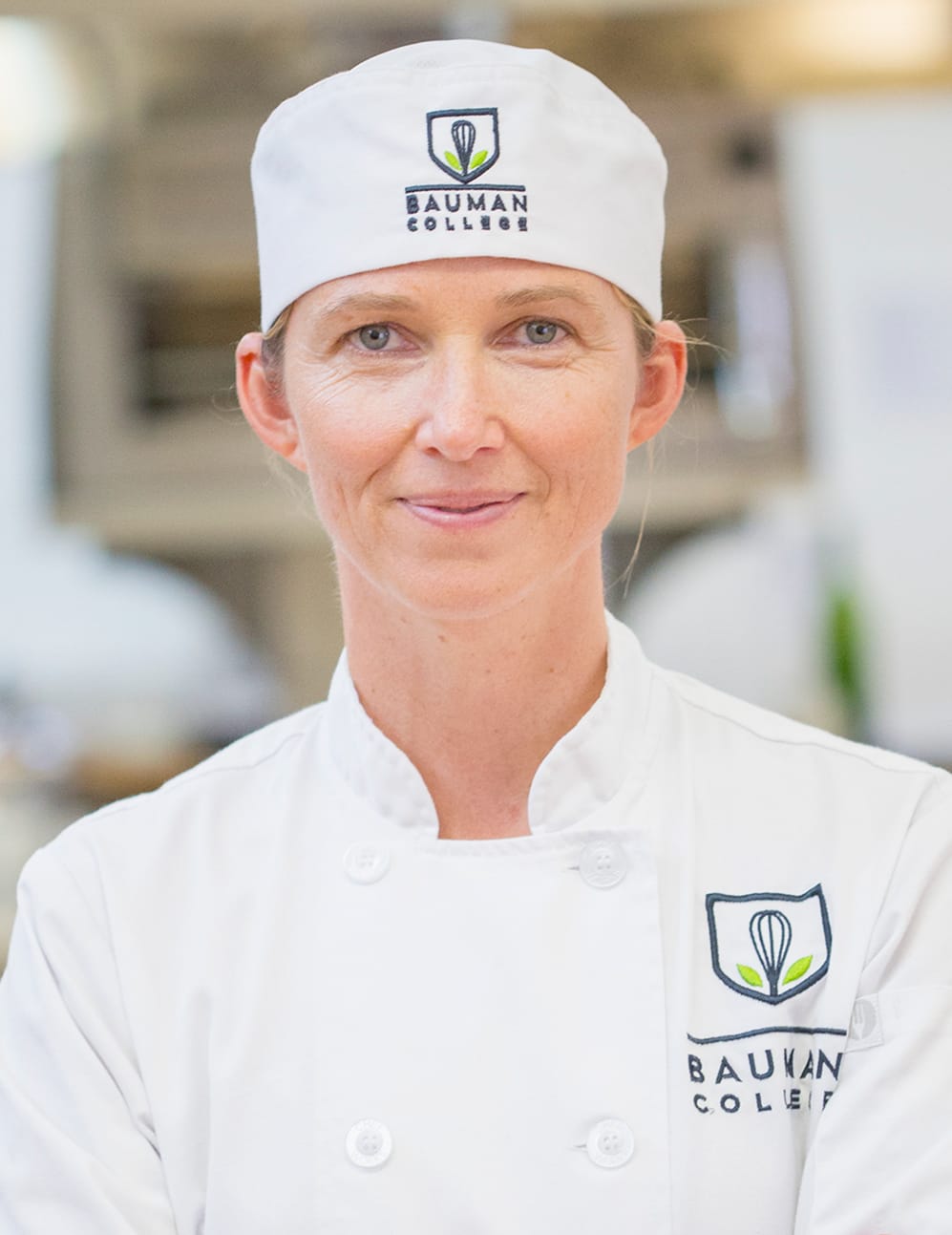 My name is Alicia Brasch and I was born and raised in the Bay Area. After living all over the world, in places such as Los Angeles, Japan, Minneapolis, Switzerland, and Seattle, I moved back to Northern California and now live in Marin County with my husband and three children. I received my B.A. in Sociology at UCLA in 1997 and then completed a masters program in English as a Second Language at Hamline University in 2004.
As far back as I can remember, I have always gravitated toward natural foods and healthy cooking. This interest intensified over the last several years as I watched older family members deal with various health issues and also began raising a family. Focusing on food and nutrition is so important for helping my kids get started on the right path of healthy living. At the same time, I have seen first hand how a lack of understanding and attention to nutrition can exacerbate health issues, that could have otherwise been managed, in older adults. Bauman College's Natural Chef program speaks to the core of how I have always wanted to cook and eat; using foods that are not only nutrient-dense, but also taste amazing.
One of the most interesting things I learned in the program came from Chef Rosie Ueng. On one of our first days of class, she asked us to envision what the dish we were making would look and taste like before getting started. While preparing the dish, she guided us to be fully engaged in the process; smelling, listening, and tasting at every step. Staying engaged in this way helped me to achieve the flavors I was trying to create. I learned how to be my own guide in the kitchen, without having to rely on recipes to guide my every step.
My favorite cooking technique is the knife cut, chiffonade, meaning "little ribbons" in French. Since I once lived in the French-speaking part of Switzerland, saying this word aloud brings back wonderful memories of living abroad and eating my way through Western Europe. This one little technique can transform a dish. For instance, kale can look pretty rustic, but when sliced into little ribbons, it gets an instant makeover, making it pretty enough to convince even my young kids to partake.
Bauman College gave me the information and skills required to prepare healthy food and their passionate instructors, staff, and students inspired me to take on the challenge of sharing my knowledge with my family, community, and beyond. I feel passionately that all people—no matter their age, health, or economic standing—can benefit from a natural and holistic approach to food and eating. I am excited to start my own non-profit organization called "Nourishing the Neighborhood." This web-based platform will connect trained personal chefs and home-based cooks with elderly people in the community who could benefit from home-cooked meals.
Maitake Mushrooms + Purslane with Polenta Crostini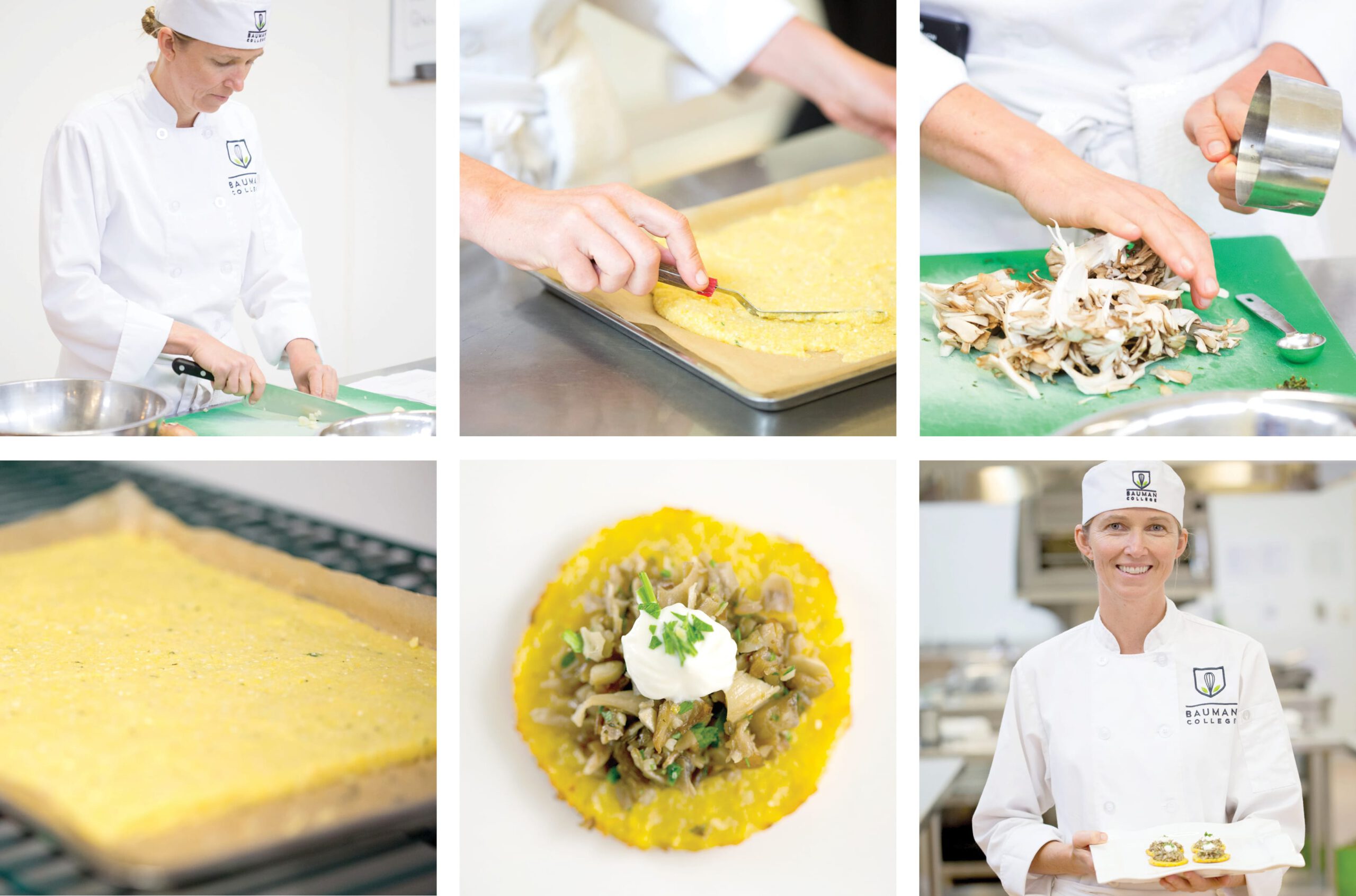 When developing this recipe, I was inspired by the old adage, "Let food be thy medicine." I thought about all the foods we talked about during the Natural Chef program and decided to focus on two nutritional powerhouses: mushrooms and purslane.
Maitake mushrooms, also known as 'The Hen of the Woods,' contain beta-glucans. These naturally occurring polysaccharides activate white blood cells and boost immunity so that the body can fight against illness more efficiently. Purslane is rich in fiber, vitamins E and C, and contains the highest amount of omega-3 fatty acids in any green, leafy vegetable. The combination of savory mushrooms, the slightly tart and lemony purslane, and rich crème fraîche creates a wonderfully complex flavor in this relatively simple appetizer.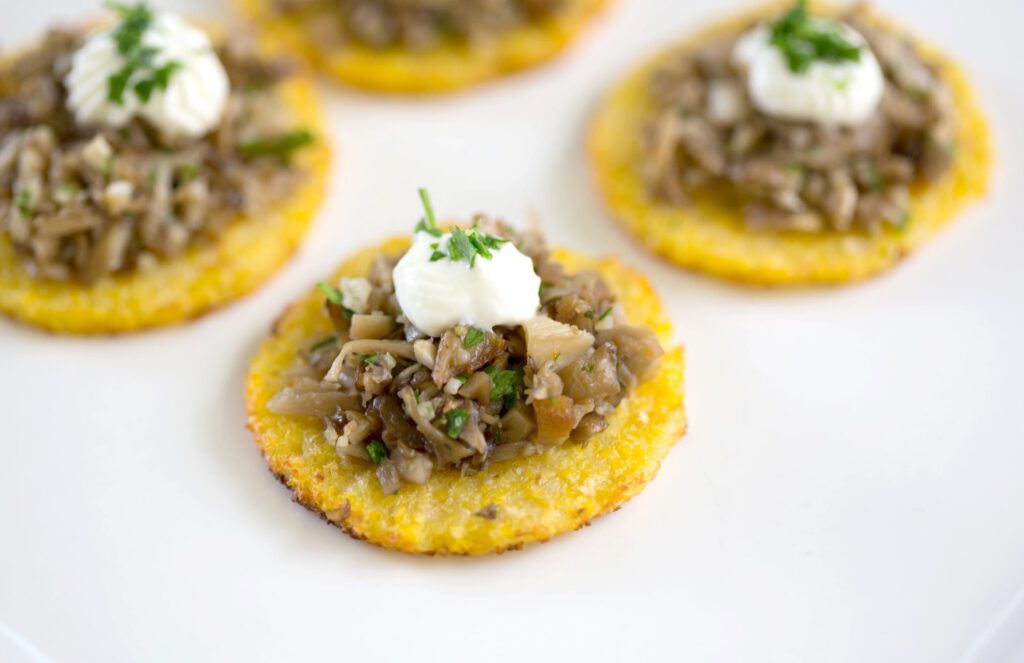 [b]Maitake Mushrooms + Purslane with Polenta Crostini[/b]
Author:
Prep time:
Cook time:
Total time:
Ingredients
[b]Crostini[/b][br]
2 ½ cups vegetable stock
2 Tbs olive oil
2 cloves garlic, minced
¾ cup polenta
¼ tsp sea salt
2 Tbs fresh thyme, chopped
[b]Mushroom Topping[/b][br]
2 Tbs ghee
2 Tbs olive oil
3 cups maitake mushrooms, finely chopped
1 large shallot, finely diced
2 Tbs fresh thyme, chopped
¼ cup sherry vinegar
1 clove garlic, minced
[b]Garnish[/b][br]
½ cup crème fraîche
¼ cup purslane, finely chopped
1 tsp lemon zest
Instructions
[b]Crostini[/b][br]
In a medium saucepan, bring vegetable stock to a boil. Then, reduce heat to a simmer and add the olive oil, garlic, and polenta.
Cook polenta for 20 minutes, stirring frequently until soft. Turn off heat, add sea salt, and stir in thyme.
Line a sheet pan with parchment paper and scoop polenta onto the pan. Use an offset spatula to smooth the polenta to about ¼-inch thickness. Let cool at room temperature for about 10 minutes, then place in refrigerator for 1 hour.
After polenta has set, preheat broiler.
Cut the polenta into desired shapes and place on a baking sheet.
Broil, with pan 4–6 inches below the heat source, for about 10 minutes or until lightly browned.
[b]Mushroom Topping[/b][br]
In a large skillet over medium heat, melt ghee with olive oil. When the oil begins to sizzle, add mushrooms. Stirring frequently, cook mushrooms until tender, about 5-7 minutes.
Add shallots, thyme and sherry vinegar and cook for 2 minutes, until the vinegar has reduced.
Then add garlic and continue to cook until the garlic is light golden brown, about 1 minute. Set aside.
[b]Assembly[/b][br]
Place polenta crostinis on a serving tray.
Top each crostini with a spoonful of the mushroom topping, then add a dollop of crème fraîche.
Garnish with chopped purslane and lemon zest.
Notes
[b]Allergens:[/b] dairy, corn