Get the Skills to Become a Professional Natural Chef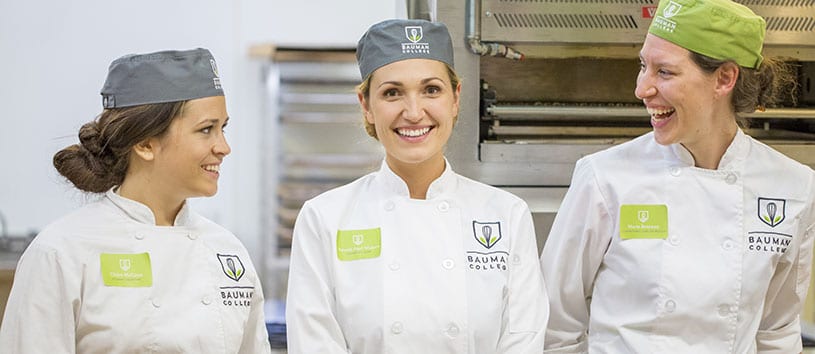 5-Month Natural Chef Program in Berkeley, CA
The Natural Chef Program at Bauman College offers a fresh take on the culinary arts by training students in the professional execution of nutrition-based restorative cooking. The hands-on approach emphasizes nutritious and restorative cooking techniques and recipes, beauty in presentation, and mastery of practical kitchen skills.
Students receive access to our recipe database so they can publish and share recipes, calculate nutrition information, create menus and shopping lists for clients, and connect with other culinary students and professionals alike. This network allows them to get feedback, collaborate with one another, and discuss industry best practices.
Putting Culinary Skills To Work
Students are required to complete 50 hours of culinary fieldwork in order to become certified natural chefs. This helps them build confidence while getting real-world, practical experience working in the culinary arts industry.
Externship hours are supervised and may include working in the following settings:
Private Kitchens
Restaurants
Catering Companies
Corporations
Nonprofit Organizations
Resorts, Hotels + Retreat Centers
Food Production Companies
And More! 
Each individual externship is approved by Bauman College staff to ensure the utmost quality and value, and students are provided with ongoing faculty support and guidance throughout this experience. Externships are an excellent way to hone in on culinary skills and techniques, foster relationships in the industry, and build future career opportunities.
I came into this program having a bachelor's in nutritional sciences and simply wanted to learn healthy cooking techniques and recipes. I learned a substantial amount about holistic nutrition and therapeutic cooking, and the dishes were creative and packed with flavor. I thought I knew so much about nutrition already, but Bauman College's Eating for Health® model really made me look at food and health differently. I would recommend this program to anyone passionate about health and looking to learn how to use whole foods as medicine through amazing dishes.
Our curriculum is designed to provide students with a comprehensive, practical understanding of nutrition-based, restorative cooking. For a detailed description of the natural chef curriculum, please view our catalog.
NATURAL CHEF CURRICULUM OUTLINE

Culinary Foundations
Farm to Table: Culinary Techniques
Midterms
Culinary Careers Panel
Restorative Cooking for Optimal Health
World Cuisine: Flavor Profiles + Restorative Benefits
Final Presentations
Culinary Showcase
In-House Culinary Hours
Culinary Externship
Optional Advanced Business Training
As a part of your training, you will have the opportunity to purchase an optional, advanced, online business curriculum to help channel your passion and knowledge into a strategy for personal success. From defining your target market and building a social media presence to starting your very own practice, the business curriculum will prepare you for career success.
The business curriculum includes:
Personal Branding + Social Media Strategy
The Marketing Funnel
Developing a Specialty
Food Photography + Styling
Managing an Effective Job Search
Designing + Delivering Group Programs
Writing a Business Plan
Starting + Managing a Private Practice
And More!
By learning business best practices, you will develop a solid foundation that prepares you to build professional career plans. You will feel confident and prepared for your career upon graduation. Join our growing industry and discover the rewarding, flexible career you've always wanted.
Is a Rewarding Career as a Natural Chef Right for You? Get More Information…
If you're interested in learning more about a career as a natural chef and exploring whether this is the right path for you, fill out this form to receive more information.
A helpful Bauman College admissions representative will answer all of your questions, from program details to career opportunities, and will help you discover the best option for you.
For immediate questions, please call us at 1-800-987-7530.