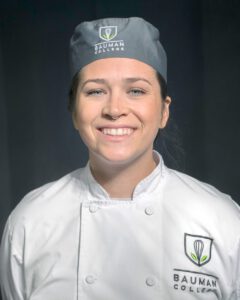 My name is Claire McCann and I am a Natural Chef and the Kitchen Manager at Bauman College.
I always dreamt of going to culinary school, but I knew there was more to being a chef than long shifts on nights and weekends, fine dining, and tweezer plating. When I came across Bauman College's Natural Chef Training Program, I found what I didn't know I was looking for—an education that focused on food to nourish and restore health and culinary techniques for optimal nutrient intake. I loved the Natural Chef program. It was fun, challenging, and educational. I didn't realize how much there was to learn in the kitchen—from different knife cuts to plant-based proteins, to the order ingredients are added to a sauté pan. I really enjoyed learning the basics, like roasting, searing, sautéing, and making sauces. Once you've mastered the correct techniques, you can improvise and get creative, making a dish your own.
Since graduation, I have worked for Bauman College as the Culinary Assistant and now the Kitchen Manager. I also work as a personal chef and plan to expand my business in the future.
Vegan Caesar Crostini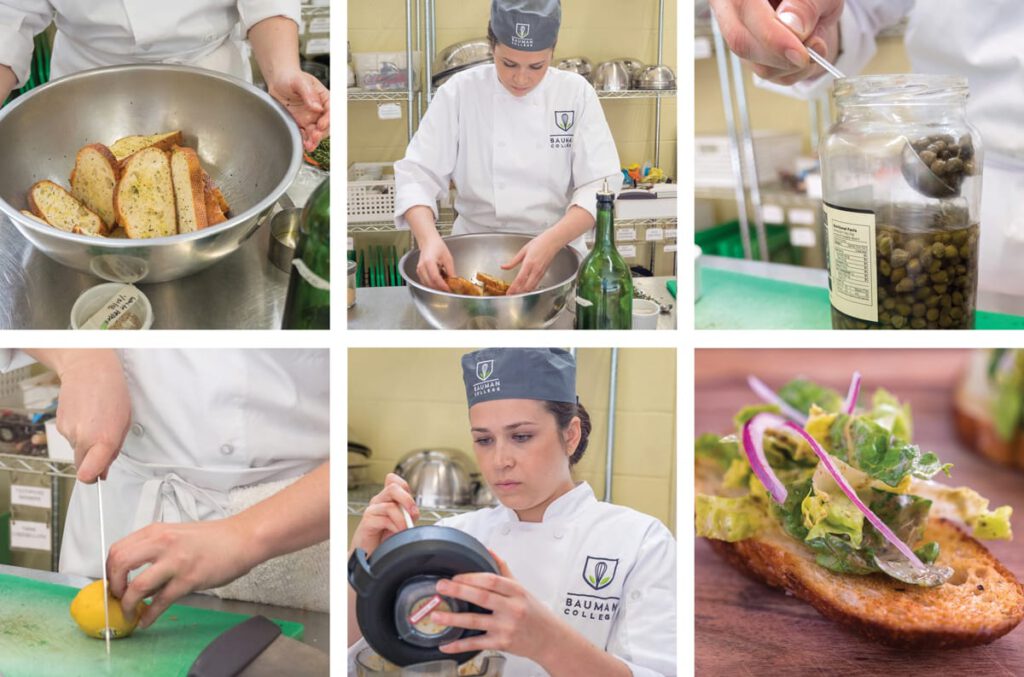 Vegan Caesar Crostini is an appetizer version of a Bauman staff favorite. Caesar salad is a well-loved classic—perfectly creamy, savory, and comforting. This handheld Caesar snack can be enjoyed by both vegans and vegetarians! The combination of vegan ingredients—silken tofu, miso, toasted nori, and balsamic vinegar—in the dressing creates a delicious, salty, and creamy combination. This recipe can easily be made as a salad.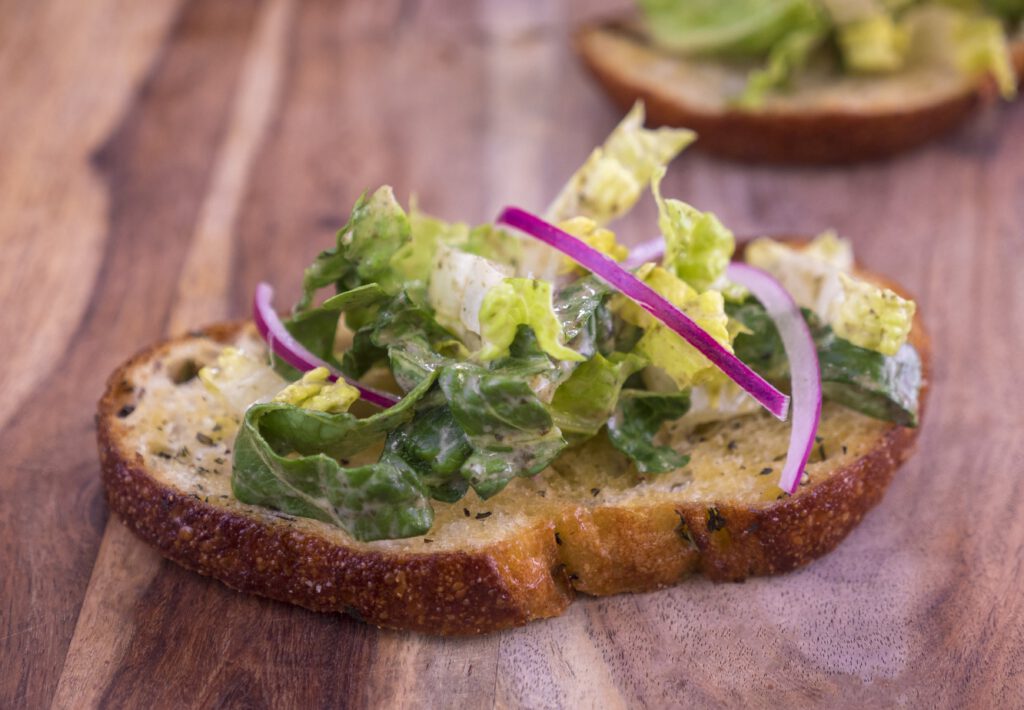 Vegan Caesar Crostini
Author:
Claire McCann, Natural Chef
Ingredients
1 baguette, sliced into ½"-thick rounds
½ cup olive oil, divided
2 tsp fresh thyme, minced
1 tsp garlic powder
½ tsp freshly ground black pepper
¼ tsp sea salt
½ red onion, thinly sliced
2 Tbs apple cider vinegar
1 oz silken tofu
3 cloves garlic
1 sheet nori, toasted and crumbled
2 Tbs lemon juice
1½ Tbs balsamic vinegar
1 Tbs white miso
1 Tbs Dijon mustard
1 Tbs capers
1 tsp tamari
½ tsp ume boshi paste
¼ tsp white pepper
2 heads romaine lettuce, roughly chopped
Instructions
Preheat oven to 350°F.
In a large bowl, combine bread slices, ¼ cup olive oil, thyme, garlic powder, pepper, and salt. Mix well to coat bread. Arrange bread slices in a single layer on a parchment-lined baking sheet. Bake until toasted, about 20–25 minutes, flipping after 10–15 minutes to ensure even browning. Cool and set aside.
Place red onion slices in a small bowl, cover with apple cider vinegar, and let soak for 20 minutes. Drain and set aside.
Combine tofu, garlic, nori, remaining ¼ cup olive oil, lemon juice, balsamic vinegar, miso, Dijon, capers, tamari, umeboshi paste, and white pepper in a blender and blend until smooth and creamy. Taste and adjust as necessary.
Toss lettuce with dressing and red onion in a large bowl to coat evenly.
Plate crostinis with a large pinch of dressed salad on each baguette round. Top with extra dressing, as desired, and a slice or two of red onion for color.
Notes
Allergens: soy, gluten