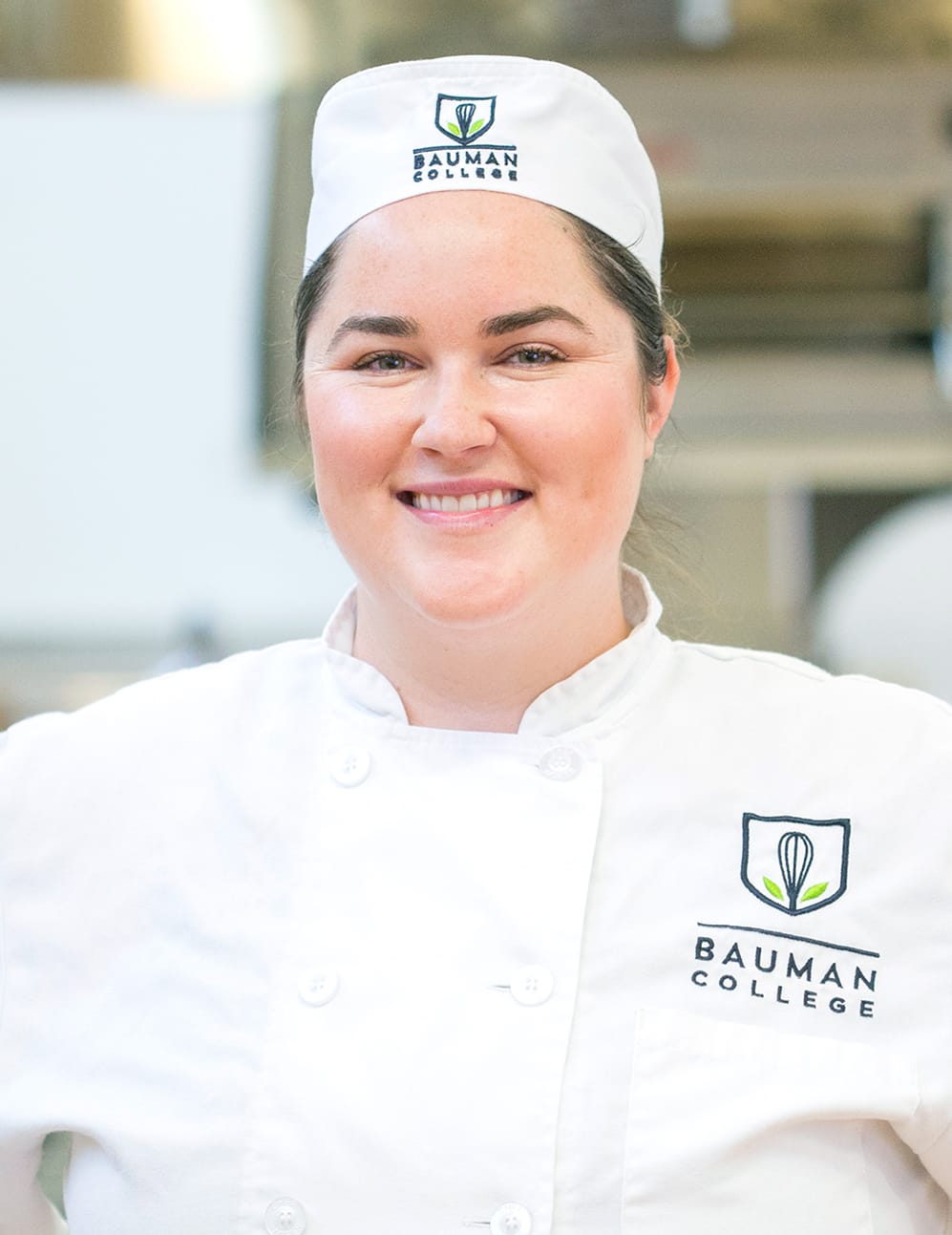 My name is Shannon Redanz and I'm originally from southern California. I moved to the Bay Area in 2008 to attend San Francisco State University. After graduating with a degree in Nutrition and Foodservice Management in 2013, I knew I wanted to be a part of the food world. I've always been passionate about cooking and dreamt of one day attending culinary school.
After looking into Bauman College's Natural Chef program, I learned that the school's values were very much aligned with mine. I admired their unique curriculum, which teaches that food should be visually stunning, delicious, and nutritious. The concept of food as something we use to restore our health and feel our best was something I wanted to apply to my own life and offer to my clients.
I was invited to attend a "Chef's Table" for prospective students to get a glimpse of what a typical day looks like in the Natural Chef program. I couldn't believe that the lunch we were served that day was as healthy as it was delicious. I was so inspired by the staff and students I met at the school and knew I wanted to be a part of this community. I knew that this program would be a pivotal step for me, both for my own health and my career. At the end of 2016, I decided to enroll in the Natural Chef program and make my dreams a reality.
I couldn't be happier with my choice to attend Bauman College. When I reflect back, I am so proud of the progress I have made and the things I have learned. From day one, I felt so welcomed by the instructors and I am so thankful for the camaraderie that developed in the kitchen alongside my classmates.
I am currently working as a personal chef in San Francisco and am passionate about helping busy families and individuals thrive by providing them with fresh, nutritious meals. I specialize in restorative cooking, which helps facilitate the recovery of those suffering from physical or mental ailments. I have learned that food is the most vital medicine and has the power to do miraculous things.
Follow my culinary journey on Instagram to see what's cooking! For personal chef inquiries, please email thevitalpantry@gmail.com.
Beet Infused Curried Deviled Eggs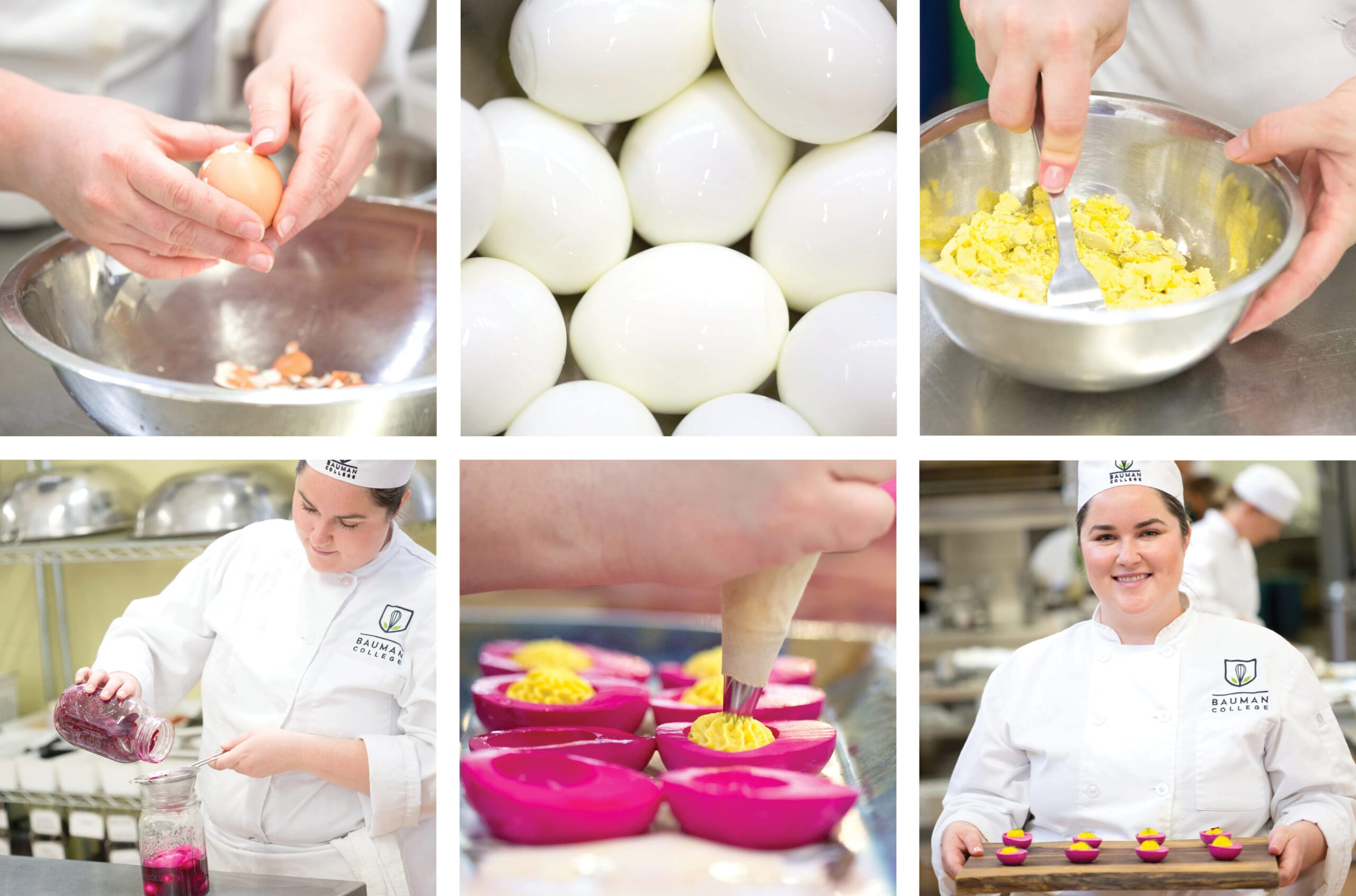 This recipe is inspired by a blog post I found on Pinterest. The visual appeal of this dish caught my eye and I knew it would be a beautiful and fun recipe to recreate. After adapting some of the ingredients in the recipe to provide extra health benefits and removing some common allergens, this appetizer is not only aesthetically pleasing, but nutrient-dense and delicious.
These vibrant, magenta-colored, deviled eggs get their hue from pickled beet juice, which not only makes them beautiful, but also gives them a subtle tangy flavor. The curry-turmeric yolk has anti-inflammatory health benefits and provides a yellow hue which perfectly complements the magenta color.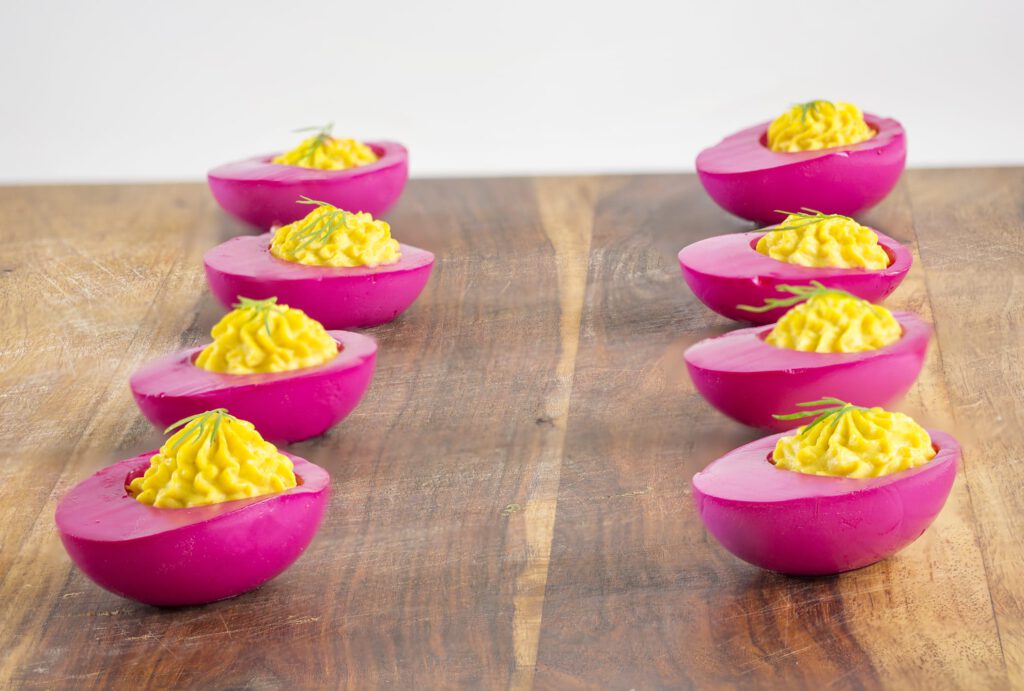 [b]Beet Infused Curried Deviled Eggs[/b]
Author:
Prep time:
Cook time:
Total time:
Ingredients
[b]Pickled Beet Food Coloring[/b][br]
2 medium beets, peeled and thinly sliced
1 cup water
1⁄2 cup vinegar
1⁄2 medium red onion, sliced and sautéed
1 tsp whole pink peppercorns
1⁄2 tsp fennel seeds
1⁄2 tsp mustard seeds
1 tsp salt
[b]Deviled Eggs[/b][br]
12 pasture-raised eggs
1⁄4 cup mayonnaise
2 Tbs sour cream, or [url href="https://baumancollege.org/cashew-sour-cream/" target="_blank"]cashew sour cream[/url]
1 Tbs curry powder
1 tsp turmeric
1⁄2 tsp cayenne pepper
1 tsp Dijon mustard
1 garlic clove, [url href="https://youtu.be/-EJm4wkh_LI?t=2m10s" target="_blank"]creamed[/url] (omit salt in creaming process)
salt and pepper, to taste
Instructions
Combine all pickled beet ingredients in a small stockpot and bring to a boil. Reduce heat and simmer for 15 minutes.
Allow pickling liquid and beets to cool and then transfer to a mason jar.
Bring a large pot of water to a boil. Place eggs in a steamer basket and lower gently into water. Cover pot, and steam for 10 minutes. Transfer eggs to an ice bath.
Peel eggs and slice in half lengthwise. Remove yolks and transfer to a medium sized bowl. Place egg whites in a separate medium sized bowl.
Strain beet juice onto egg whites until they are fully submerged. Allow to sit for about an hour (or more depending on how deep you want the color). Reserve pickled beets for garnish.
Combine yolks and remaining ingredients in a bowl and whisk together until well-combined (use a hand-mixer for a creamier consistency).
Line a plate with paper towels. Remove pickled egg whites from bowl and place on the plate to dry for a few minutes.
Spoon yolk mixture into a pastry bag and pipe about 1 Tbs of the yolk filling into the center of each egg white.
Chop up the pickled beets and use for garnish (fresh herbs work well too).
Serve on your favorite deviled egg plate and enjoy!
Notes
[b]Tips:[/b][br][br]– Steaming the eggs, rather than hard boiling, makes it easier to peel the shells and prevents the yolks from overcooking. [br]– Use a pastry bag to pipe the filling into the egg whites to better control the amount of filling in each egg. This also adds a sophisticated, textural element to the dish. [br]– For a makeshift piping bag, cut the bottom corner off of a quart-sized Ziplock bag—only cut a small amount to ensure the hole is not too big. Open the bag and roll down the zipper part twice. Fill the bag with the yolk mixture and gently squeeze to fill the pickled whites.[br][br][b]Allergens:[/b][br][br]Eggs, nuts, nightshades, dairy