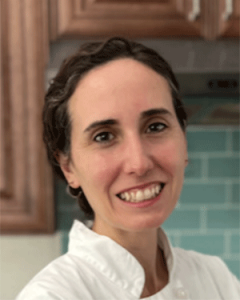 Avgolemono is a fragrant, silky, golden sauce popularized in Greek cuisine. It's used to sauce fish, chicken, and cabbage dishes, turned into velvety salad dressings, and added to soups to enhance their color and texture.
Chef Carrie Bonfitto, one of our Holistic Chef Online Culinary Program instructors, shares her recipe for Greek Avgolemono Soup!
Culinary Techniques: Liaison & Tempering
To make Avgolemono sauce and soups you need to utilize the culinary techniques of liaison and tempering. These methods keep the broth smooth and creamy and prevent you from ending up with chunks of scrambled eggs floating in your soup!
Tempering is a process of gradually increasing the temperature of your eggs so that they do not curdle. To do this slowly add one cup of hot broth to your lemon and egg mixture. That cup of broth from your soup acts as the liaison or go-between between your soup and your sauce. It goes from the soup pot to your sauce bowl, and then back to the soup pot. (Note: if you are making the sauce, don't add your tempered sauce back to the soup pot. Use as is.)
However, even with proper technique, this method is not foolproof! Sometimes, the eggs will still curdle when they get added back into the hot soup. Luckily, science has shown us a hack that can prevent this curdling! All you must do is add starch to the beaten eggs before you add the broth!
Starch contains a molecule called amylose. When amylose mixes with the egg proteins, it makes it much more difficult for the proteins to clump up resulting in a perfectly smooth texture every time. This can be cornstarch, tapioca starch, or even some blended cooked rice.
A Gluten and Dairy-Free Soup
This lemon and egg soup is both gluten and dairy-free making it a wonderful indulgence for those with food restrictions. It gets its creamy body and velvety mouthfeel from egg yolks. Separating the eggs into yolks and whites and using mostly yolks minimizes the eggy taste which comes from the whites. (The white is also the part of the egg that most often causes egg intolerance in people.)
If you get the proper ratio of egg yolks and lemon in your sauce all you taste is silky lemon goodness! And those egg yolks truly are good for you. Yolks are loaded with high amounts of many vitamins including A, D, E, K, B1, B2, B5, B6, B9, and B12. Eating just two eggs can provide up to 30% of an adult's daily vitamin requirements.[1]
The recipe Chef Carrie shares with you today is adapted from Dimitra Khan's Psarosoupa (Fish Sauce with Avgolemono) recipe. As the name states, her version includes fish. But Chef Carrie has chosen to present the soup with just vegetables to highlight the avgolemono. If you'd like to make this a heartier soup, feel free to add some shredded chicken. Chef Carrie's favorite way to serve it is topped with lump crab meat! It is divine.
Check out the recipe below and learn more about Chef Carrie by visiting our faculty page.
Avgolemono Soup
Prep Time | 10 minutes
Cook Time | 30 minutes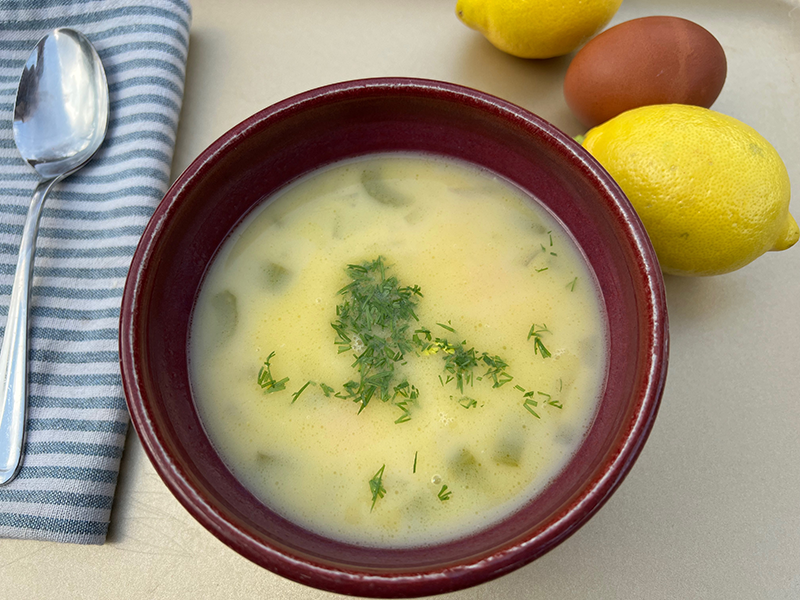 INGREDIENTS
Soup
7 black peppercorns
1 bay leaf
4 whole cloves
1 -2 lemons
4 c chicken stock, fish stock, or vegetable stock
2 cups water
1 medium potato, chopped (Yukon gold or red potato)
1 small onion, chopped
1 carrot, chopped
1 celery stalk, chopped
1/2 tsp sea salt
2 Tbs extra-virgin olive oil
1/2 tsp sea salt, or more to taste
1/4 c white rice, (risotto or medium-grain)
Egg-Lemon Sauce
2 egg yolks
1/3 c fresh lemon juice, or more to taste
1/2 Tbs tapioca starch, corn starch, or arrowroot flour
2 Tbs extra virgin olive oil
Garnish
2 Tbs roughly chopped dill, parsley, or chervil
INSTRUCTIONS
Soup
Using a vegetable peeler, remove the zest one lemon. Avoid peeling too much of the white pith. Set the peeled lemon aside to juice later for the sauce.
Place the strips of lemon zest, peppercorns, bay leaf, and cloves on a 4-inch square piece of cheesecloth. Use kitchen twine to tie into a bouquet garni.
In a large pot, place the bouquet garni, stock, water, vegetables, oil, and sea salt, and bring to a boil. Reduce to a simmer, and cover with the lid. Simmer for 10 minutes.
Remove the bouquet garni and add the rice with 1/2 teaspoon salt. Bring to a boil. Cover and reduce to a simmer. Cook for 15 minutes, or until rice is fully cooked. Remove from heat, and set aside.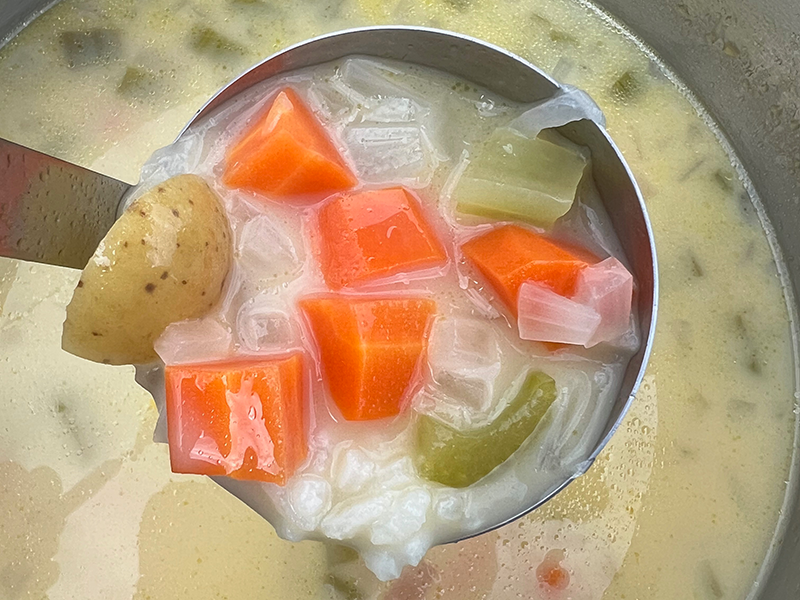 Egg-Lemon Sauce
Juice the lemons.
Combine all of the ingredients for the sauce in a small mixing bowl and whisk together until smooth. Add 1 cup of the hot soup broth to the lemon sauce and whisk well.
Add egg-lemon sauce back to the pot. Cook over medium until heated through, 3-4 minutes. The soup will continue to thicken as it sits.
Taste and adjust seasoning to suit your taste. Add more lemon juice if desired. Serve immediately topped with fresh herbs and enjoy!
Notes: If you have any leftovers, store them in the fridge. Reheat the soup very gently over low heat and don't let it come to a boil because the egg may curdle.
[1] https://www.ncbi.nlm.nih.gov/pmc/articles/PMC6470839/#:~:text=The%20egg%20yolk%20contains%20high,the%20vitamin%20requirements%20for%20humans.
Have Work You Love
Get the details on how to pursue a career as a Holistic Chef through Bauman College's 12-month ONLINE culinary school! Contact us to connect with an Admissions Representative today.