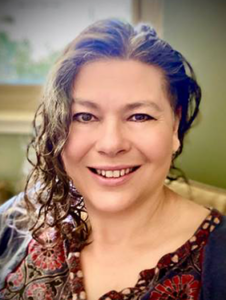 Holistic Chef Culinary Program Instructor Lizette Marx shares her amazing Blueberry Lemon Cream Tart recipe for you to enjoy. This dessert is a Spring delight! A favorite for a Brunch dessert – think Mother's Day, picnic pot luck, or any sunny afternoon get together. If you don't have blueberries, try any other berry.
Learn more about Chef Lizette by visiting our Faculty Page or marxculinary.com

Serves 6
INGREDIENTS
Tart Crust
1 cup hazelnuts
1/2 cup walnuts
1/2 cup medjool dates, pitted
1 tablespoon coconut butter
1 teaspoons coconut oil
1 tablespoon lemon zest
1 teaspoon vanilla extract
Blueberry Filling
3 cups fresh blueberries
1/4 cup maple syrup
1/4 cup filtered water
1 tablespoon arrowroot powder
1 teaspoon lemon juice
Honey Lemon Whipped Cream
1 cup chilled heavy whipping cream
1 tablespoons maple syrup
1 tablespoon finely grated lemon peel
1 teaspoon fresh lemon juice
METHOD
Make Crust
1. In a food processor, pulse nuts until they resemble very coarse crumbs.
2. Add dates, coconut butter, oil, lemon zest and vanilla extract and process until mixture
forms into a dough ball.
3. Press dough into a tart pan.
Make Filling
1. Measure 2 cups of fresh blueberries into a large bowl and set aside.
2. In a small sauce pan, heat 1 cup of blueberries, 1/4 cup of water and maple syrup over
medium heat.
3. In a small bowl, whisk arrowroot powder with 2 tablespoons of filtered water until
smooth. When blueberries start popping, slowly pour in arrowroot mixture. Stir over low
heat until thickened. Set aside to cool.
4. When cooked blueberries have cooled somewhat, fold into fresh berries. Stir in lemon
juice.
5. Pour filling into tart crust.
Make Honey Lemon Whipped Cream
1. Combine heavy cream, maple syrup, lemon zest and juice in a large bowl and blend until
soft peaks form. Dollop generously onto blueberry tart.
Have Work You Love
Get the details on how to pursue a career as a Holistic Chef through Bauman College's 12-month ONLINE culinary school! Contact us to connect with an Admissions Representative today.