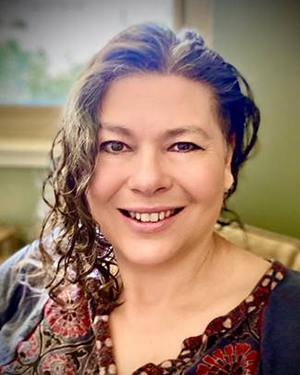 Chef Lizette Marx, an instructor for our Holistic Chef Online Culinary Program, presents a variation on the classic mash and gravy recipe just in time for the holiday season.
Learn how to make Celeriac and Sunchoke Mash with Mushroom Gravy by reading the recipe below.
Celeriac and Sunchokes, a Variation on the Classic Mash
Mashed potatoes and gravy make a regular appearance on many holiday tables and this recipe borrows from this comfort food tradition with a variation on the classic mash. Instead of potatoes, celeriac and sunchokes step in for the mash and do not disappoint. A whole garlic bulb roasted to a buttery consistency is added for even more flavor and an added nutritional boost.

Both celeriac and sunchokes are a healthier alternative to the potato as neither are as starchy or high on the glycemic index. Each of these root vegetables also boast an impressive nutrient profile and offer delicious flavor characteristics.
Celeriac is a Root Vegetable Related to Celery
Celeriac is a root vegetable that is related to celery and sometimes referred to as celery root. It's loaded with fiber, a great source of antioxidants, and rich in vitamins B6, C, and K, and
minerals such as, phosphorus, potassium, and manganese.
Sunchokes are a Tuber from a Variety of Sunflower
Sunchokes are a knobby looking tuber that resembles ginger root and comes from a variety of sunflower. These versatile tubers can be enjoyed raw, roasted, steamed, and boiled and are a fantastic source of fiber, potassium, vitamin C, and niacin, They contain a starch called inulin, a prebiotic food that helps to feed friendly bacteria in the gut. If you have trouble finding sunchokes that may be because they are also referred to as a Jerusalem Artichoke, a curious name since they have nothing to do with Jerusalem and are not an artichoke!

This incredibly hearty mash is further enhanced with a savory, gluten-free mushroom gravy. Instead of saying, "pass the potatoes" this recipe will have you saying "pass the celeriac and sunchoke mash!" While that may be a mouthful, it will certainly be worth it!
Check out the recipe below and learn more about Chef Lizette by visiting our faculty page.
Celeriac and Sunchoke Mash with Mushroom Gravy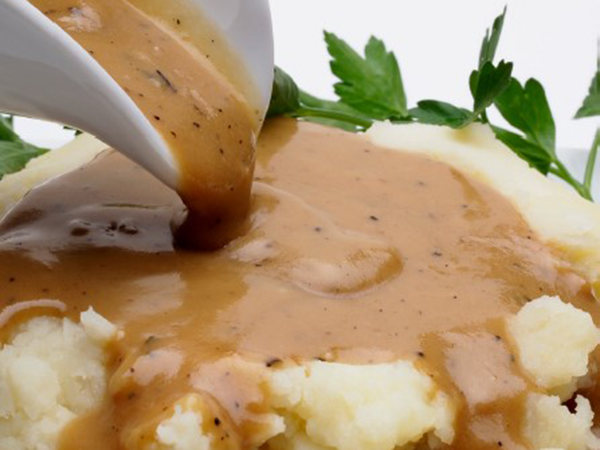 INGREDIENTS
Celeriac and Sunchoke Mash
1 small bulb garlic
2 tablespoons extra virgin olive oil, divided
2 medium celeriacs, peeled, and chopped, large dice
½ pound sunchokes, scrubbed
1 1/2 teaspoons sea salt
2 tablespoons butter
½ cup cultured buttermilk
½ teaspoon minced fresh rosemary leaves
Sea salt and freshly ground black pepper to taste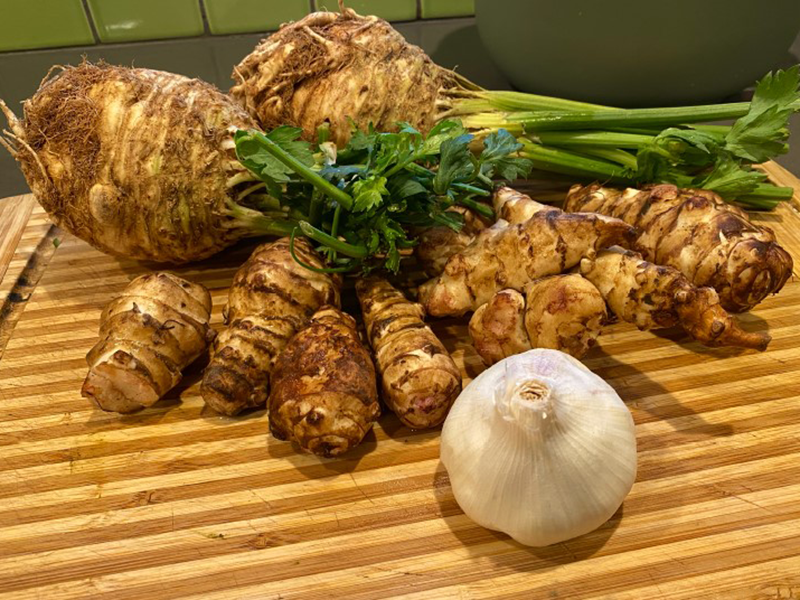 Mushroom Gravy
This mushroom gravy is a gluten-free version of the classic made with bone broth, ghee, miso, and nutritional yeast. The texture is slightly chunky from the finely chopped mushrooms and shallots. Enjoy the delectable umami flavors of this gravy and ladle a generous amount over the Celeriac and Sunchoke mash, your favorite stuffing, or roast turkey.
2 1/2 cups bone broth
1/2 cup dried mushrooms
3 tablespoons butter or ghee
1 medium shallot, minced
1 cup fresh cremini mushrooms, small dice
2 cloves garlic, minced
3 tablespoons sorghum flour
2 tablespoons red wine
2 tablespoons miso
1 teaspoon dried sage
1 teaspoon dried thyme
Sea salt and black pepper to taste
INSTRUCTIONS
Celeriac and Sunchoke Mash
Preheat oven to 375° F
Cut stem end off garlic bulb, drizzle with 1 teaspoon of olive oil, and wrap with a sheet of foil lined with parchment paper. Bake for 40 minutes or until garlic cloves are soft like butter.
Meanwhile, place celery root and sunchokes in large pot, cover with water, add sea salt and bring to a boil; then lower heat to a simmer. Cook until fork tender. Drain set aside in a large bowl.
Heat butter, buttermilk, and rosemary in a large saucepan over very low heat. Keep warm until you are ready to mash vegetables.
Squeeze roasted garlic from bulb over the vegetables. Mash everything together with a potato masher until well combined.
Slowly add warmed buttermilk mixture, stirring to combine thoroughly. Season with salt and pepper. Mash does not have to be smooth, but can have some texture and lumps. Serve mash with mushroom gravy.
Mushroom Gravy
In a medium saucepan, heat the stock to just a simmer. Add the dried mushrooms to a bowl and pour the warm stock over. Allow to sit for 15 minutes. Strain out the mushrooms and discard, reserving the liquid. Allow the stock to cool to room temperature.
In a medium saucepan, heat the ghee on medium-low heat until melted. Add the shallot and, after 2 minutes, add the mushrooms. Cook until the shallots are slightly tender and translucent, about 10 minutes. Add the garlic and stir for another few seconds or until fragrant.
Over low heat, stir in the flour to make a paste, or roux. Continue to stir the roux until it darkens slightly, about 5 minutes.
Whisk in the wine. Then gradually pour in the mushroom stock, whisking constantly. Bring the gravy to a simmer, stirring frequently.
In a small bowl, gently whisk the miso with 2 tablespoons of water and stir into the gravy, along with the sage. Allow gravy to thicken to your desired consistency, about 5-10 minutes.* Stir in the nutritional yeast and season with sea salt and freshly cracked pepper to taste.
*CHEF TIP: A good consistency is glossy in appearance and coats the back of a spoon but remains pourable so that it's easy to ladle onto the mash.
Have Work You Love
Get the details on how to pursue a career as a Holistic Chef through Bauman College's 12-month ONLINE culinary school! Contact us to connect with an Admissions Representative today.