December is the last month of sweet potato season, and what better way to enjoy these grounding root vegetables than in a delicious, hot soup? Sweet potatoes have a low glycemic index and are high in potassium, vitamin A, vitamin C, and vitamin B6. This recipe from Natural Chef graduate, Hannah Pearl Warner, features warming spices like curry, cinnamon, and cardamom, which increases circulation and body temperature—perfect for the cooler winter months!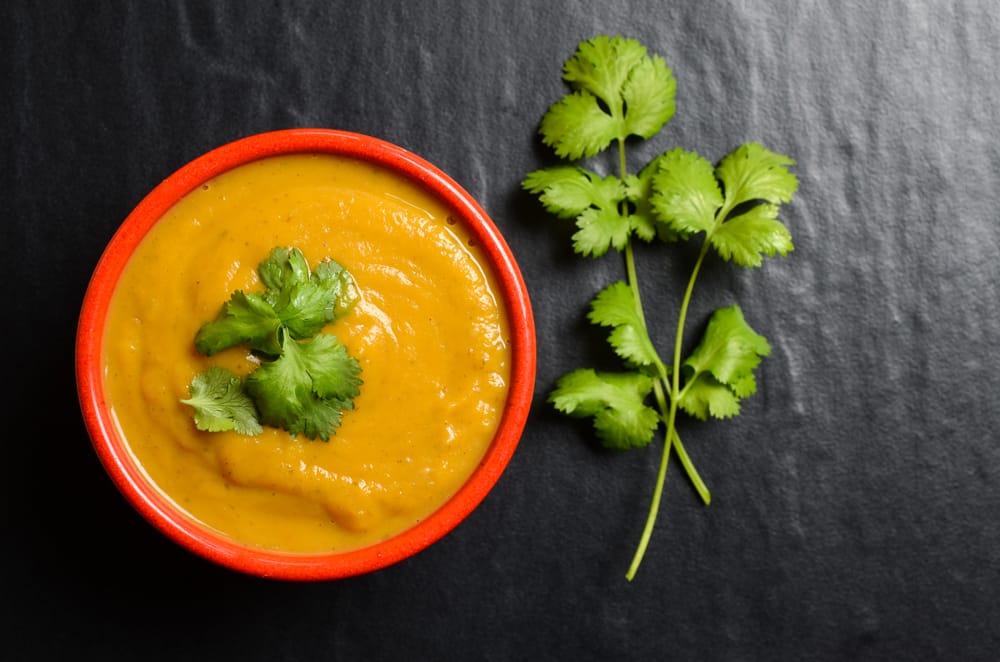 Curried Sweet Potato Soup
Author:
Ingredients
2 Tbs coconut oil
2 large onions, 1/2-inch dice
2-1/2 Tbs curry powder
1/2 tsp cinnamon
1/2 tsp cardamom, ground
6 medium sweet potatoes, peeled, cut into 2-inch pieces
3 granny smith apples, peeled, cut into 2-inch pieces
1 inch ginger, coarsely chopped
8 cups water
sea salt
freshly ground pepper
12 fresh cilantro leaves
Instructions
Heat oil in a soup pot over low heat for 10 seconds. Sauté onions until lightly browned, about 5 minutes. Stir in curry powder, cinnamon, and cardamom. Mix well until onions are coated with spices and release their fragrance, 2 to 3 minutes. Add sweet potatoes, ginger, and apples to the onion and spice mixture. Stir to coat well with the seasonings.
Bring water to a boil. Lower heat, cover pot, and simmer for 40 minutes, or until potatoes are tender when pierced with a fork.
Using a slotted spoon, lift potatoes, apple, and ginger from the pot and place them in a blender, filling the container until half full. Pour in enough broth to blend easily. Avoid overfilling the blender, as hot soup may splash out. Add as much broth as needed to create desired, smooth consistency.
Transfer blended soup to a clean pot and season with salt and pepper to taste. Ladle into individual bowls and garnish each with 2 cilantro leaves.
Notes
Variations: Substitute vegetable stock for water. For an extra rich version, use 3 cups coconut milk and 3 cups water or vegetable stock. For a seasonal variation in springtime, use young carrots as a substitute for the sweet potatoes.