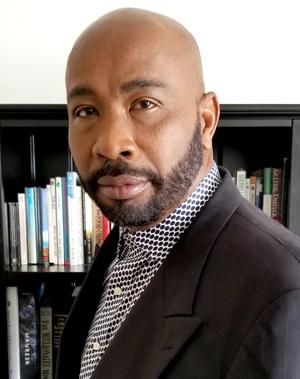 My name is Daryl Dillahunty and I am a Nutritional Consultant student.
I am originally from Oklahoma City, where I grew up surrounded by Native American culture and cuisine. Watching my Cherokee great grandmother prepare wonderful Native American dishes is where my love for food began and why I decided to become a chef. As much as I love food, food has not always loved me back. In my mid-thirties I was diagnosed with adult-onset diabetes, known as type 2 diabetes.
I was devastated by this diagnosis and by the fact that I would have to take insulin-regulating medications for the rest of my life. In addition, I was told to take blood pressure medications even though I did not have hypertension.
After approximately three months following the doctor's recommendations, I felt horrible. I felt like I had aged 50 years, and in this desperate state, I remembered my great grandmother. Growing up she would give my siblings and me concoctions made from different plants and herbs after heavy meals, and at least once a month to keep us healthy. In fact, I do not remember ever being sick as a child. This led me to search for an alternative solution.
Not long after my search had begun, I was referred by a friend to a Bay Area doctor who took a holistic approach. At the beginning of our first appointment, the doctor dumped all of my medications into the garbage. Shocked, I exclaimed, "you better know what you're doing!" He responded, "if you continue taking all those meds, you will be on dialysis in 10 years." I decided to trust him and within two weeks of following his meal and herbal supplementation plan, I felt better than I had in years. Most importantly, I was off all medication including insulin.
I wish I could say my journey to health ended there, but that was just the beginning. I did well on the doctor's plan for about a year, but then fell back into old eating patterns. For the next 20 years, my health went up and down. I had some good years, but for the most part my health was declining. It is one thing to know what you should be doing, and a completely different thing to actually put that knowledge into action.
Fast forward to 2012—I found myself in the emergency room with blood pressure and blood glucose levels through the roof. I was sick and realized that I needed to change my life in a drastic way. I remembered what the holistic doctor had taught me 20 years earlier. This time I really wanted to understand the science for myself. I began reading books, medical journals, and purchased countless diabetes quick-fix protocols. Finally, after about four and a half years of searching for answers, I found Bauman College. I enrolled right away and started classes in February, 2017.
I started making significant changes to my diet. Despite these changes, three months after beginning my studies, the unthinkable happened: I suffered a severe stroke, which left me completely paralyzed on the left side of my body. I could not move my foot, leg, arm, or fingers; I was devastated. Thanks to what I had learned in the Nutrition Consultant Program, my knowledgeable instructors, and a lot of hard work, I am on my way to a full recovery. I have realized that I did not find Bauman College, Bauman College found me.
Throughout my training, I have learned so many things that have given me a new outlook on nutrition and life. I have learned how to channel my love for food into a healthy lifestyle and how to help others do the same. The most interesting thing, however, was that after 30 years without being in a formal learning environment, I discovered that I could learn again, and I have relished the knowledge
As a stroke survivor, I have been given an opportunity to change my life and help millions of people around the world do the same. This opportunity has led me, along with a classmate, to start an educational health seminar company focused on diabetes prevention and recovery, Seven Seeds Seminars – Message to the Masses. We will focus on the truth that food has always been the true medicine. You can follow me on Facebook.
In considering Bauman College, know that it is more than a place to learn about nutrition. It is a place where countless students, like myself, have found new life and been restored. When you find Bauman College, you will likely find yourself too!
Seared Black Cod
Surprisingly, my favorite recipe is not food. It's my recipe for life: 2 cups love, 1 cup peace, and a dash of gratitude. Here is my favorite health-supportive food recipe: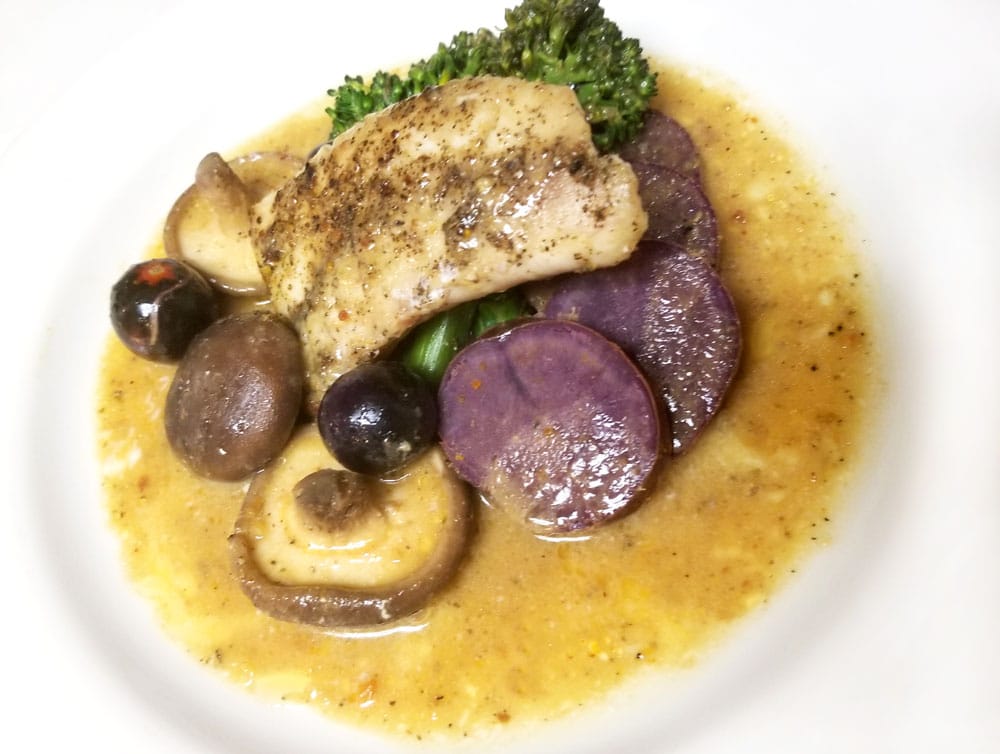 Seared Black Cod (with shiitake mushrooms, broccolini, + miso red curry broth)
Author:
Ingredients
1 lb boneless black cod (also known as sablefish or butterfish)
1 tsp sesame oil
1 Tbs ground black pepper
2 tsp garlic, minced
12 medium shiitake mushrooms
4 cups fish stock
1 Tbs red curry paste
1 Tbs white miso paste
1 lime, juiced
1 Tbs lime zest
8 broccolini stalks
4 Tbs unsalted grass-fed butter
1 purple yam, thinly sliced
1 tsp coconut oil
2 small purple tomatoes, for garnish
Instructions
Rinse cod with cold water and pat dry. Cover the fish with sesame oil and black pepper and set aside to marinate at room temperature.
In a medium stockpot, heat coconut oil to about 250°F, add garlic and shiitake mushrooms, and sauté for about 5 minutes. Add fish stock, red curry paste, white miso paste, and lime juice and zest. Bring mixture to a boil and simmer until liquid is reduced by half. In a separate pot, steam broccolini for 3–4 minutes, remove from pot, shock in ice water, and set aside. Taste to make sure the sauce is not too salty (this can happen depending on the brand of miso). If too salty, add a small amount of water to dilute. Finish by stirring in butter. Your broth should be light and creamy. Set aside.
In a cast iron skillet over high heat, sear yam slices on both sides, cover, and cook until tender, remove from heat promptly and set aside.
Using the same cast iron skillet over high heat, sear cod on both sides. Cover, reduce heat to low, and cook until tender, being careful not to overcook.
Using a round or oval shaped plate with wide edges, place the yams in the middle of the plate, alternate mushrooms and broccolini, place cod on top, arrange broth around the plate not touching the fish, and garnish with purple tomatoes. Bon appétit!
Notes
This is a simple and flavorful recipe that takes only 30 minutes to prepare.