Become a Nutrition Consultant with Our Online Program
15-Month Online Nutrition Consultant Program from your location!
The Nutrition Consultant program provides students with in-depth knowledge of whole-foods nutrition as it contributes to the prevention of illness and the promotion of optimal health.
Upon completion of the program, graduates are prepared to work as nutrition professionals and provide expert recommendations for diet, targeted nutrients, and lifestyle habits that support their clients in slowing the progression of chronic illness and attaining optimal health. Students are trained to understand social patterns of health inequities and account for their clients' unique circumstances and needs in terms of access, support, and available resources. Students gain this expertise through the following:
our science-based nutrition curriculum, which considers disparities in food access and health care that underlie health inequities in different populations
practical, hands-on application of nutrition education, health coaching, and nutritional consulting with clients
our business curriculum, uniquely tailored for the nutrition consultant
Based out of NHI Emeryville in Northern California, in the heart of the SF East Bay Area, near Berkeley, CA, the program supports different learning styles and is designed with modern education technology, developed to maximize information retention and real-life application. Students regularly connect with peers and faculty through online discussion groups, live video classes, and one-on-one office hours with instructors.
Become a Skilled Nutrition Professional
The need for dietary and lifestyle support as a solution to a growing chronic disease epidemic is only increasing. Being trained as a nutrition consultant opens the door to many opportunities in the SF East Bay Area in cities such as Emeryville, Berkeley, as well as nationally and globally. Our graduates find fulfilling work and make positive impacts on their clients and society.
Nutrition consultants trained at Bauman College, based in Northern California, are ready to be leaders in the holistic nutrition industry and are in high demand for their unique knowledge and training.
Graduates of our 15-month, 100% online Nutrition Consultant Program are prepared to work as:
Holistic Nutrition Consultants
Nutrition Health Coaches
Nutrition Educators
Brand Ambassadors
In-Store Wellness Practitioners
Nutrition Product Developers
Workshop Leaders + Conference Speakers
Health Writers, Bloggers + Authors
And More!
With a deep understanding of nutrition and food as a potent medicine to support health, along with awareness of disparities in access and education, Bauman College graduates are well prepared to support individual, community, and global health.
Get Certified
Graduates of the Nutrition Consultant Program are eligible for the Holistic Nutrition Credentialing Board (HNCB) examination to become Board Certified in Holistic Nutrition®. Our program is designed to ensure that students have the education and support they need to become professional, credible, and confident nutrition consultants.
Join our growing industry and discover the rewarding, flexible, and impactful career you have always wanted.
The 15-month, 100% online Nutrition Consultant Program is composed of: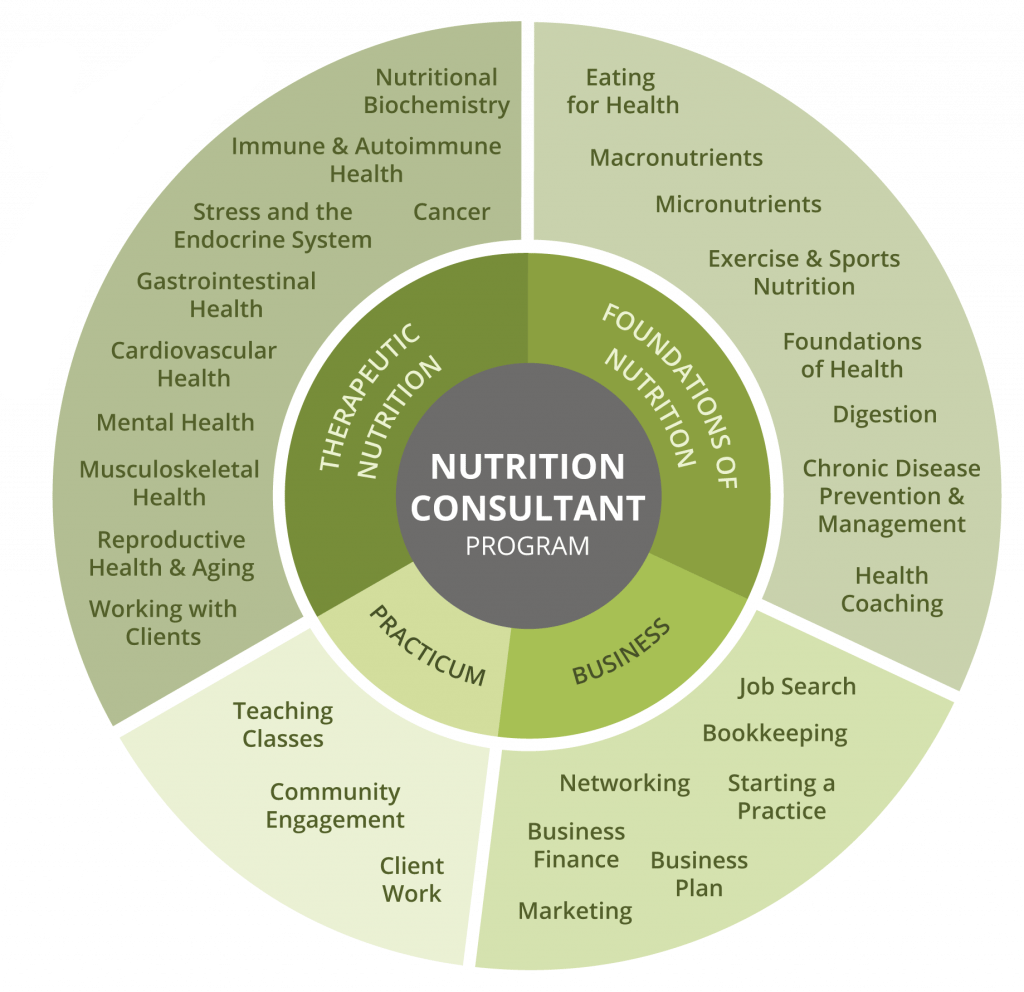 FOUNDATIONS OF NUTRITION

101 Eating for Health®
102 Macronutrients
103 Micronutrients
104 Digestion
105 Chronic Disease Prevention + Management I: Blood Glucose Regulation + Inflammation
106 Chronic Disease Prevention + Management II: Cardiovascular + Mental Health
107 Exercise + Sports Nutrition
108 Foundations of Health Coaching
THERAPEUTIC NUTRITION

201 Nutritional Consulting + Analysis + Meal Planning

Business module: Starting a Practice

Research lab + Career Panel

202 Nutritional Biochemistry

203 Immune + Autoimmune Health

204 Stress and Endocrine Interactions

205 Gastrointestinal Health

206 Liver Detoxification

207 Client Case Presentations

208 Cardiovascular Health

209 Cancer

210 Mental Health

211 Musculoskeletal Health

212 Reproductive Health and Aging

213 Nutrition Consultant Business

214 Final Research Project

215 Practicum
NOTE | The Nutrition Consultant Program is approved to enroll residents of these states:
We are actively pursuing approval for residents in other states.
Are You ready to learn more about our 15-month, 100% online Nutrition Consultant Program?
If you're interested in learning more about a career as a nutrition consultant and exploring whether this is the right path for you, click the "Get Info!" button to receive more information.
A helpful Bauman College admissions representative will answer all of your questions, from program details to career opportunities, and will help you discover the best option for you.