Get the Skills to Become a Nutrition Consultant Professional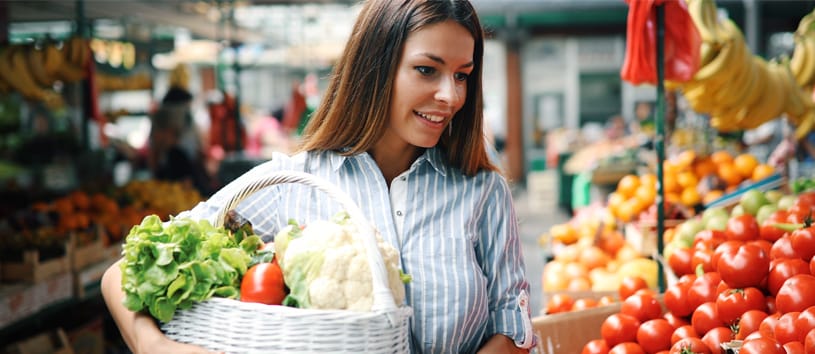 14-Month Online Nutrition Consultant Program
The Nutrition Consultant Program provides students with in-depth knowledge of whole-foods nutrition as it contributes to the prevention of illness and the promotion of optimal health.
Upon completion of the program, graduates are prepared to work as nutrition professionals and provide expert evaluation of and recommendations for diet, targeted nutrients, and lifestyle habits that support their clients in slowing the progression of chronic illness and attaining optimal health. Students gain this expertise through our science-based nutrition curriculum; practical, hands-on application of narrative health coaching and nutritional counseling; and our optional uniquely tailored business curriculum.
Nutrition Consultant Program students are able to regularly interact with peers and faculty through online discussion groups and one-on-one office hours with instructors.
Become a Skilled Nutrition Professional
Being trained as a nutrition consultant opens the door to many opportunities across the country and globally. No matter our students' location, there are a variety of jobs and business opportunities out there for them.
Nutrition consultants trained at Bauman College are ready to be leaders in the holistic nutrition industry and are in high demand for their unique knowledge and training.
Our graduates are prepared to work as:
Holistic Nutrition Consultants

Nutrition Health Coaches

Nutrition Educators

Brand Ambassadors

In-Store Wellness Practitioners

Nutrition Product Developers

Workshop Leaders + Conference Speakers

Health Writers, Bloggers + Authors

And More!
No matter where our graduates go after Bauman College, they will be building more than just a career. Bauman College was created to share our knowledge and heal the world through better nutrition. By combining that philosophy with a vast understanding of food and nutrition, our graduates go on to improve the health of their clients and communities as a whole.
Get Certified
Graduates of the Nutrition Consultant Program are eligible for the Holistic Nutrition Credentialing Board (HNCB) examination to become Board Certified in Holistic Nutrition®. Our program is designed to ensure that students have the education and support they need to become professional, credible, and confident nutrition consultants.
Join our growing industry and discover the rewarding, flexible career you have always wanted.
The Nutrition Consultant Program is composed of:
FOUNDATIONS OF NUTRITION

FON 101 Eating for Health®
FON 102 Macronutrients
FON 103 Micronutrients
FON 104 Digestion
FON 105 Chronic Disease Prevention I: Blood Glucose Regulation + Inflammation
FON 106 Chronic Disease Prevention II: Cardiovascular + Mental Health
FON 107 Exercise + Sports Nutrition
FON 108 Foundations of Health Coaching
THERAPEUTIC NUTRITION

TN 201 Nutritional Consulting, Analysis + Meal Planning
Business Module: Starting a Practice
Research Lab
Nutrition Careers Panel
TN 202 Biochemistry + Metabolism
TN 203 Immune Health
TN 204 Endocrine Health
TN 205 Digestive Physiology + Gastrointestinal Health
TN 206 Liver Health + Detoxification
TN 207 Cardiovascular Health
TN 208 Client Case Presentations
TN 209 Cancer
TN 210 Neurological Health
TN 211 Musculoskeletal Health
TN 212 Pain Management
TN 213 Life Cycle Health + Support
TN 214 Final Research Project
Optional HNCB Exam Preparation Class
For a detailed description of the nutrition consultant curriculum, please view our catalog.
Optional Advanced Business Training
As a part of your training, you will have the opportunity to purchase an optional, advanced, online business curriculum to help channel your passion and knowledge into a strategy for personal success. From defining your target market and building a social media presence to starting your very own practice, the business curriculum will prepare you for career success.
The business curriculum includes:
Personal Branding + Social Media Strategy
The Marketing Funnel
Developing a Specialty
Food Photography + Styling
Managing an Effective Job Search
Designing + Delivering Group Programs
Writing a Business Plan
Starting + Managing a Private Practice
And More!
By learning business best practices, you will develop a solid foundation that prepares you to build professional career plans. You will feel confident and prepared for your career upon graduation. Join our growing industry and discover the rewarding, flexible career you've always wanted.
Is a Rewarding Career as a Nutrition Consultant Right for You? Get More Information…
If you're interested in learning more about a career as a nutrition consultant and exploring whether this is the right path for you, fill out this form to receive more information.
A helpful Bauman College admissions representative will answer all of your questions, from program details to career opportunities, and will help you discover the best option for you.
For immediate questions, call us at 1-800-987-7530.