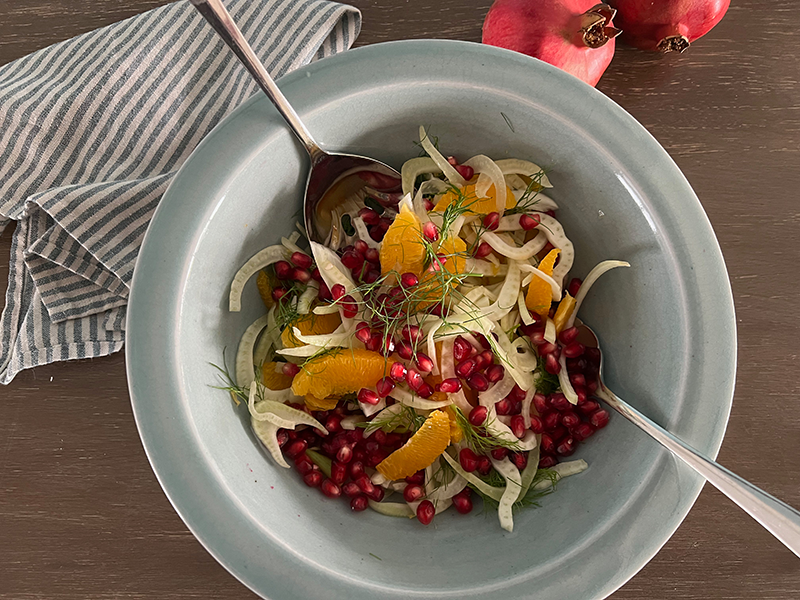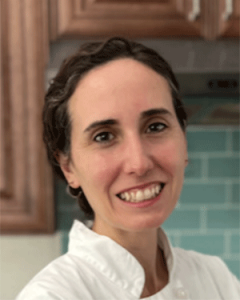 Chef Carrie Bonfitto, an instructor for our Holistic Chef Online Culinary Program, shares a salad recipe fit for the fall season.
Learn how to make this Fennel & Orange Salad with Pomegranate Vinaigrette by reading the recipe below. Enjoy!
A Lettuce-Free Salad, Featuring Fall Produce
Balance out your Thanksgiving bounty with this vibrant Fennel & Orange Salad with Pomegranate Dressing. Featuring spectacular fall produce, this lettuce-free salad is an easy make-ahead dish that adds color and digestive comfort to your holiday table.
Fennel is a bulb vegetable that looks like a cross between celery and a peeled white onion. However, it's most closely related to the carrot than either of those vegetables. Fennel's crisp white layers have the flavor of mild licorice and can be eaten raw or cooked. Plus, its plumage of green fronds can be used as a herb or garnish similar to dill. If you've ever eaten Italian sausage, you most likely have tasted fennel's flavorful seeds.
Fennel can Aid in Digestion and Relieve Gassiness
Fennel has been eaten in the Mediterranean for centuries and its common knowledge in that part of the world that eating a bit of fennel after a meal can aid in digestion and relieve gassiness. (A perfect remedy on occasions when we tend to over-indulge!)
Check out the recipe below and learn more about Chef Carrie by visiting our faculty page.
Fennel & Orange Salad with Pomegranate Vinaigrette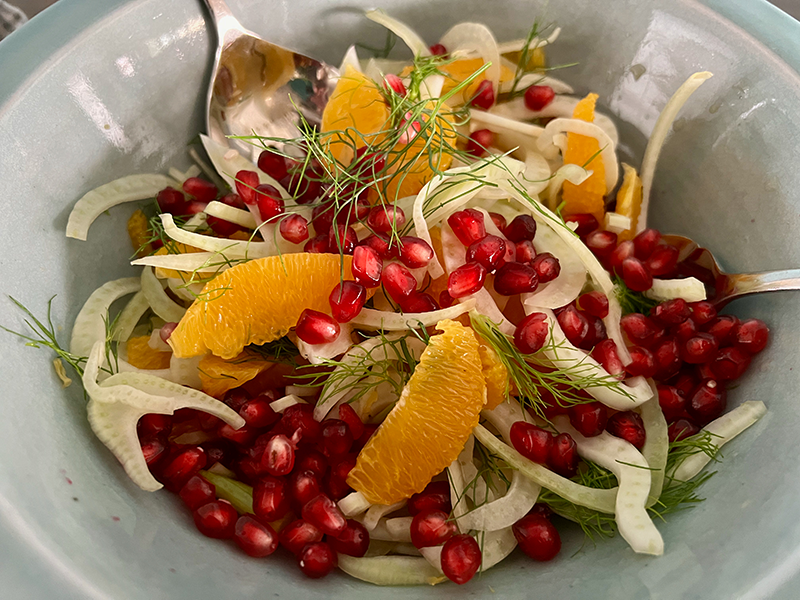 INGREDIENTS
Salad
1 blub fennel with fronds
2 oranges
½ cup pomegranate seeds (about 1 medium pomegranate)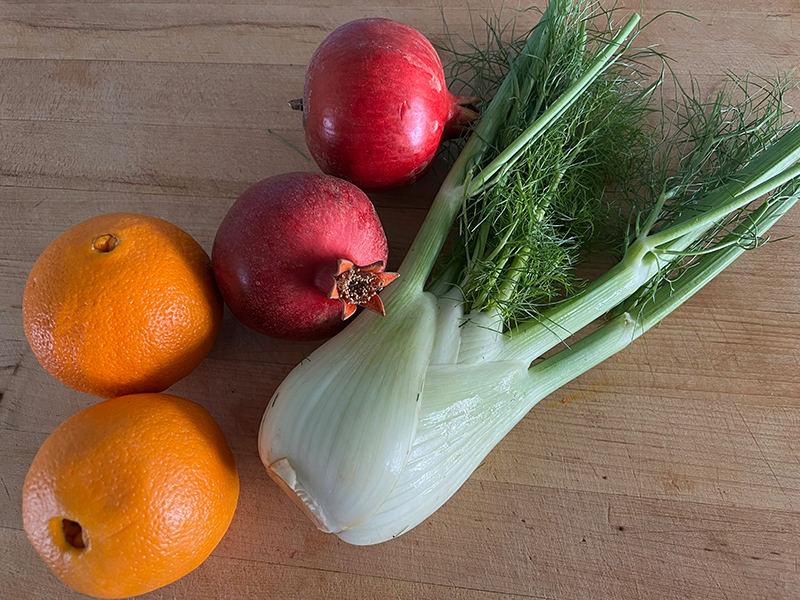 Dressing
½ cup pomegranate seeds – muddled and strained to yield ¼ cup juice
1 tablespoon Dijon mustard
1 teaspoon red wine vinegar
1 tablespoon orange juice
⅛ teaspoon sea salt
2-3 twists of fresh ground pepper
½ cup extra virgin olive oil
INSTRUCTIONS
In a medium bowl, whisk together the pomegranate juice, Dijon mustard, red wine vinegar, orange juice, salt and pepper.
Whisk in the olive oil 1 tablespoon at a time or very slowly stream it into the bowl whisking constantly to form an emulsion. Set aside.
Thinly slice the fennel bulb and hand-tear pieces of the fronds.
Supreme cut the oranges into segments.
Combine the fennel, fronds, oranges, and pomegranate seeds in a bowl. Gently toss with the dressing and enjoy!
Note: The salad ingredients can be prepped and held without the dressing for 2 days before serving. The dressing can be stored in the refrigerator for up to 2 weeks. Before serving, let it stand on the counter for a few minutes until it comes to room temperature. Shake well before serving.
Have Work You Love
Get the details on how to pursue a career as a Holistic Chef through Bauman College's 12-month ONLINE culinary school! Contact us to connect with an Admissions Representative today.