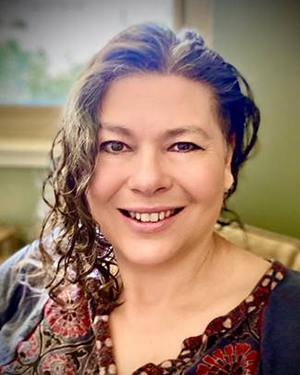 Tea and scones, anyone?! Chef Lizette Marx, an instructor for our Holistic Chef Online Culinary Program, provides a delectable citrusy scone recipe that is sure to delight your taste buds.
Learn how to make these gluten-free Mandarin and Thyme Scented Scones by reading the recipe below.
Bright and Citrusy, Gluten-Free Scones
When it's cold and cloudy outside, bring in the sunshine with these bright and citrusy, grain-free, gluten-free scones. Whole mandarin oranges are infused with fresh thyme as they simmer until soft, then puréed and blended into the batter. Enjoy them with your favorite tea for a perfect mid-afternoon or anytime treat.
Check out the recipe below and learn more about Chef Lizette by visiting our faculty page.
Mandarin and Thyme Scented Scone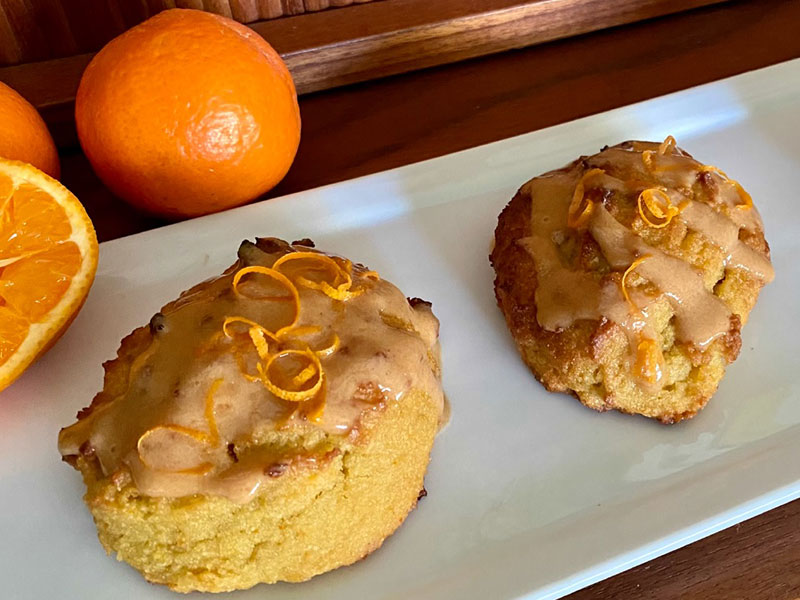 INGREDIENTS
Mandarin and Thyme Scented Scones
5 mandarin oranges, divided
2 sprigs fresh thyme
2 1/2 cups almond flour
1/2 cup cassava flour
1 teaspoon powdered ginger
1/2 teaspoon baking soda
1/4 teaspoon sea salt
1/2 cup maple syrup
1/4 cup avocado oil
2 tablespoons yogurt
1 teaspoon vanilla extract
3 eggs, separated
pinch of sea salt
1 tablespoon mandarin orange zest
1 teaspoon fresh thyme leaves
Mandarin Orange Glaze
1 cup organic confectioners' sugar
3/4 teaspoon mandarin orange zest
2 tablespoons fresh-squeezed mandarin orange juice (can also use orange juice)
INSTRUCTIONS
Mandarin and Thyme Scented Scones
• Preheat oven to 350°F
• Line a rimmed baking sheet with parchment paper
In a small saucepan, boil 2 mandarin oranges in filtered water with thyme sprigs until soft,
about 20 to 30 minutes. Remove mandarins with a slotted spoon and set aside to cool.
In a large bowl, whisk together almond flour and cassava flour with ginger, baking soda
and sea salt. Set aside.
Cut mandarins in half and remove seeds. Place mandarins (skin and all) in a blender and
process until puréed.
Add maple syrup, oil, yogurt, vanilla extract and egg yolks. Blend until smooth.
Pour mandarin orange and egg yolk mixture into almond flour mixture and stir well to
combine. Zest the remaining 3 mandarins and fold into the batter along with the fresh
thyme leaves.
Blend egg whites until foamy. Add pinch of sea salt and continue beating until stiff peaks
form.
Fold egg whites one third at a time into the batter.
Using an ice cream scoop or metal spoon, drop 1/4 cup-sized dollops of batter onto the
prepared sheet pan, making sure they are at least 1/2-inch apart.
Bake scones for 20 minutes or until golden brown on top. Remove from oven and allow to
cool before removing from cake pan.
Place scones on a plate or splatter and drizzle with Mandarin Orange Glaze.
Mandarin Orange Glaze
In a medium bowl, stir together confectioner's sugar, zest and orange juice until well
combined. Glaze should be thin enough to drizzle. If it is too thick, add a little more
orange juice.
Drizzle glaze over cakes
Have Work You Love
Get the details on how to pursue a career as a Holistic Chef through Bauman College's 12-month ONLINE culinary school! Contact us to connect with an Admissions Representative today.