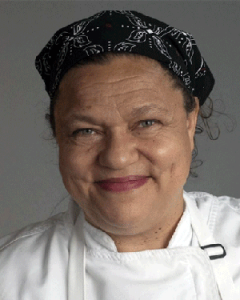 Chef Porsche Combash, former instructor for our Holistic Chef Online Culinary Program, is back at it with yet another recipe, perfect for Spring.
Learn more about the inspiration and recipe for Chef Porsche's Neighborhood-Foraged Spring Pesto below.
Foraged Food is Free, Fresh, and Local
I love going on spring walks to look for edible "weeds" in my neighborhood. Examples of these foraged plants include watercress, rocket, wood sorrel, sow thistle, chickweed, and dandelions.
The beauty of foraging for food is that it is free, fresh, and local and adds wonderful variety to your plate.
The two foraged plants that I collected for this pesto were nasturtiums which grow everywhere near me and stinging nettles from my yard. Nasturtiums have small, tender leaves and peppery flowers.
Stinging nettles have very fine glass needles which act like stingers, so avoid touching them with bare hands when collecting them. The stingers are made from silica, which is good for our hair and nails, but they must be neutralized by cooking prior to eating.
I liked mixing the two I chose because the earthy flavor of the stinging nettles pairs well with the peppery flavors in the nasturtiums. A bonus local ingredient that I included in the recipe was a Meyer lemon, given to me by neighbor from her tree.
Know the Plants You are Gathering
Whenever collecting plants to eat, know the plants you are gathering and understand where they are grown. Also, be 100% sure of what you are picking, so you don't inadvertently poison yourself. I avoid any foraging from unknown areas or places that have been sprayed.
This spring foraged recipe is just a model for what you might find on your spring walks. I found, Stinging nettles in my garden, Nasturtiums everywhere with small tender leaves, and flowers, Meyer lemons on my neighbor's tree.
I used pecans, Parmesano Reggiano, Celtic sea salt, and black pepper with local arbequina olive oil. The Stinging nettles must be blanched before making the pesto. These spring herbs are excellent in helping with hay fever and are good for your blood.
This pesto can be added to pizza, served with fish, swirled into soup, used as a dip for spring vegetables like asparagus, or serve as the base of a salad dressing.
Check out the recipe below!
Neighborhood-Foraged Spring Pesto
Serves 6, Prep Time 10 min, Cooking Time 5 min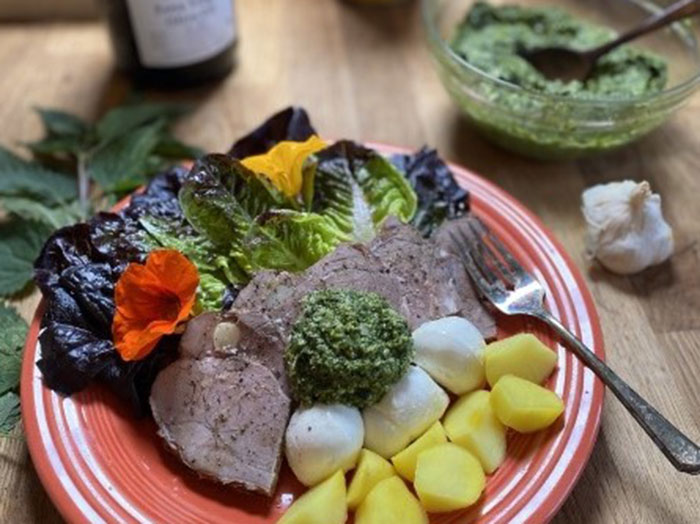 INGREDIENTS
1/2 cup pecans, or walnuts
1/3 cup Parmesan Reggiano
4 cups herbs or greens, lightly packed leaves (these were mixed blanched nettles and fresh nasturtiums including flowers)
2 cloves of garlic, coarsely chopped
2 lemons, juiced, to taste
1/3 cup olive oil
sea salt, to taste
black pepper, to taste, freshly ground
INSTRUCTIONS
Preparing the Greens:
Collect only herbs you can identify, Nettles and Nasturtiums. Gather the tender new growth of the Nettles, using scissors or clippers, cut directly into a basket or bowl. DO NOT TOUCH with bare hands. Gather Nasturtiums, small tender leaves, and flowers, checking carefully for snails that hide under the leaves.
While wearing latex (doubled) or thick rubber gloves, remove leaves from the stems (use stems for tea). Carefully rinse Nettles and set them aside.
In a large saucepan, boil a quart of water, add half the leaves. Stir with a wooden spoon and cook until all leaves have wilted and turned dark green, about 2 minutes. Remove cooked nettle and repeat with remaining leaves.
Strain nettle leaves, collect and save the boiling water (which can be used for tea), and squeeze to remove as much water as possible. Chop finely. Set aside.
Rinse and chop the Nasturtiums. Set aside.
Preparing the Pesto:​
With an immersion blender or food processor, coarsely chop walnuts, garlic, and Parmesan cheese.
Add cooked nettles, lemon juice, salt, and pepper. Process until well blended.
With the processor running, pour in oil to make a paste.
Taste and adjust seasoning as desired.
Store in the refrigerator for up to 3 weeks in well-sealed jar.

Notes
This recipe can be adapted in several ways.
Choose your favorite herbs (basil, cilantro, arugula, spinach, etc.) and nuts/seeds (pine nut, hazelnut, walnut, almond, pecan, pepita, etc.), or use whatever you have.
You can also swap the lemon juice for vinegar, and add a salty component like Parmesan cheese, nutritional yeast, miso, or anchovies.
Add fresh chilies or chili flakes or spice!

Have Work You Love
Get the details on how to pursue a career as a Holistic Chef through Bauman College's 12-month ONLINE culinary school! Contact us to connect with an Admissions Representative today.