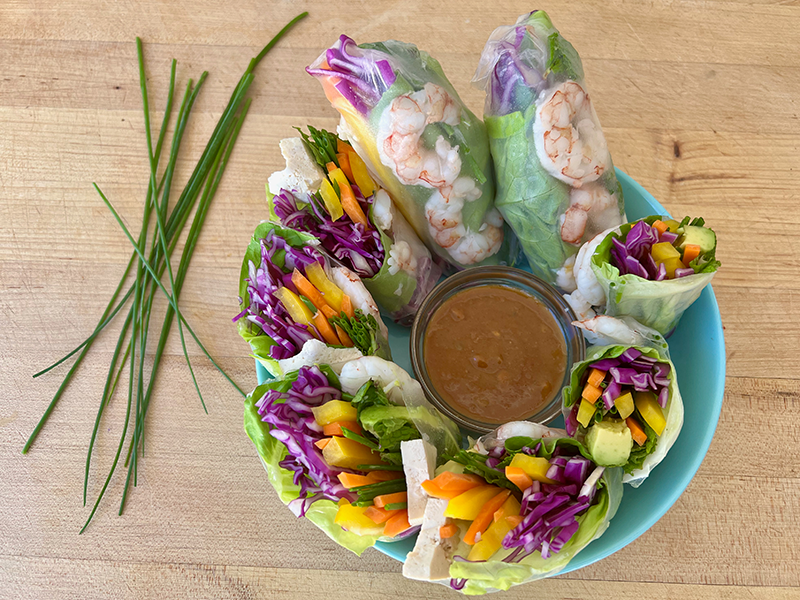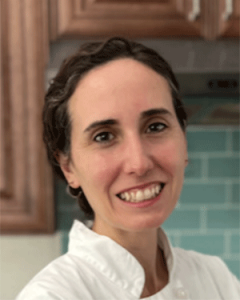 Chef Carrie Bonfitto, instructor in our Holistic Chef Online Culinary Program, presents her version of Rainbow Summer Rolls with Peanut Sauce.
Check out the recipe below to enjoy this dish today.
Keep Your Stove Off & Your Kitchen Cool
With the heat of summer upon us, this delicious no-cook recipe will keep your stove off and your kitchen cool. My fresh Rainbow Summer Rolls – a variation on a gỏi cuốn, a traditional Vietnamese dish – of fresh vegetables, herbs, and protein rolled in rice paper and served with a savory peanut dipping sauce is sure to please.
For this version, you'll julienne bell peppers, cucumbers, and carrots to create a striking rainbow of colors that look as good as they taste. Also, the spicy, sweet, and nutty sauce boosts the protein levels of this healthy summer dish.
Rainbow Summer Rolls with Peanut Sauce
Recipe adapted from: Vietnamese Home Cooking by Charles Phan
INGREDIENTS
For the Rolls
10 rice paper rounds
1 head bib lettuce, leaves separated, stems trimmed
3 cups red cabbage, shredded
1 cup carrots, shredded
1 red or yellow pepper, julienned
1 avocado sliced into thin strips
1 bunch mint, leaves only
1 bunch chives
8oz extra firm tofu sliced into 1⁄2" strips OR 8oz shrimp
For the Sauce
1-2″ piece ginger
3 cloves garlic, chopped
1 small serrano chili, seeded for less heat if desired
1/4 c tamari
2 Tbs maple syrup
1 c peanut butter
3 Tbs water, as needed to thin
2 Tbs lime juice, as needed
INSTRUCTIONS
For the Rolls
1. Prep the roll ingredients and put them within easy reach of your work surface. Fill a large bowl with very hot water. Working with one rice-paper round at a time, dip into hot water for 3-5 seconds until pliable but not completely soft. Remove round from water and spread flat on the work surface. A cutting board or tea towel works well.
Lay 1 lettuce leaf on the bottom one-third of the rice-paper round. Top the lettuce with about 1⁄4 cup of the cabbage, and a thin layer of the other vegetables and herbs.
Lift the bottom edge of the wrapper up and over the vegetables, tucking the edge under the filling to cover it completely. Add the shrimp or tofu to the front edge of this package of vegetables. Fold in the sides of the wrapper and tightly roll rice paper away from you one turn, enclosing filling completely. Continue rolling as tightly as possible, tucking in sides, until you have formed a compact package. Place roll on a platter or baking sheet and cover with a damp kitchen towel to keep moist.
Repeat with remaining rice paper and filling ingredients. Rolls will last about 2 hours covered with a damp cloth in the refrigerator. It is best to serve immediately.
For the Sauce
Combine the ginger, garlic, serrano chili, tamari, maple syrup, peanut butter, water and lime juice to a blender, food processor, or jar with an immersion blender and blend until smooth. Thin out and season with water and lime juice if needed.
Have Work You Love
Get the details on how to pursue a career as a Holistic Chef through Bauman College's 12-month ONLINE culinary school! Contact us to connect with an Admissions Representative today.