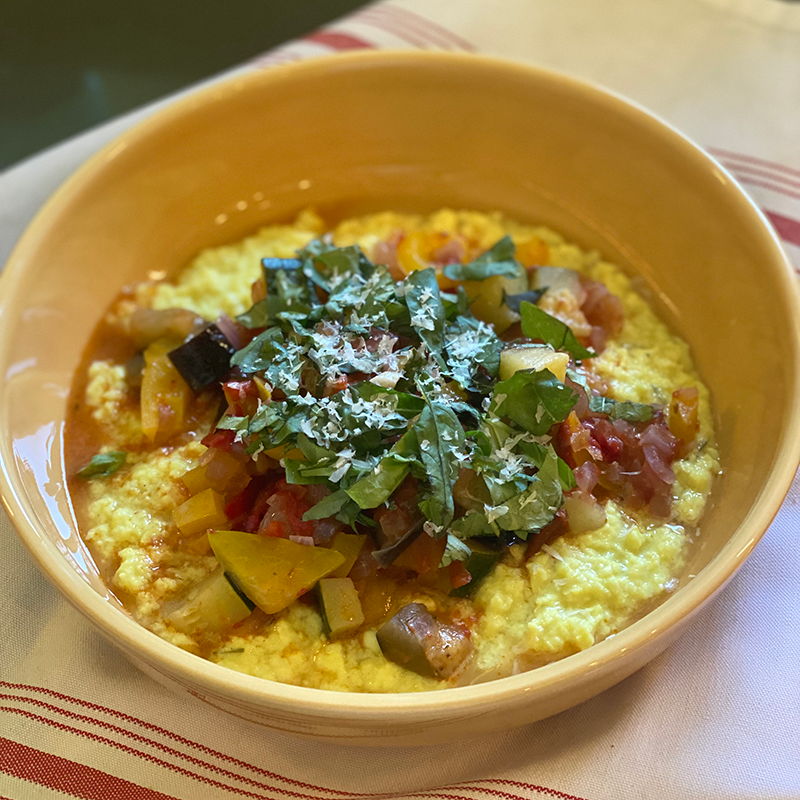 Chef Lizette Marx, an instructor for our Holistic Chef Online Culinary Program, brings us a French Provencal dish, Ratatouille.
Keep reading to learn how to create Chef Lizette's country-style Ratatouille on Fresh Corn Polenta.
Ratatouille is a French Provencal Dish
This dish celebrates the end of the summer season and can be enjoyed through the autumn months when the weather is still hot and the crisp fall weather seems a long way away.
Ratatouille is a French Provencal dish from Nice in which onions, tomatoes, zucchini, eggplant, and sweet bell peppers are cooked together with fresh herbs to make a hearty stew. It was made more popular by the Pixar movie, Ratatouille where the vegetables were thinly sliced with a mandolin and delicately arranged in a baking dish in a beautiful spiral pattern.
Unlike the movie's fancy version, this recipe is more country-style as the vegetables are cut into chunks and stewed together until they become tender and aromatic with the scent of rosemary, oregano, and fresh basil. The ratatouille is served over creamy polenta made from fresh corn instead of the traditional coarse cornmeal version. The result is a lighter polenta that tastes like fresh picked corn. When these two dishes in their own right come together, you have a perfect hearty but not too heavy warm weather meal.
If you need a little protein, top this dish with some grilled prawns, scallops, fish, or chicken and savor the flavors.
Check out the recipe below and learn more about Chef Lizette by visiting our faculty page.
Ratatouille on Fresh Corn Polenta
Serves 4
INGREDIENTS
Ratatouille
2 tablespoons olive oil
1 medium red onion, diced
1 teaspoon oregano
3 cloves garlic, peeled, smashed and chopped roughly
1/4 teaspoon sea salt
1 large bell pepper, medium dice (choose red, yellow, or orange)
1 medium globe eggplant, medium dice
1 medium zucchini, medium dice
2 medium heirloom tomatoes (or 3 Roma tomatoes), seeded and diced
1 4-inch sprig of fresh rosemary
1/2 cup chopped fresh basil, divided
Sea salt and pepper to taste
Fresh Corn Polenta
8 ears of corn, shucked (reserve corn silk)
3 garlic cloves, finely minced and creamed
1/4 teaspoon turmeric
1/4 teaspoon sea salt
2 tablespoons olive oil
2 tablespoons butter
1/4 cup heavy cream
Garnish (optional)
INSTRUCTIONS
Ratatouille
Heat olive oil over medium heat in a pot or Dutch oven and add onions. Sauté for 5 to 8 minutes, until onions soften. Add garlic, oregano, and sea salt and sauté for another 1 – 2 minutes.
Add peppers, eggplant, zucchini, and tomatoes and cook for 15 minutes on medium-low heat.
Place a sprig of rosemary on top of vegetables, cover and cook on low heat for another 15 minutes until vegetables are soft. Stir in 1/2 to the fresh basil and keep warm and make polenta.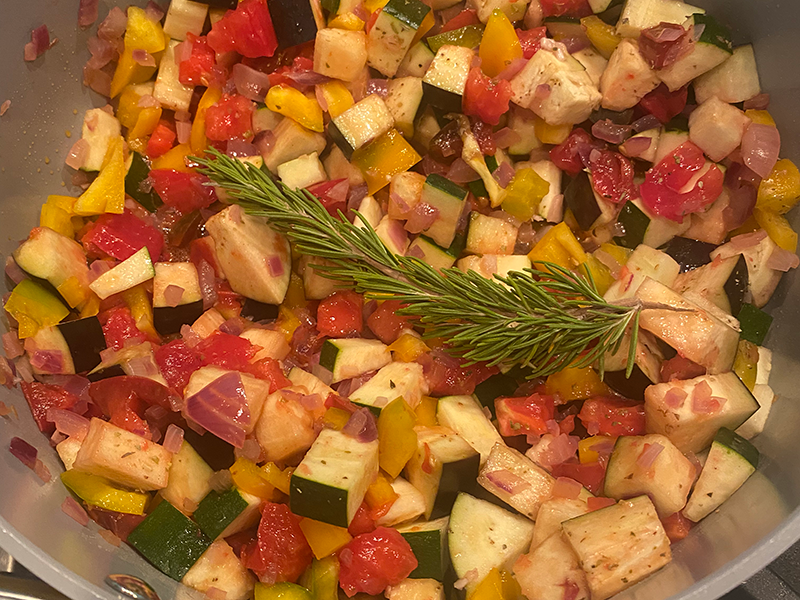 Fresh Corn Polenta
Shuck corn, reserving corn silk and cobs to make broth if desired. See NOTE below.
Using a chef knife, shave the kernels from the cob over a bowl.
Place kernels, creamed garlic, turmeric and sea salt in a food processor and purée until smooth.
Heat olive oil in a medium pot and add pureed corn mixture and butter. Cook on medium heat for about 10 minutes until mixture thickens.
Lower heat and stir in cream. Taste and adjust seasonings with sea salt and pepper.
To serve, ladle desired amount of polenta in a shallow bowl or plate and top with a generous scoop of ratatouille. Top with fresh remaining chopped basil and grated Parmesan. Enjoy.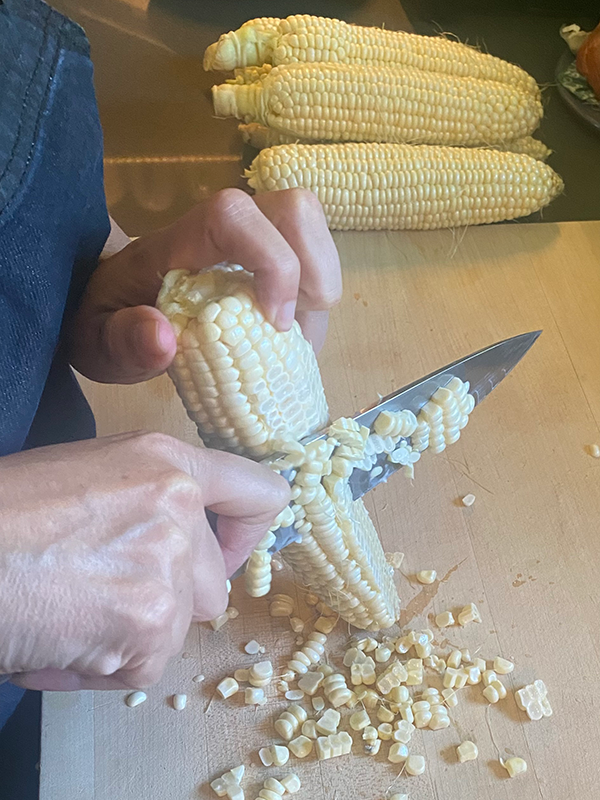 NOTE: Instead of composting the corn silk and cob when shucking corn, place them in a stock pot and cover with pure filtered water. Bring to a boil then reduce the heat and simmer for 3 to up to 6 hours until the broth is rich and flavorful. The taste will be similar to tortilla soup. Add a pinch or two of sea salt to round out the flavors if desired. Store the broth in a mason jar and use within three days as a sipping broth, to make soup, or cook grains.
Have Work You Love
Get the details on how to pursue a career as a Holistic Chef through Bauman College's 12-month ONLINE culinary school! Contact us to connect with an Admissions Representative today.