We're celebrating Super Bowl LII the Bauman College way with our #SmoothieBowl2018 Instagram contest starting January 20th!
We want to see your beautiful, colorful smoothie bowls, but with a Bauman College twist.
Health-Supportive Smoothie Ingredients
Smoothies are a delicious way to add more healthy fruits and vegetables to your diet, but can often become low-fiber, sugar bombs when the only ingredients are fruit juice and high-glycemic fruits like bananas, oranges, and mangoes.
Round out your healthy smoothie bowl without sacrificing flavor by adding:
Vegetables: cauliflower, beets, yams, dark leafy greens (e.g., kale, spinach, chard, collards, etc.)
Healthy Fats: avocado, ghee, coconut oil, MCT oil, coconut milk, nuts/seeds, nut butter
Protein: grass-fed whey, grass-fed collagen peptides, bone broth, pea protein, hemp protein, nuts/seeds/nut butter
Booster Foods: seaweed (e.g., spirulina, Irish moss, nori), nutritional yeast, bee pollen, ginger, flax seeds, chia seeds, aloe vera, supportive herbs (e.g., ashwaganda, euleuthero, rhodiola)
Low-glycemic Fruits: blueberries, blackberries, green apples
Here's some inspiration from Nutrition Consultant student, Lila Volkas:
How to Enter
Post a picture of your smoothie bowl creation (we'd love to see pictures of your process as well!), tag #SmoothieBowl2018 and @BaumanCollege, and be sure to list your health-supportive ingredients in your post.
Our panel of judges will be looking for:
Presentation: Creative use of ingredients and styling
Balance of Health-Supportive Ingredients: See suggestions above
Example: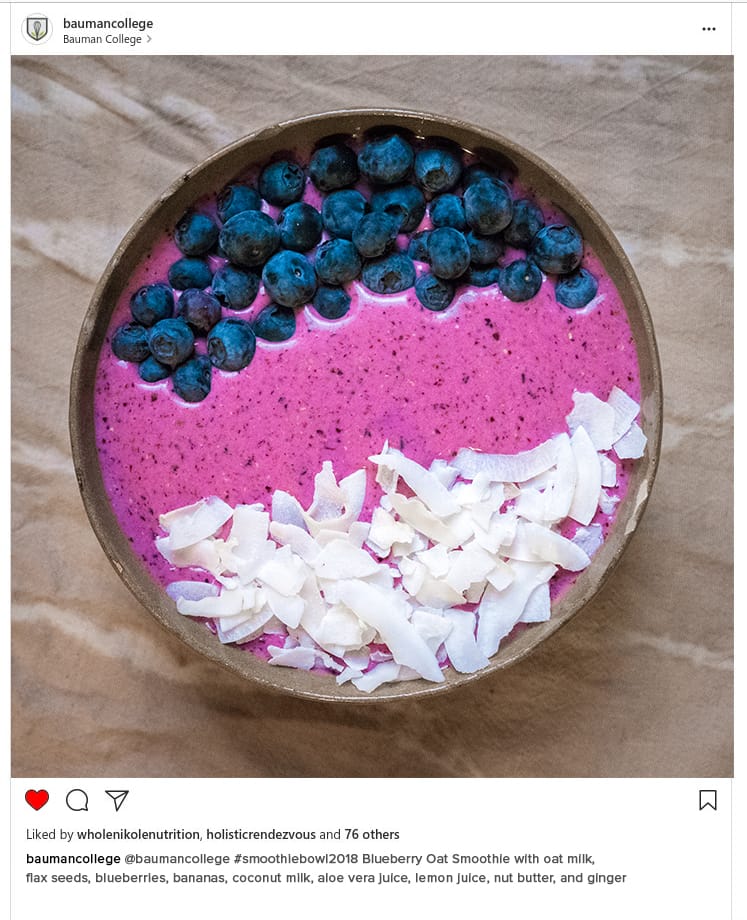 Entries will be accepted on Instagram starting on Saturday, January 20, 2018, 12 p.m. PST, and must be posted by Sunday, February 4, 2018, 11:59 p.m. PST. Winners will be announced on Bauman College's Instagram on Friday, February 9, 2018.
Prizes
Terms + Conditions
Eligibility: Bauman College employees are not eligible to win.
Entry Criteria: Content entries (e.g., photo, video, text, etc.) must be an original work of authorship, which does not violate any third party's proprietary or intellectual property rights. If the entry infringes upon the intellectual property right of another, entrants will be disqualified at the sole discretion of Bauman College.
Timeline: All contest entries must be posted on Instagram between Saturday, January 20, 2018, 12 p.m. PST and Sunday, February 4, 2018,11:59 p.m. PST.
Prize Winners: Winners will be contacted via Instagram Direct Message to obtain a mailing address for delivery of prizes on Monday, February 5, 2018. Winners must respond to Bauman College with their mailing address by Wednesday, February 7, 2018 or the prize will be forfeited and an alternate winner will be selected at the discretion of Bauman College. Acceptance of prize constitutes permission for Bauman College to use winners' names, likenesses, and entry details for purposes of advertising without compensation.
Announcement: Bauman College will announce the winners on their Instagram, Facebook, and Twitter pages on Friday, February 9, 2018.
Sponsorship: This contest is not sponsored, endorsed, or administered by, or associated with Instagram, Facebook, or Twitter.