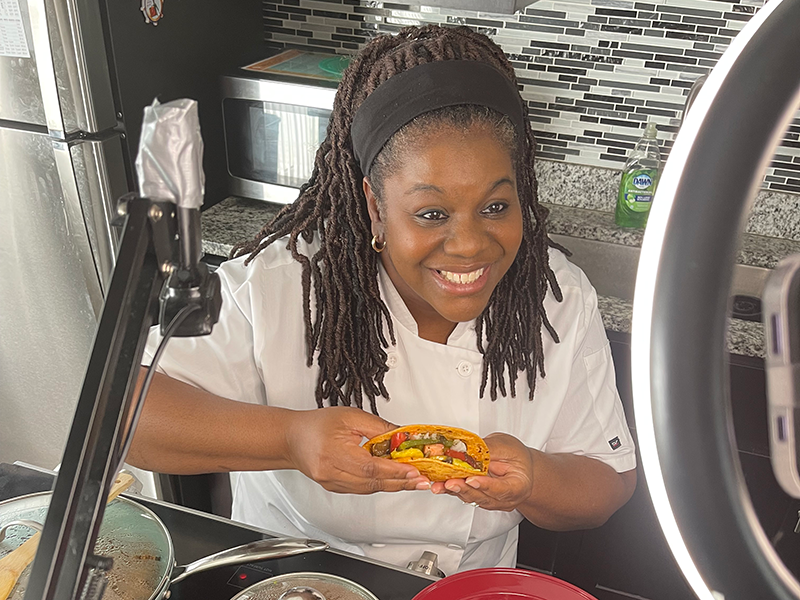 Sonja "Sunny" Stancell is a graduate of our Holistic Chef Online Culinary Program. Sunny has combined her passions into a multifaceted career with the goal of helping people learn how to care for their "WHOLE-SELF" as she learns the same.
Discover how Sunny became a triple threat, Holistic Chef, Nutritional Coach and Herbalist, in the field of holistic nutrition and culinary arts and shows no signs of slowing down.
Holistic Chef, Nutritional Coach and Herbalist
Hi, I'm Sonja "Sunny" Stancell, I am a Holistic Chef, Nutritional Coach and Herbalist who believes that food is medicine. I am passionate about helping people with dietary issues and committed to helping all learn how to cook holistically by using nutrient-dense foods in a new, creative, and delicious way. I have a creative spirit and love creating candles, body care products, working with natural herbs, spices, and of course people.
My goal is to help people learn how to care for their "WHOLE-SELF" as I learn the same!
I Grew a Love for Cooking
I grew up with my grandparents as my parents were both in the military. I've always been a "little helper" working in the kitchen with my grandmother or in the garden with my grandfather. My first love was working with herbs because it was the one time I had my grandfather's complete attention. He loved to share about the healing properties of herbs, and I loved being in his presence.
I grew a love for cooking as it was more a chore growing up verses a choice.
Once I married and had my own family I simply enjoyed creating dishes, I didn't step out on faith to attain my dream of becoming a chef until after my children were grown and my husband had a heart attack, In that moment in 2018 I knew we needed to make changes to our diet and his physician as well as my physician had no real answers for us; only a list of restricted foods to stay away from.
I Knew This was the Program for Me
When I first started to investigate different culinary programs, I needed one that could accommodate my current work schedule but also my desires to work with food purposely to improve one's health. Then I stumbled upon Bauman College. When I learned of Bauman College and its Holistic Chef program I knew this was the program for me.
The Holistic Chef program was one where I not only learn how to cook but how to make healthy choices as well.
I must say working with Chef Lizette and having Chef Porche as a mentor was amazing! I learned so much about the culinary industry that I had no idea about. the section on scaling up recipes and cooking per client's health conditions were my favorite portions of training. This training prepared me to do culinary coaching and Instructional Chef.
It has yet to Feel Like Work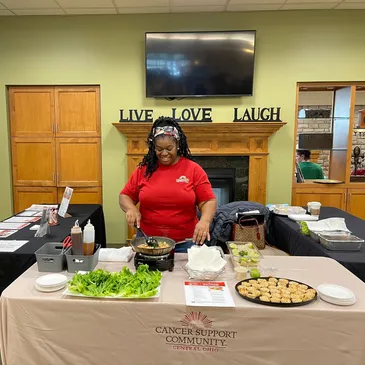 Currently, I am still working with Anthem Healthcare. During my enrollment I had received a promotion and it made me rethink my position with my current employer. Since that promotion doors have opened, and I am now seeking an opportunity to work with the Wellness team as a Holistic Chef.
I was a small business owner prior to enrollment with Bauman, my business primarily was customized herbal teas, hand poured candles and a bodycare line all promoting self-care and healing. I've now incorporated culinary coaching!
Recently, I signed a contract with Cancer Support Community Center in my hometown as well our Botanical Gardens organization called Franklin Park Conservatory. Each organization has a teaching kitchen where I host cooking classes for plant-based meals mostly, but at times we will prepare dishes with animal fats.
I love working 2 days a week in the evening It has yet to feel like work!
Bauman College's Holistic Chef Program is for You
If you are interested in pursuing a career in culinary arts, I'd say, just do it! Take the leap because if you have a passion and the desire to personalize dishes, all while creating a person-centered approach to wholesome eating for all people, then Bauman College's Holistic Chef program is for you.
Connect with Chef Sunny by visiting her website, chefsunnyb.com.
Have Work You Love
Get the details on how to pursue a career as a Holistic Chef through Bauman College's 12-month ONLINE culinary school! Contact us to connect with an Admissions Representative today.