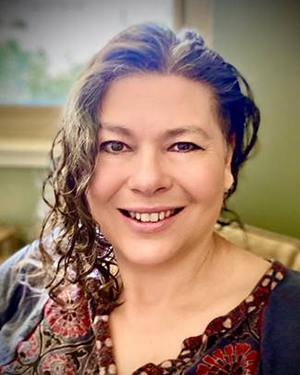 The salad bowl. While it is by no means a new concept, Chef Lizette Marx, an instructor for our Holistic Chef Online Culinary Program, shares one of her favorite salads for this season, a Springtime Salad Nicoise.
Learn how to compose Chef Lizette's Salad Nicoise by reading the recipe below.
A Hearty Meal in a Bowl
I love salads anytime of the year, especially ones that are hearty and essentially a meal in a bowl. The salad bowl, so popular today in trendy restaurants that emphasize plant-based meals, is hardly a new concept.
When I was growing up in Southern California, we enjoyed many giant meal-in-one salads throughout the years:
Chef's Salad
During the 1970s when my mom and dad wanted to eat "healthy" they ordered a Chef's salad. A giant salad bowl heaped with diced ham, egg, and cheese on a generous bed of iceberg lettuce scattered with cherry tomatoes, carrot coins, and cucumber slices. You'd get a choice of dressings from ranch, blue cheese (or in some restaurants my dad's favorite, Roquefort), Thousand Island, or a simple oil and vinegar brought to your table in curvy glass bottles.
Cobb Salad
In the 1980s the Cobb salad made a comeback. This old classic made popular in the 1920s at the infamous Hollywood restaurant, the Brown Derby, was essentially a Chef's salad composed into garden-like rows of meat, cheese, egg, avocado, and assorted veggies. Different restaurants changed up the Cobb rows with chopped chicken or bacon but the concept was the same.
It was around this time I accidentally experienced my first Salad Nicoise. I was at a French cafe while on a trip through Vancouver with my best friend and her family and decided to have a salad for lunch. I chose the Salad Nicoise.
Salad Nicoise
At first glance I thought I was getting a different kind of Cobb salad but instead of being composed into rows, it resembled a colorful pinwheel of green beans, halved boiled potatoes and cherry tomatoes, olives, perfect boiled eggs cut into wedges, chopped tuna, and a few anchovies delicately arranged in the center. The salad was dressed with a simple vinaigrette of extra-virgin olive oil, mustard and red wine vinegar that brought all these wonderful ingredients together.
I learned later that Salad Nicoise is a classic salad from Nice, France. The salad is a summer favorite and a celebration of the freshest seasonal vegetables and ingredients that are simple but beautifully prepared. The potatoes and eggs are boiled to perfection and the haricot verts (green beans) are steamed until they are bright green and tender. Anchovies adorn the salad to bring in salty and briny flavors, or at some more casual eateries, a scoop of canned tuna in olive oil is used instead.
There's an ongoing debate in the foodie world about what is the proper way to make this salad. Many innovative chefs have traded the anchovy or tuna topping with seared tuna, salmon, scallops, or even grilled chicken.
Honor What's Plentiful During the Season
This Salad Nicoise honors its French roots but also what's plentiful during the Spring season. Instead of the oil and vinegar vinaigrette, I've made a Olive Tapenade Vinaigrette but for the most part it's influenced by the classic combination.
As for the protein of choice, I'll let you decide. Add some canned tuna or salmon, a few sardines packed in oil, or if you want to sear some salmon, go right ahead. Whatever you choose, the vibrant, beautifully prepared vegetables will still be the highlight of this dish.
Aside from the ingredients, it's also important to note that this salad is a wonderful way to practice a few moist heat cooking techniques, such as how to boil eggs perfectly and blanch and shock green beans or asparagus so they are bright green, crisp, and tender at the same time.
I hope you enjoy this wonderful salad. It truly is a delicious work of art. Have fun!
Check out the recipe below and learn more about Chef Lizette by visiting our faculty page.
Salad Nicoise with Olive Tapenade Vinaigrette
Serves 4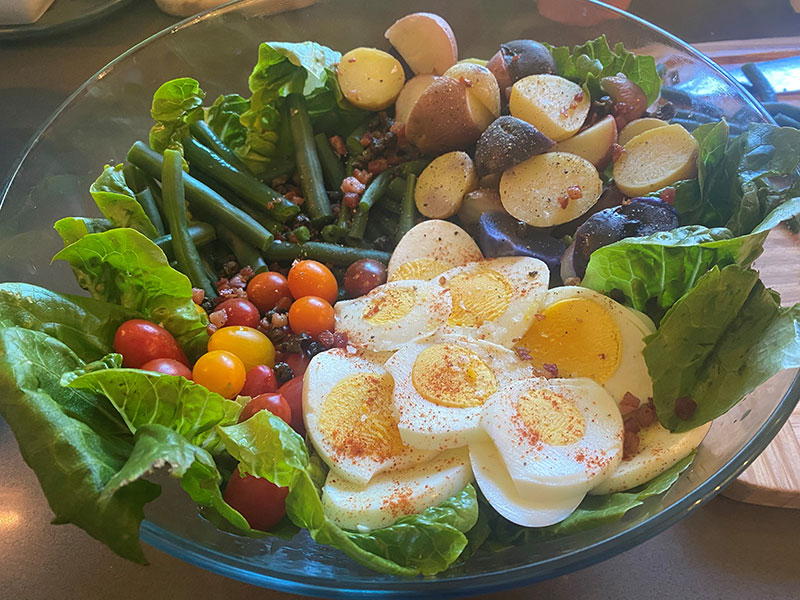 INGREDIENTS
Salad Nicoise
4 eggs
12 marble potatoes or 1 pound of red potatoes
4 teaspoons sea salt, divided
1 bunch of asparagus, tough ends removed
10 cherry tomatoes, sliced in half
1/3 cup Niçoise or your favorite olives, pitted and sliced in half
1 tablespoons avocado oil
1/4 cup diced pancetta
3 tablespoons of capers, drained
6 cups of butter lettuce, baby gems, or romaine rinsed and patted dry
2 cups arugula or baby kale, rinsed and patted dry
1 6-ounce can of line-caught tuna in olive oil or protein of choice
1/2 cup toasted almonds, crushed
1/8 teaspoon paprika
Olive Tapenade Vinaigrette
2 tablespoons Niçoise olives, minced
1 small shallot, minced
1/4 cup sherry vinegar
1 tablespoon fresh-squeezed lemon juice, or more to taste
2 tablespoons chopped fresh parsley, optional
1 tablespoons fresh thyme leaves
1 tablespoon Dijon mustard
1 teaspoon anchovy paste
3/4 cup extra virgin olive oil
1/4 teaspoon sea salt, or more to taste
Freshly cracked pepper
INSTRUCTIONS
Boil Eggs: Bring a medium pot of water to a boil and lower heat to a strong simmer. Carefully place eggs in the pan and cook for 10 minutes.
While eggs are simmering, make an ice bath. Fill a medium bowl 1/3 of the way with ice cubes and add cold water.
After about 10 minutes, lift eggs out of the water carefully and dunk in the ice batch to cool. Once eggs are cool to the touch, peel and slice in half and then in half again to form wedges.
Boil Potatoes: Place potatoes in a stock pot and cover with water. Add 2 teaspoons of sea salt and bring water to a boil. Cook until potatoes can be pierced easily with a skewer or tip of a sharp knife.
Once potatoes are finished, drain and spread out on a sheet pan. Allow to cool. Slice the marble potatoes in half or, if using the red potatoes, slice into 1/3-inch disks or wedges.
Blanch Asparagus: Prepare an ice bath as you did for the boiled eggs and place on the counter next to your stove so it's nearby.
Bring a fresh stock pot of water to boil with 2 more teaspoons of sea salt. When water comes to a rolling boil, place asparagus into the water and cook until they turn bright green and are tender-crisp. This will take about 2 minutes. Lift asparagus out of the water and shock in the ice bath to stop the cooking process.
Remove asparagus from the ice bath, pat dry and then slice on the diagonal into 3-inch pieces, keeping the asparagus spear tips intact.
Fry Pancetta and Capers: Heat a medium skillet over medium-low heat and add avocado oil. Add the pancetta and pan fry until browned and crisp. Transfer pancetta to a plate lined with paper towels to blot out the excess oil.
Next, pan fry the capers in the same pan for about 1 to 2 minutes until they become crispy and then place them in a small bowl. Set aside.
Make Vinaigrette: Add all of the vinaigrette ingredients to a jar with a tight-fitting lid. Cap the jar and shake vigorously until emulsified.
Assemble Salad: Tear lettuce greens into bite-sized pieces. Pour about a tablespoon of dressing into the bottom of a salad bowl and add lettuce greens. Toss lightly. In a separate bowl, toss the potatoes, asparagus, and tomatoes separately with enough dressing to coat lightly. As you finish tossing each item, arrange them on top of the lettuce greens. Then add the hard-boiled eggs and tuna. Sprinkle the eggs with paprika and scatter the top of the salad with pancetta, capers, and toasted almonds. Drizzle with more vinaigrette if desired. Enjoy!
Have Work You Love
Get the details on how to pursue a career as a Holistic Chef through Bauman College's 12-month ONLINE culinary school! Contact us to connect with an Admissions Representative today.