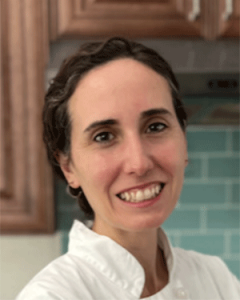 Chef Carrie Bonfitto, one of our Holistic Chef Online Culinary Program instructors, shares a refreshing recipe just in time for summer, Strawberry Silk with Coconut Cream!
Discover the inspiration behind this dessert along with the recipe below.
Wild Strawberries
When I was growing up in Pennsylvania, June was my favorite month to hike in the woods. These adventures were more akin to treasure hunts as I would be searching for wild strawberries!
Seeing a bright red berry peeking out from a sea of greenery would cause me to rush with joy to gobble up as many as I could find! These encounters with the berries were special because I'd be lucky to get more than a dozen of these tiny jewels at a time.
A Popular Ingredient in French Desserts
Solving the problem of strawberry scarcity, the French began to cultivate strawberries in the 1300s and grow them in abundance. Fraises (strawberries in French) became a popular ingredient in French desserts. You may have enjoyed their cakes, tarts, pastries, and jams made from strawberries.
But have you ever heard of strawberry soup? This lesser-known chilled dessert comes in many different varieties, some include cream, yogurt, or coconut milk most traditional recipes will include wine or champagne. I've even encountered recipes that include garlic as an ingredient and turn it from dessert into a savory appetizer. Sometimes it's cooked and then chilled in other versions it's simply blended and chilled like a glorified smoothie.
My personal take on the dish is to use less liquid than most recipes and turn it into a thicker puree that clings to your spoon rather than drips from it. This is why I call my recipe Strawberry Silk rather than strawberry soup. The denser texture also allows the garnish of whipped coconut cream and strawberries to stay afloat longer giving the chef more flexibility as to when they can plate and finish the dish before serving.
My version is dairy-free as well as alcohol-free and uses less sugar than other recipes. Instead, I rely on the juice of an orange and a crack of black pepper to bring out the natural sweetness of freshly picked seasonal berries.
I hope you enjoy my Strawberry Silk with Coconut Cream!
Check out the recipe below and learn more about Chef Carrie by visiting our faculty page.
Strawberry Silk with Coconut Cream
Servings | 4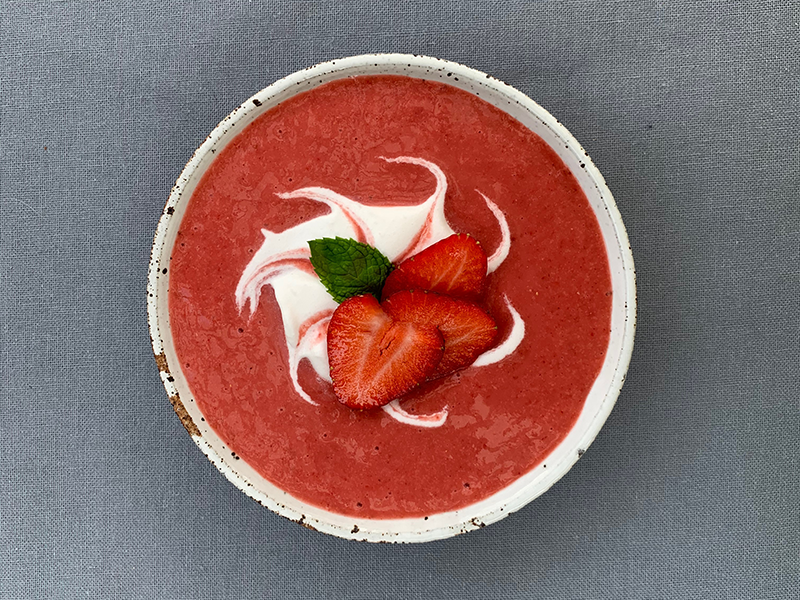 INGREDIENTS
Strawberry Silk
1 lb strawberries
½ cup coconut milk yogurt (unsweetened)
Juice of 1 orange (¼ cup)
1½ teaspoons lemon juice
½ teaspoon vanilla
½ teaspoon ginger
½ teaspoon cinnamon
¼ teaspoon fresh ground black pepper
Coconut Cream
13.5 oz can full-fat coconut milk*, chilled overnight
¼ teaspoon salt
1 teaspoon pure vanilla extract
1 teaspoon raw honey
Garnish
Sliced strawberries, fresh mint leaves
INSTRUCTIONS
Soup
In a blender, puree all the ingredients for the silk until smooth. Chill for 1 hour or overnight.
Open the chilled can of coconut milk. The coconut cream will have solidified at the top of the can. This hardened cream is what becomes the whipped cream.
Carefully skim off the hardened layer of coconut cream and place it in a bowl to use with an electric mixer. (Reserve the rest of the liquid in the can to use in a smoothie or other recipe.)
Add the salt, vanilla extract, and honey to the coconut cream. Whip with an electric mixer until thickened and consistency of whipped cream, about 3 minutes.
Serve the whipped coconut cream immediately as a topping for the chilled silk. Garnish with mint and sliced berries.
NOTE: If you can find canned coconut cream, you can use 1/2 a can of that instead. You will still need to chill and whip it.
Have Work You Love
Get the details on how to pursue a career as a Holistic Chef through Bauman College's 12-month ONLINE culinary school! Contact us to connect with an Admissions Representative today.