Our Natural Chef students are reaching the end of the Spring 2017 term, which means it's time to demonstrate all of the knowledge that they've gained during the past 6 months! At the end of our Natural Chef Training Program, students are required to present a final 45-minute presentation and write a report about a topic of their choosing.
During the presentation, the students provide two recipes and talk about culinary technique as well as the health benefits of the specific foods that they are using, and how they aid the topic that they chose.
Student Spotlight
Natural Chef student, Amber Cooney, is also a Reiki master and intuitive healer and says that she "is passionate about people awakening to their divine essence through a nourished body, mind and spirit [through the use of] pure ingredients so that the body can be cleansed and replenished, the mind can become clear and still, and the spirit can be elevated and embodied." Naturally, her final presentation discussed the use of foods for deepening a spiritual practice.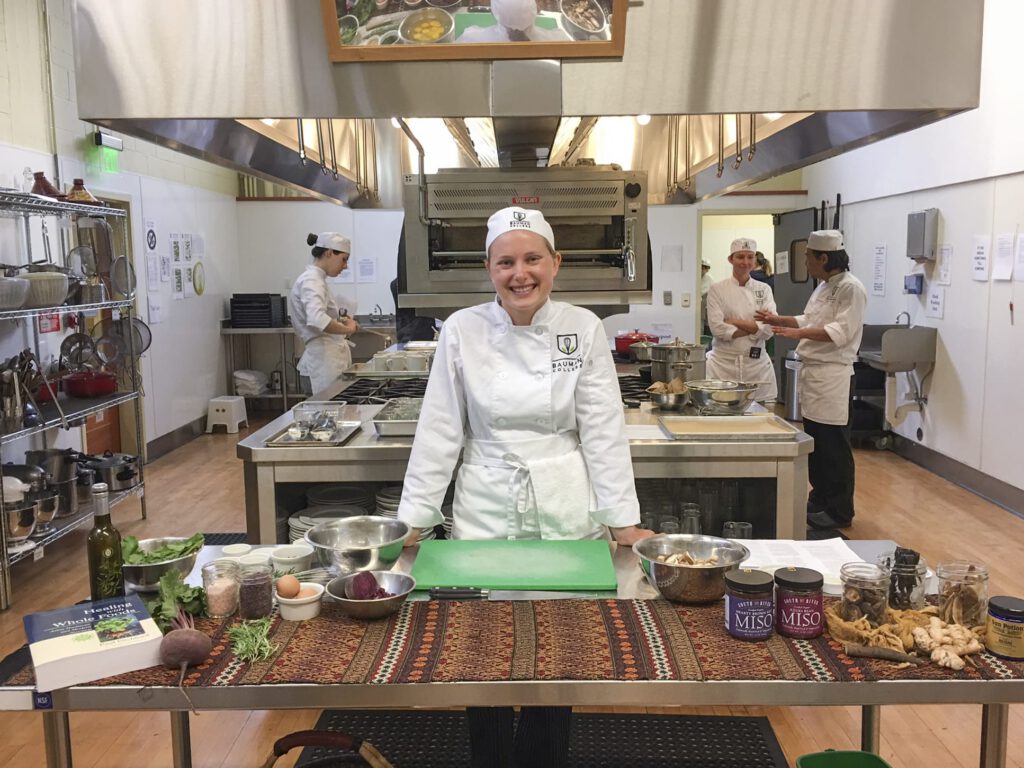 In her presentation, Amber focused on:
Mindfully-sourced, organic, seasonal, pure vegetarian ingredients to connect to the planet and to your pure divine essence.
Meals cooked with healing intention and in a pure energetic state, to ignite the healing vibration of the food and transmit this to those who consume it.
Ingredients to support healthy digestion, elimination, and detoxification in order to release fears, limiting beliefs, and anything else that is holding you back from being boldly and blissfully yourself.
Ingredients to support a calm, receptive, and nourished body so there are less distractions during practice.
Ingredients to support brain health and stable energy for an open, clear, and focused mind to allow the unseen to be seen and the seen to be recognized in its innate truth.
Nutrient-rich, easily absorbed, medicinal ingredients for a harmonious and easeful practice.
Amber's Recipes
Mystical Miso Soup with Reishi and Roasted Shitakes
Therapeutic Benefits:
Miso is a fermented food which promotes healthy digestion and aids in the detoxification and cleansing of the body. This allows us to more easily release old beliefs and energies stuck in the body.
Shiitake mushrooms have powerful anti-inflammatory compounds which alleviate discomfort and allow the body to be at ease (2).
Reishi relaxes the nervous system and mind, inducing a serene state of clear, focused awareness, long praised by spiritual seekers (3).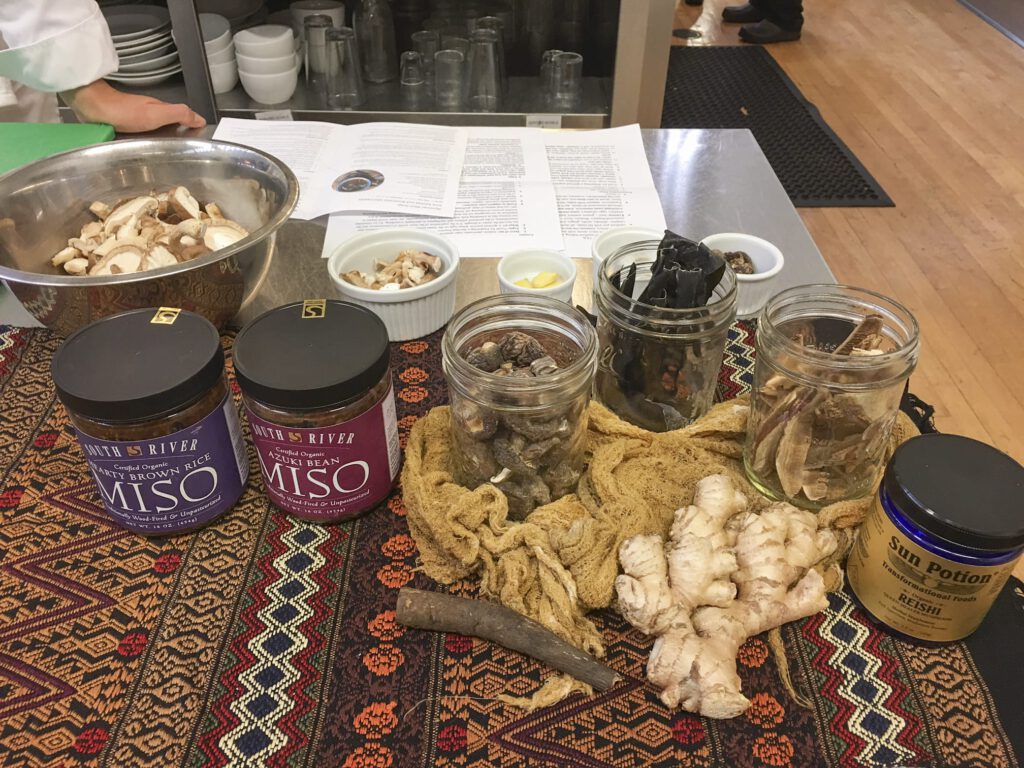 Mystical Miso Soup
Author:
Prep time:
Cook time:
Total time:
Ingredients
[b]Healing ingredients:[/b][br]
3 cups of fresh shiitake mushrooms
2 Tbs coconut aminos
½ tsp grated ginger
¼ cup + 3 Tbs aged, unpasteurized miso
½ cup watercress
[b]Dashi:[/b][br]
6 cups filtered water
4 dried shiitake mushrooms
2 dried reishi slices, or ½ tsp reishi powder
5-inch piece of kombu seaweed
¼-inch piece of ginger, sliced
¼-inch piece of burdock root, sliced
Instructions
Take a deep breath, clear your mind, and bring your attention to this present moment.
Preheat oven to 425ºF and line a baking sheet with parchment paper.
De-stem shiitake mushrooms and set the stems aside for the dashi. Slice mushroom caps into slivers. Place in a bowl with coconut aminos and ginger. Mix well with your hands and connect with the ingredients.
Pour mushrooms on the baking sheet and spread evenly. Place in oven and roast for 20 minutes or until beginning to crisp and brown. Remove from oven and set aside.
While mushrooms are roasting, combine all dashi ingredients in a medium pot and bring to a boil. Reduce heat, simmer, covered for 15–20 minutes until fragrant and the water is brown.
When the dashi is done, turn off heat and strain into another pot. Place a small strainer above the pot, with the bottom emerged in the dashi. Whisk the miso into the strainer until you are left with fine clumps. You can add these clumps for added flavor and texture or leave out for a smoother, velvety miso.
Add watercress and roasted shiitakes. Serve and enjoy with love.
Notes
Do not heat once the miso is added as it will denature the precious enzymes and probiotics.
Be Free Frittata with Beets and Rosemary
Therapeutic Benefits:
Pasture-raised eggs contain omega-3 fatty acids and protein (4) which are essential for brain health (5). This supports clarity and focus of mind so that thoughts are less of an obstacle during practice.
Pasture-raised eggs are not only higher in nutritional value, but also are grown in harmony with the earth, this energy supports your connection with your own inner harmony.
Beets are high in antioxidants (6) which combat free radicals. This reduces oxidative damage in our cells, allowing the body to flourish.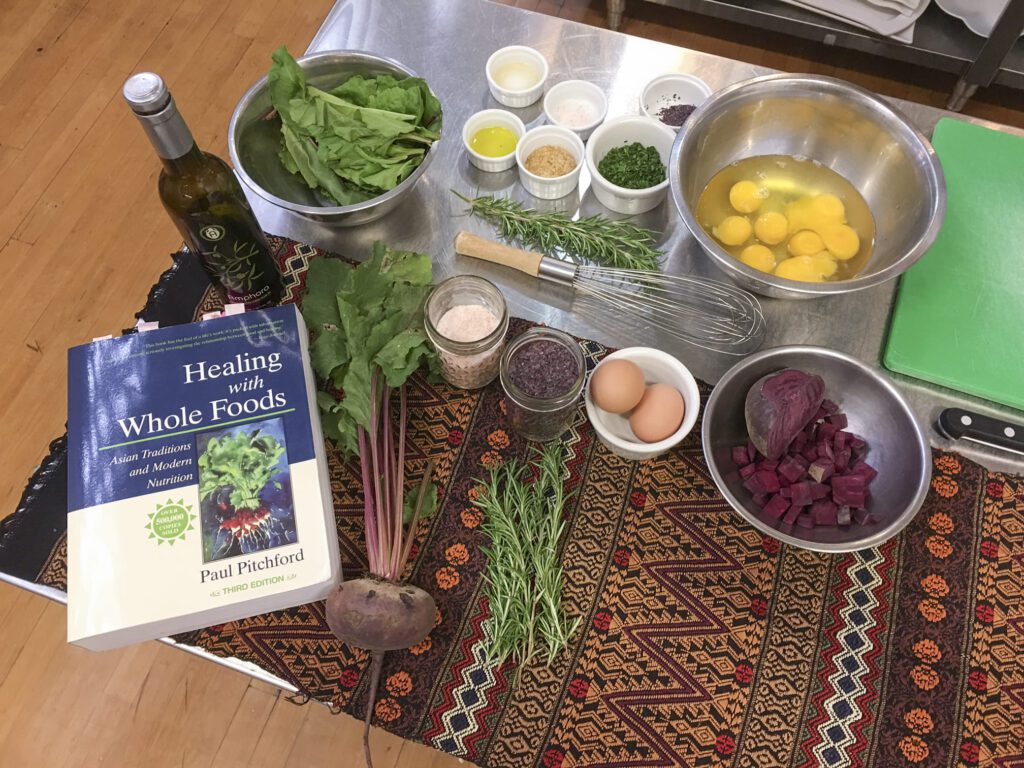 Be Free Frittata
Author:
Prep time:
Cook time:
Total time:
Ingredients
1 large red beet, about 1 ½ cups, small dice
10 pasture-raised eggs
2 Tbs parsley, minced
1 Tbs nutritional yeast
2 tsp dulse flakes
1½ tsp fresh rosemary, minced
1 Tbs + 1 tsp extra virgin olive oil, divided
1 tsp apple cider vinegar
¼ tsp sea salt
1 cup beet greens, chiffonade
Instructions
Take a cleansing breath and connect to the beauty of this present moment.
Preheat your oven to 425ºF.
Fill a medium pot ¼ of the way full with water, bring to a boil and place a steamer basket on top. Once boiling, add beets, cover and reduce to medium heat. Steam for 7 minutes or until beets are fork tender but still have a little crunch.
Transfer beets to a bowl with paper towels and dry off excess moisture. Set aside.
Whisk eggs, parsley, nutritional yeast, dulse, rosemary, 1 tsp olive oil, apple cider vinegar and sea salt together in a medium bowl.
Heat a medium sized cast iron pan over medium-low heat. When warm, add 1 Tbs of remaining olive oil. When olive oil moves freely around the pan and shimmers, add beet greens. Stir and sauté for 1–2 minutes until just wilted.
Gently fold beets into egg bowl and then add this mixture to the pan.
Cook over medium-low heat for 8–10 minutes or until the edges are starting to set.
Place in the oven and bake for 8–10 minutes until all liquid has cooked and the top is puffy and beginning to lightly brown.
Remove from oven, let cool for 5 minutes, slice and enjoy in peace.