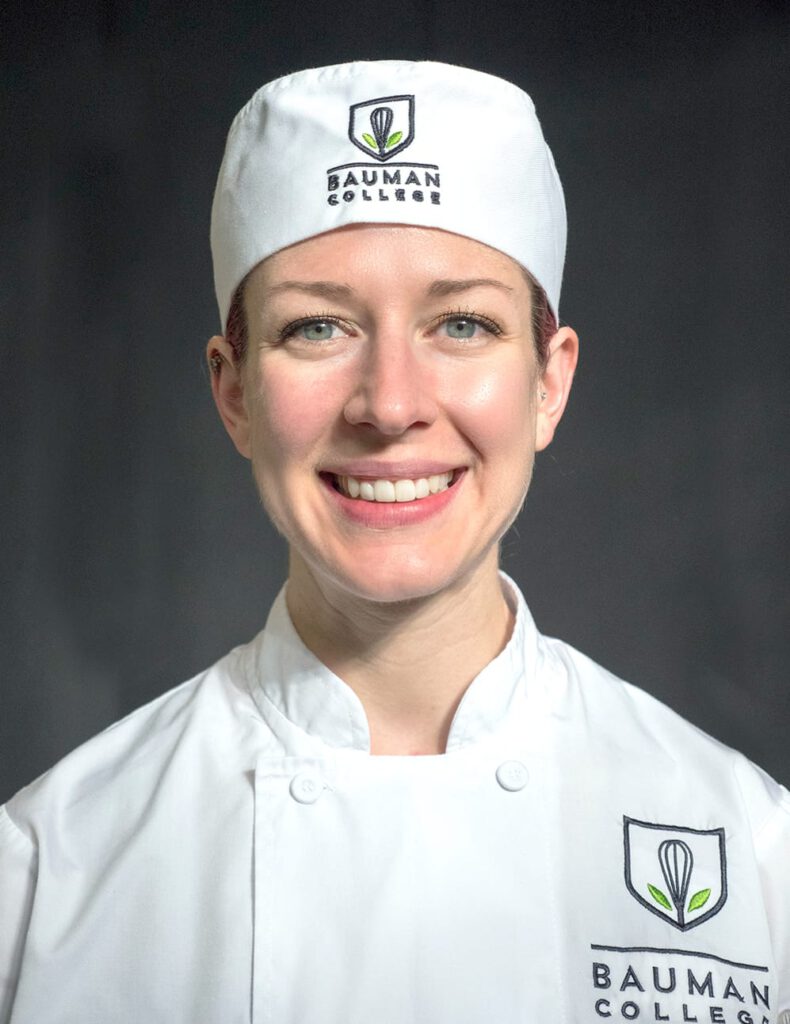 My name is Alana Haldan and I am a Natural Chef student with a passion for vegan, plant-based cooking, fermentation, and raw foods.
Before diving into the culinary world, I was a graphic designer, spending most of my time behind a computer screen. Despite thinking of myself as a healthy eater, I felt overweight, tired, and unmotivated. So, I made the decision to try a vegan diet and my life was forever changed. I lost over 20 pounds and saw massive improvements to my own health, energy level, and well-being.
After experiencing the benefits of a plant-based diet firsthand, I wanted to expand my knowledge, which lead me to Bauman College and into the world of food and nutrition. I was originally looking into several different nutrition consulting programs, but when I found out about the Natural Chef program at Bauman College, I was intrigued. I didn't know a program that combined culinary skills with holistic nutrition and health existed! Sitting in on a class and attending a Chef's Table sealed the deal. I knew I wanted to be a part of this amazing community!
Going through the Natural Chef program has been one of the most rewarding experiences of my adult life. We've covered so many interesting topics, but perhaps the most fascinating has been wild fermentation. I love experimenting with different ferments, and it was enlightening to learn about all the health benefits that fermented foods provide.
Now I want to share my newfound knowledge with others. My goal is to inspire and empower people to venture into the world of plant-based eating. I want to show that following a vegan diet can be easy, healthy, and delicious. As I approach graduation, I am excited to continue developing my culinary skills and sharing my knowledge of healthy, plant-based eating with others.
You can follow my culinary adventures on Instagram and my website, Sprouts + Krauts.
Recipe Process + Inspiration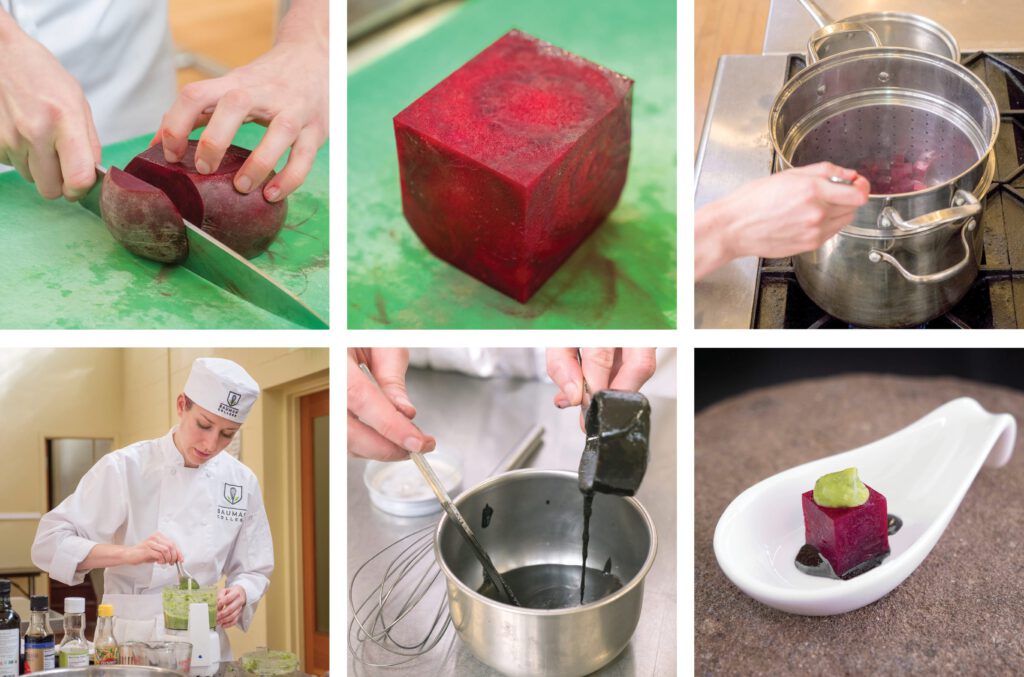 As a relatively new vegan, I found myself craving the flavors of a traditional ahi tuna tartare, so I set out to create a plant-based version of this dish. I discovered that cubed and steamed beets mimic the appearance and texture of ahi tuna and soak up the flavors of the marinade wonderfully.
When it comes to serving, this recipe is quite versatile. Though I envisioned this recipe to be served as a one-bite appetizer, it works equally well as a small salad, served over your favorite greens and drizzled with avocado-cilantro cream and black tahini sauce.
Black tahini sauce can be difficult to find, but you could easily substitute regular tahini, or use black sesame seeds as a garnish instead.
To create a stunning presentation, I used a mandoline to cut thin slices of watermelon radish. After quick pickling the radish slices, I drained and blotted them, then layered them on a serving platter to provide a colorful backdrop.
Beet Tartare with Avocado-Lime Cream + Black Tahini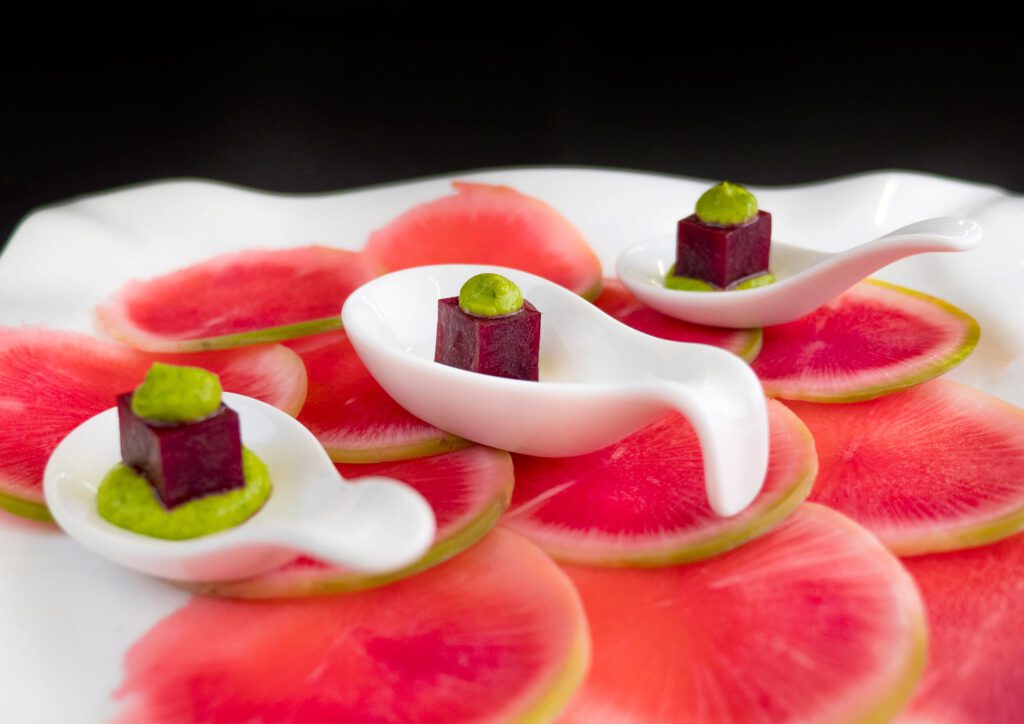 Marinated beets serve as a creative stand-in for ahi tuna in this vegan take on a traditional tartare. The silky avocado cream is the perfect complement to the flavorful marinated beets. This recipe is a unique and delicious choice for passed appetizers.
[b]Beet Tartare with Avocado-Lime Cream + Black Tahini[/b]
Author:
Prep time:
Cook time:
Total time:
Ingredients
[b]Beets[/b][br]
2 large beets, peeled and medium diced
2 1/2 limes, juiced
2 Tbs rice vinegar
2 Tbs sesame oil
2 Tbs tamari
[b]Avocado-Lime Cream[/b][br]
1 medium avocado, diced
1/2 bunch cilantro, roughly chopped
1 lime, juiced
1 tsp fresh ginger, grated
1/8 tsp sea salt
[b]Black Tahini Sauce[/b][br]
1/4 cup black tahini
1/8 tsp sea salt
1/8 tsp garlic powder
Instructions
Place steamer basket in a medium pot and fill with 1-inch filtered water. Bring water to a boil, add beets, and cover pot. Reduce heat to a simmer and steam until beets are tender yet firm, about 10 to 15 minutes.
In a medium bowl, add lime juice, rice vinegar, sesame oil, and tamari and mix to combine. Add beets and refrigerate at least 1 hour.
While beets marinate, prepare avocado cream. In a food processor, combine avocado, cilantro, lime juice, ginger, and salt and process until mixture is smooth and creamy. Transfer to a squeeze bottle and set aside.
In a small bowl, combine black tahini, salt, and garlic powder. Whisk well to combine. Transfer to a squeeze bottle and set aside.
To serve, drain excess marinade from beets and pat dry with a paper towel. In a small serving spoon, squeeze about 1/4 tsp of black tahini sauce, then top with a beet cube, and about 1/4 tsp of avocado-lime cream for garnish.
Alternatively, arrange beet cubes on a platter, squeeze about 1/4 tsp of avocado-lime cream on top of each beet cube, then drizzle with black tahini sauce. Insert toothpick into center of each beet cube and serve.
Notes
Allergens:[br]sesame[br]soy