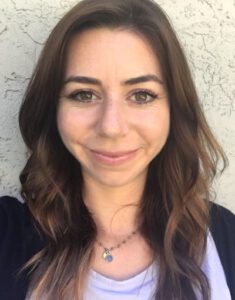 What is your name and in which program are you enrolled?
Amy Schiefelbein, Nutrition Consultant Training Program
Where are you from originally and what led you to Bauman College?
I grew up in the Bay Area. My travels and hunger for life experience led me to Bauman College.
When I travel, I love to eat foods native to the region, which inspires me to explore new ingredients and different cooking methods at home.
My travels also helped me to discover food as a mode of healing. After two years of living abroad and traveling around Asia, I contracted a parasite. I was so distracted by the novelty of new experiences and traveling that I wasn't listening to my body and neglected my well-being. I came back to the U.S. extremely sick, facing several rounds of antibiotics and a compromised digestive system.
Western medical approaches couldn't treat the full spectrum of my symptoms, so I took it upon myself to research alternative methods of healing. I tried everything from elimination diets, veganism, the GAPS protocols, and various herbs. Ultimately, I discovered that I could cure myself with nutrient-dense, whole foods and supplements. After being ill, I am much more in tune with my body and how it is affected by my environment, the food I eat, my mood, sleep—everything!
In addition to my experience with my own health and diet, I have worked in various roles within the food industry; as a server for catering companies, cafés, and restaurants and as a prep chef in a high-volume kitchen at a retreat center in Hawaii. I spent six months volunteering with Willing Workers on Organic Farms (WWOOF) to learn about organic foods and sustainability. I have also worked at various farmers' markets in the Bay Area, which has connected me to an amazing community of farmers and small business owners who provide nutritious food to our community.
What is the most interesting thing you've learned so far in the program?
We need to pay attention to our gut! The connection between the digestive system and brain is fascinating and many vital brain functions are dependent on specific gut bacteria.
In class, I've learned different ways to support the trillions of microorganisms that make up our gut microbiome; such as the use of whole and fermented foods and how to prepare foods traditionally to aid in the digestive process and to make nutrients more bioavailable.
What is your favorite health-supportive recipe?
When I am in need of extra nourishment I always turn to soups. There are so many interesting combinations of flavors and ingredients to use in soups and stews and using nutrient-dense stocks and broths are so supportive in healing the body.
I'm a big fan of Dr. Natasha Campbell-McBride and the GAPS protocol and first started making bone broth after reading her book. Below is a GAPS-inspired recipe for Curried Acorn Squash Soup. The acorn squash can be substituted for any other squash and you can add leeks, garlic, and fresh greens—get creative! Cooking is a time to play and experiment.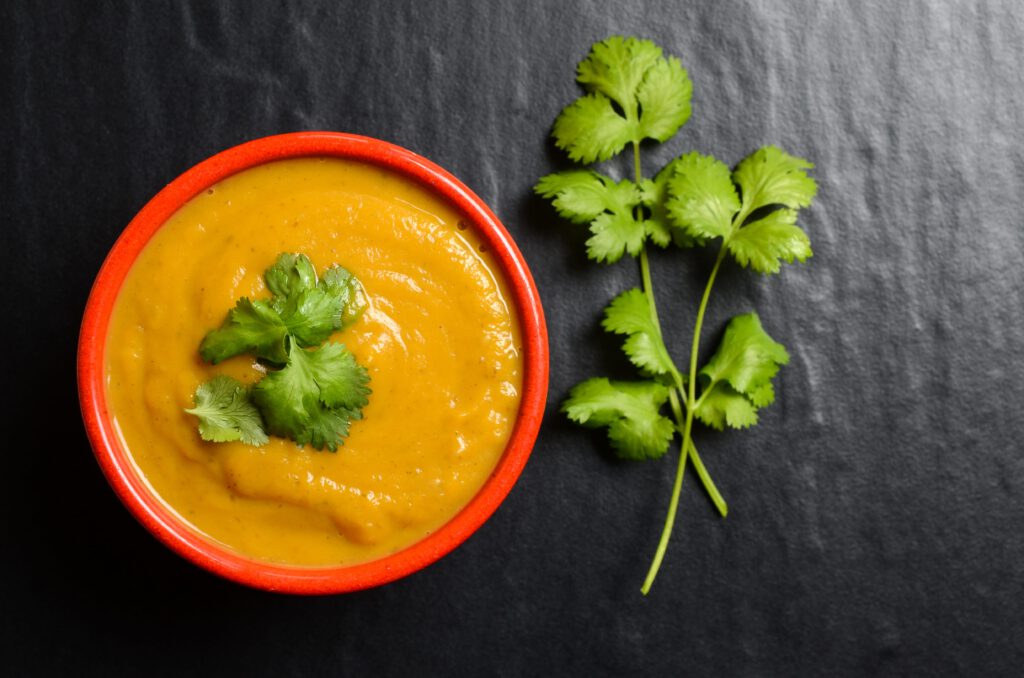 [b]GAPS Curried Acorn Squash Soup[/b]
Author:
Ingredients
3 medium acorn squash, halved with seeds removed
1 Tbs coconut oil or ghee
1 onion, chopped
1 Tbs curry powder
1 tsp turmeric
1 tsp ground ginger
3 cups chicken or beef stock
1 cup coconut milk
1 tsp nutmeg
sea salt and pepper, to taste
Instructions
Preheat oven to 350°F, place squash on a baking sheet, cut side down, and bake for 35–40 minutes, or until squash is almost tender.
Once squash is cool enough to handle, scoop out the flesh with a spoon and set aside.
In a large saucepan over medium heat, melt coconut oil. Add onions, curry powder, turmeric, and ginger and sauté until onions are translucent.
Add squash to the saucepan and mix with other ingredients.
Add stock and reduce heat to simmer for 20 minutes.
Using an immersion blender or food processor, blend the mixture until smooth.
Return the mixture back to the saucepan, add coconut milk and nutmeg, stir to combine, and season with salt and pepper to taste. Keep warm until ready to serve.
What are your plans for the future, after you graduate?
With my education as a nutrition consultant, I will be able to empower others to live healthier lives by changing their approach to nutrition, fitness, and lifestyle practices. I was fortunate enough to receive guidance on my own healing journey and I want to serve as a mentor for those seeking a healthier path.
I am interested in nutritional therapy and would love to continue my career in that field. After I graduate, I hope to work in an integrative wellness facility with other health professionals and work specifically with populations seeking treatment of mood problems, eating disorders, and addictions.
I feel so fortunate to have found a path in which I can be of service to others, cultivate meaningful relationships, and work from a place of empathy to understand the issues my clients may face.
Do you have any advice for those thinking about enrolling at Bauman College?
Enrolling in this program is one of the best decisions I have made, for both professional and personal development. I feel so blessed to have found a like-minded community comprised of such wonderful people who truly care about each other's well-being and support each other to reach our highest potential.